*

Build Page: 1 2 3 4 5 6 7 8 9 10 11 12 13 14 15 16 17 18 19 20 21 22 23 24 25 26 27 28 29 30 31 32 33

PAGE 25

16-8-11 - Time for an update.

I managed to get a second hand Nitron shock from a race bike. In excellent condition and a huge improvement over the standard shock. It is just as firm, but oh so compliant over the bumps. It doesn't bounce off the bumps and feel rock hard like the standard one. Very pleased with that purchase. As a bonus Nitron shocks use blue springs, so it blends in well. At some point I'll get the bike to my race bike suspension guy (Darren of MCT) to get her set up properly.
I also wanted the security of a steering damper and have purchased a HyperPro one. I went for black fittings with a silver damper body and gold adjuster dial. After removing the horrible purple HyperPro stickers it looks perfect and blends in well with the rest of the bike.
I finally got over to France to ride her for a weekend and she was the best. I love that triple engine sooooo much. She handled very well although I was experiencing an oh so slight twitchiness from the front end that did make me feel a little cautious. I get a similar feeling on my ZRX. I'm trying to decide if it's the steering damper or the new tyres causing the problem. On both bikes I have HyperPro steering dampers and brand new Metzeler Sportec M5 tyres.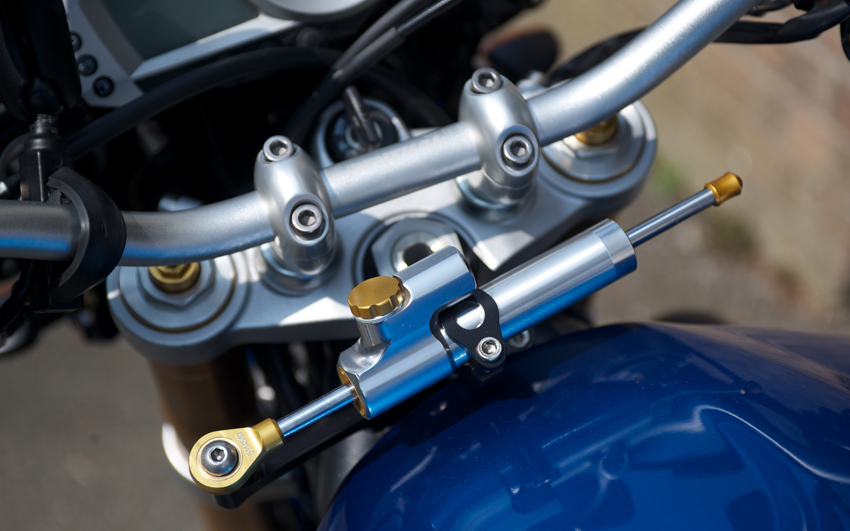 I went for Metzelers as I have used their Rennsport then Racetec race tyres for over ten years on my race bikes and have nothing but total confidence in them, so I'd be surprised if it was them. My suspicions point towards the steering dampers and I think I will have to try riding with the damping backed right off and see how that feels. The strange thing is, is that the twitchiness I feel happens at very low speeds, like 30 - 40 mph.
One of my main concerns was that the Street Triple radiator would be too small for the task. This doesn't seem to have been a problem though and she ran at 5 bars whilst moving, going up to 7 bars in slow town traffic and then coming back down to 5 bars once out of town. So I think that I should be OK with the smaller rad.
I did have one small problem whilst away and that was my headlights failing. All four of them! The side lights still worked though. As we were only riding in the day this wasn't a problem. However in France, by law, you have to ride with dip beam on, so I was worried about being pulled over and made to call a recovery vehicle. Luckily that didn't happen.
I checked the fuses and they were OK. One of my mates on the trip is an electrician so he helped with some make shift testing of circuits with some wire and the side light bulb. We could get the lights to come on and he reckoned that the relay had blown. A standard Daytona has two lights. When you switch to main beam both dip and main are on at the same time. With my Tuono headlights if I had left things as they were then all four lights would be on when switching to main beam. I had done this a few times early in the build when testing and my mate reckoned that I had fried the relay, but it had taken some time to completely fail. Early on when I started riding her I have only had one dip and one main light connected so I don't fry anything.
When I got home I ordered a new relay, but when I fitted it the problem still persisted. I now began to think that something I had done during the build was causing the problem. So I checked all the connections to the block connectors that hide near the left side of the airbox. There are three there. One connects to the left and another to the right handlebar switch gear and the third connects to the ignition. I checked every wire and found one that thad come loose from its spade connector. So I re-crimped it. It was the wire that ran from the front brake switch to the brake light. It was the only wire I found loose and after I fixed it the headlights worked again, even with the original relay. I was very glad to have solved the problem. Or had I?
Bearing in mind my knowledge of electrics is fairly non existent I took a look at the wiring diagram not expecting to "de-code" it. I traced the route of that loose wire on the diagram and found it has no connection with the headlights. I showed the wiring diagram to my electrician mate and also asked my dealer. All agreed with my thoughts that reconnecting this wire should have no effect on the lights at all. My dealer thinks I still have a problem that I haven't found yet. Gulp!
The headlights have held up for a couple of months now and have also endured three sessions at a track day at Le Mans a couple of weeks back. This was my first outing with her on track, so I was taking it easy as I thought I would have front end issues as I had changed the geometry. It didn't take me long to feel very at home on her and by the second session I was going for it. The front end felt great through the corners, none of the nervousness that I was feeling on the road, the bike was handling far better than I imagined so my confidence was up. The Sportec M5 tyres were superb.
LE MANS TRACK DAY PIC?
The front still dives a bit too much for my liking, however I still had a lot of travel left in the forks as the cable tie around the fork still had about two inches to go before hitting the end of the fork travel. Not sure what's going on there.
It was about 26 degrees, so pretty hot. The radiator seemed to be coping OK although after my third session it had got to 8 bars on the dash as I stopped. I will need to check the coolant level.
There was a slight amount of oil dripping from the crankcase breather and I thought maybe it was because there was slightly too much oil in. I had bought one of the later, shorter dip sticks and filled to halfway on that. Maybe I should have stuck with the longer original. I also noticed a very slight oil seep from the front left of the sump where it joins to the bottom of the motor. Disappointed to see this as I have a new gasket from when I fitted the second hand sump that has the lugs to mount the belly pan. Maybe I didn't tighten the bolt fully, or maybe if there was excess oil it was creating too much pressure. I'll have to keep an eye on that. Although I was at Le Mans in May with a mate who was riding a Street Triple and she had a similar problem with her bike leaking slightly from the same place.
So there we go. All in all very happy with the bike and enjoying riding my creation.
If you would like to receive an email update when the next instalment is published then please email me at rubyracing@hotmail.co.uk putting "Project Daytona Street Updates" in the subject box. Don't worry I'm not going to spam you, you will only receive an email whenever I update this site.
PAGE 25
Build Page: 1 2 3 4 5 6 7 8 9 10 11 12 13 14 15 16 17 18 19 20 21 22 23 24 25 26 27 28 29 30 31 32 33
*