*

Build Page: 1 2 3 4 5 6 7 8 9 10 11 12 13 14 15 16 17 18 19 20 21 22 23 24 25 26 27 28 29 30 31 32 33

PAGE 18

Day 26 - 10-7-10 - Not got much done, although did go for another shake down run. Only about ten miles. I'd forgotten just how nice the Daytona motor is. So torquey and such a great noise. I was partly indulging myself in just having a ride because it's been so long since I've ridden, but also as part of my investigation into the battery problem.

I put the new battery on charge again at midday on Tuesday, then turned off the charger midday Thursday. Checked the voltage on my cheap dial meter and it said about 14 volts. It's really difficult to read it accurately so I borrowed Petes digital one. That gave me 13.09 volts. I think that's healthy. Kept checking it every few hours and it stayed pretty constant.

On Friday I just started the motor at a standstill and ran it for about three minutes. The voltage straight after dropped to about 12.96 volts. Subsequent checks see it at 13.04 volts, so it seems to be behaving itself now. I'll check again on Sunday and if all seems well I'll wrap up the loom again.

I wanted to do that today, but I best find out if I have a problem or not. I spent the afternoon polishing the old bodywork in preparation for putting on eBay. I think I'm past the point of no return (actually I could put her back), but I'm happy with how things have come together so she is going to be a keeper.

So if anybody needs stuff from a Daytona (2006 model) then get in touch. Bear in mind I am in the UK, as some of our colonial cousins don't seem to know where the original Jersey is!

Day 27 - 19-7-10 - Well the battery problem seems to be sorted. She has been sitting in the garage for a week now and she started up twice today no problem. I just ran her for a minute each time then shut her down. Looks like Pete was right, I just needed to charge the new battery for 48 hours on the Optimate. So worth remembering that even if the green light on the Optimate comes on it might be worth leaving a battery on charge for longer.

I was working last week, at the weekend and this week so I just managed to get three hours in tonight. I shortened the wires for the front indicators and fitted connectors. Removed what bodywork was on in readiness to go to the painters. Just waiting for my stickers to arrive as I'm getting them lacquered in on the tank. They should be here in a couple of days as I ordered them last week. I was going to remove the tank and take off the fuel pump and filler, but I started getting hungry!

My new expansion bottle (see pics) came down last week. I got it from Moore Speed Racing. They do them in black or silver, I got black so it would disappear better. It is a little bigger than I anticipated, but it feels quality and I hope to attach it to the radiator pretty much where the Bud Light bottle is at present. Then when I get the rad cowls on it should be hidden.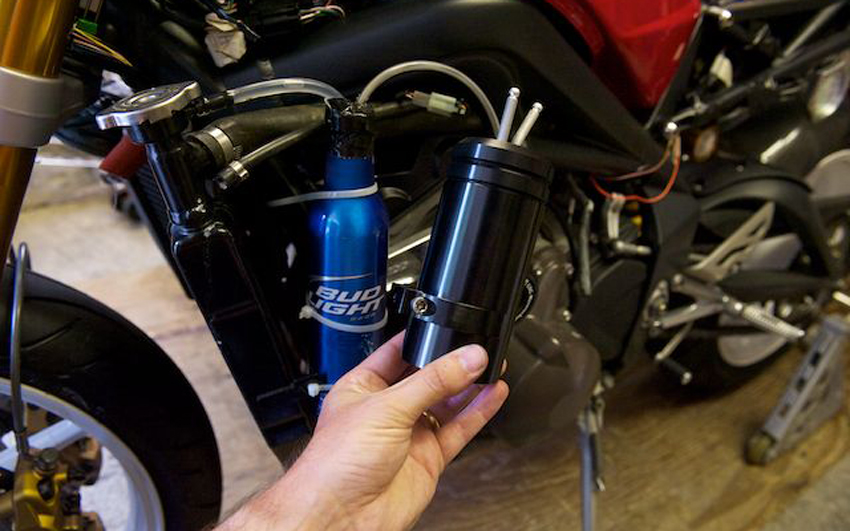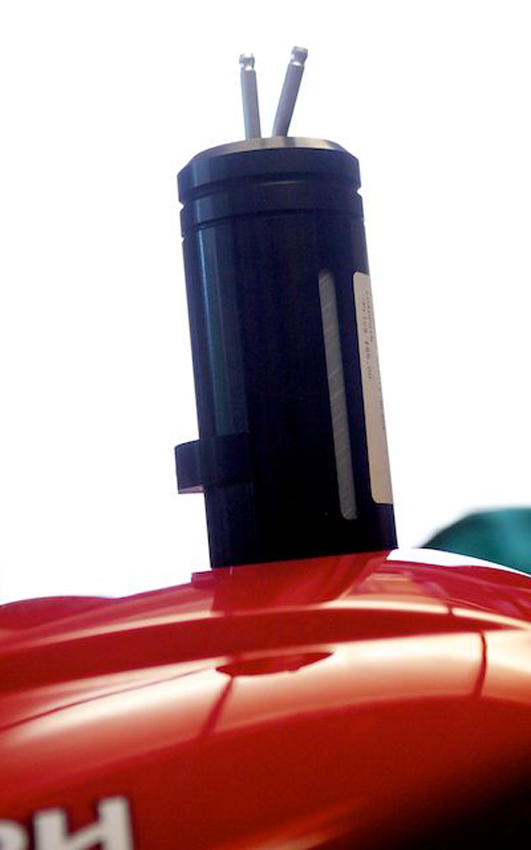 If you would like to receive an email update when the next instalment is published then please email me at rubyracing@hotmail.co.uk putting "Project Daytona Street Updates" in the subject box. Don't worry I'm not going to spam you, you will only receive an email whenever I update this site.
PAGE 18
Build Page: 1 2 3 4 5 6 7 8 9 10 11 12 13 14 15 16 17 18 19 20 21 22 23 24 25 26 27 28 29 30 31 32 33
*