*

Build Page: 1 2 3 4 5 6 7 8 9 10 11 12 13 14 15 16 17 18 19 20 21 22 23 24 25 26 27 28 29 30 31 32 33

PAGE 17

Day 24 - 6-7-10 - Back from a scorchio week lazing in France. Back to work! Put my new battery on charge as soon as I got home, so it would be ready today. Fitted it and checked all the connections. Everything seems in place. Turned the key and she instantly pops into life. Now the starter button. Woohoo! She fires up first time. What is even better is the engine light is no longer on so a trip to the dealer to check the error codes is averted. I guess the old battery was what was causing the engine light to light up.

However one small problem does remain. The rev counter needle sometimes takes a fraction of a second to react when you rev the engine. Also it sometimes shows the tick over at about 1,000rpm. But rev it a few times and the needle sits at about 100rpm so not sure what is going on there. Maybe something I have done with the re-wiring perhaps? Had a search on this forum and can't find an answer. Had a little ride down the road and back, just about 400 metres in second gear. Then I made her a bit more suitable for a decent ride. Fitted an over flow bottle for the radiator. I used a Bud Light aluminium beer bottle. This is only temporary until I get a decent alternative. Have something particular in mind, just not ordered it yet. Rather fittingly I picked up this Bud Light bottle from the stands at Daytona Speedway in Florida in March. Cool huh? OK, maybe not.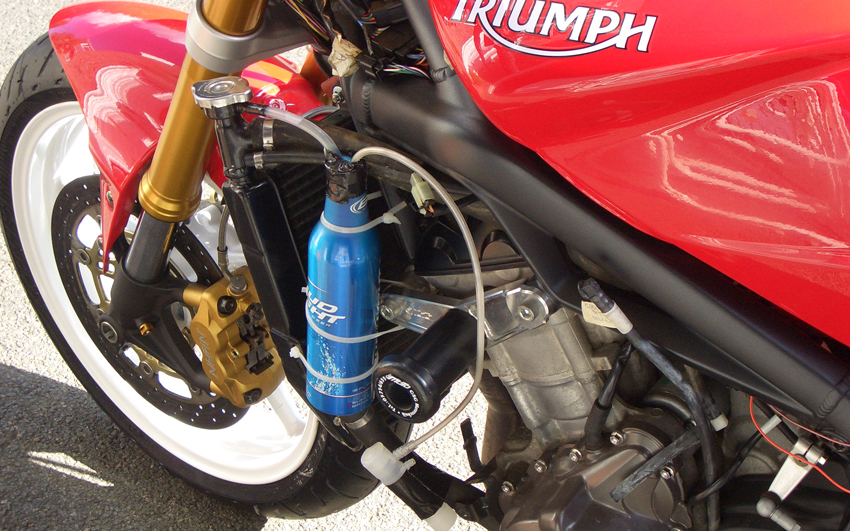 Tidied up some of the dangling wiring and taped the intake flapper solenoid to the sub frame. I may retain this part rather than putting a resistor in its place as I have been advised that some resistors can't handle current or something like that. It's no biggie as, well, it's not big, so I can stash it under the tank. I'll junk the hoses though. Did another bolt check. One on the radiator was a bit loose.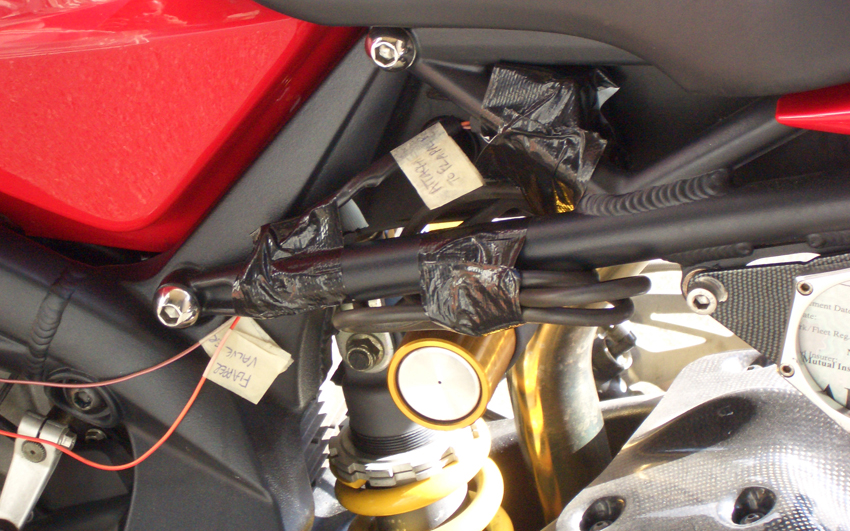 By the time I had done all that it was 5pm and I didn't go out as I didn't want to get caught up in the work traffic. Ride postponed 'till Tuesday morning. I need the roads clear as I have new tyres to scrub in, a bike I have modified (so anything could happen) and I'm recovering from a broken collar bone and haven't ridden since the end of March. It's 1am, I best get some sleep!
Day 25 - 7-7-10 - The eagerly anticipated test ride day. I got myself suited and booted, the first time since my crash at the end of March. Blimey those leathers feel stiff when your arm doesn't work properly. Wheeled the bike out and hit the starter button. WHAT! You're shittin' me! "CLICK" was the only sound I heard. That's a brand new battery put in yesterday. WTF? Bike back in garage and put on charge for an hour. Had a chat with my good mate Pete and he suggested something was drawing current with the ignition off. Told me how to test it. I did and there did seem to be something drawing current. As my volt meter is mucho cheapo it just has a dial so I couldn't tell how bad it was. Not that it would make any difference as I don't understand what it all means anyway, the needle moved that's all I know. Looks like I have a problem to solve.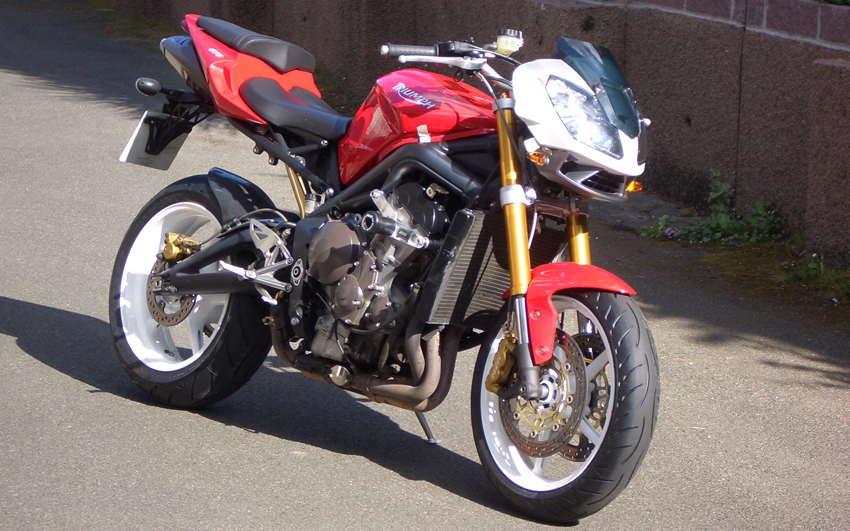 Well with bike charged I managed to start her and gingerly set off. I took it very easy in case something important fell off, like a wheel or the handlebars! All felt together. But seems to be lots of noises that possibly shouldn't be there. I dunno as I can't remember what she sounded like when I rode her last October. Should have worn my ear plugs LOL!
Mindful of the new tyres and dodgy collarbone I took it pretty easy all the way to Gorey (about a 6 mile round trip on the flat). Stopped and gave her a quick once over. All seems to be there. Set off back home and gave it a bit more gas. Even with the standard can she sounds nice. Upshot of the whole ride was she seems to ride just fine and I'm very happy/relieved. I need to set up the suspension as I think the preload is a bit too much at both ends and the compression and damping need increasing at both ends. That much I knew from my track day on her last year. She dives like a theatrical footballer (soccer player for our Colonial cousins) on the brakes and then boings back up again. But that fine tuning can wait until she's is properly finished and running without problems.
Dropped by at Petes place on the way back and he did his electrical test with his digital meter. The current draw from the battery with the ignition off is 1.2 milli amps and he assures me this is nothing. He even did the same test on his 2009 Daytona and the result was identical. So if nothing is drawing current from the battery when the ignition is off, what's going on? He suggested that I needed to put the new battery on charge for about 48 hours. I had done it until the green light lit up on my Optimate III charger, which was overnight. Once refitted I'll leave the bike untouched for a couple of days before starting her again to see if she starts. If she doesn't . . . . . . . .
If you would like to receive an email update when the next instalment is published then please email me at rubyracing@hotmail.co.uk putting "Project Daytona Street Updates" in the subject box. Don't worry I'm not going to spam you, you will only receive an email whenever I update this site.
PAGE 17
Build Page: 1 2 3 4 5 6 7 8 9 10 11 12 13 14 15 16 17 18 19 20 21 22 23 24 25 26 27 28 29 30 31 32 33
*