*

Build Page: 1 2 3 4 5 6 7 8 9 10 11 12 13 14 15 16 17 18 19 20 21 22 23 24 25 26 27 28 29 30 31 32 33

PAGE 1

I finished my first project bike on 1 September 2010. It was a fantastic moment as my vision had become reality and I was very happy with how it turned out. And then a moment of disappointment. Why? Well, I didn't have a project bike to do anymore. As much as I wanted to finish the build, the process of the build is the best part. Making things yourself, solving problems, etc. So time to find another project.

It's taken a while, but I got there in the end. I was inspired by the Kawasaki Z1000 (I love old Kawasaki Zeds) that Jon Keeling of Racefit built (see picture below) using a three and a half grand Spondon frame. In fact I would have loved to have owned it, however I doubt my pockets would have been deep enough. I really like the whole 1980's AMA superbike racer look, so decided I'd like to build my own idea of one.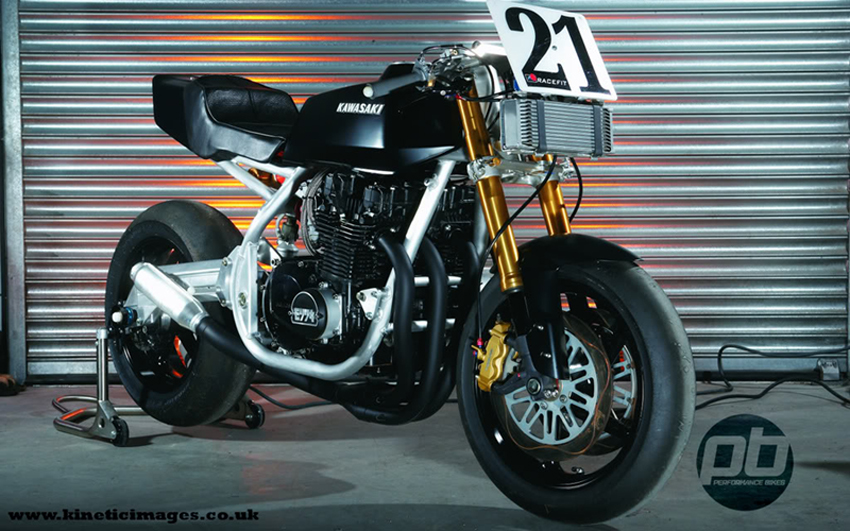 Next thing was to decide on a bike to start the build from. I'd thought about a modern version using the 2003 Z1000 and then discounted it for various reasons. I already have a 2001 Kawasaki ZRX1200R and seriously thought about getting another one and ripping into it. They are heavy bikes and trying to get the weight down would have taken a lot of work. So that idea came and went. There were a few other thoughts, including an original Z1000 and if it wasn't for their values going up right now I might have gone down that path.
I kept a lookout in the local online classifieds and eventually I saw a bike I thought would work. It was a 1999 Yamaha Fazer FZS600 that had had a front end shunt bending the forks. I planned on fitting USD forks, so bent forks weren't a problem as long as the frame was straight. The thing that sold me was the shape of the frame, particularly the bend near the foot pegs as it reminded me of the Spondon frame. Also the fake air cooled look of the engine. The price was also right as I picked it up for a few hundred quid.
The plan is to build my own AMA type racer. I had intended to do this build just to create a unique road bike for myself, but the fact I want to base it loosely on an 80's race bike got me thinking. I had raced a 1,000cc sports bike in the BMCRC Powerbikes class for three years from 2007 to 2009. I stopped because the amount of traveling got to be too much (every race meeting involves two cross channel ferry journeys and lots of charging up and down motorways), however I still miss it a little and before I stopped I had been thinking of changing class into one a little more suited to my ability, namely Thunderbikes (or Thunderbirds as I like to call them). The main regulation for the class is a strict power to weight ratio and is aimed at older bikes. All to keep the costs down and the racing close.
A VERY rough outline of what I'm planning on building: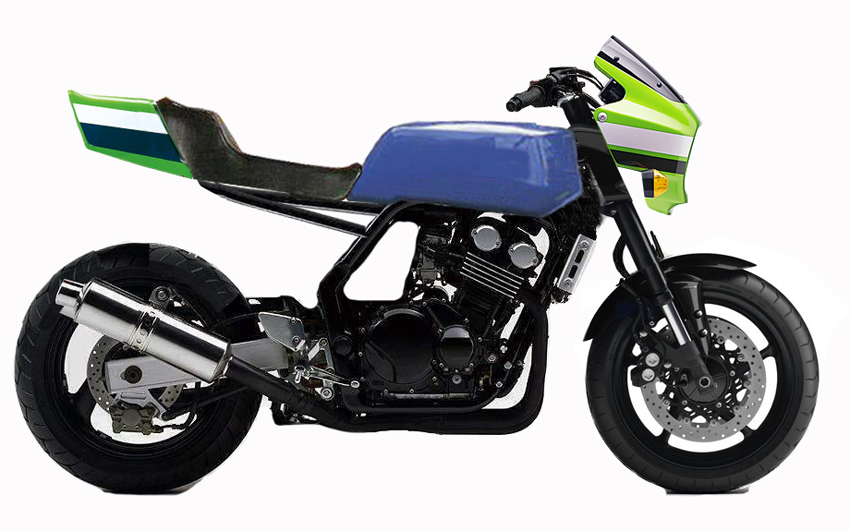 So I've decided to make it eligible for racing too. Thunderbikes is one class I'm going build it for and also Streetfighters. Now I know that this isn't the bike to start turning into a racer, a beam framed sports bike would be a much better starting point and certainly in Streetfighters that's what most racers have. So it wont be a front running bike, but I don't mind. It doesn't matter where you are in a race. If you're having a dice with someone, that's all that matters.
There are a number of race regulations that have to be followed including a catch tank for all vent hoses, a bellypan that can hold a certain amount of fluid, lock wire of oil filler and drain bolts, etc which I will incorporate in the build. However the main class rules I have to adhere to are as follows:
Thunderbikes
Sports Thunderbikes - 1 SAE bhp per 1.81kg weight up to a maximum of 105bhp
Streetfighter
Up to 600cc 4 cylinder with a maximum horsepower limit of 100bhp
Handlebars must be mounted above the top yoke and mounted so that the bar ends are higher than the bar mounting point
Nose cones and or bikini fairings must not protrude back past the headstock and must fit behind a theoretical template measuring 480mm horizontal and 330mm vertical when viewed from the front.
As Streetfighters has a power limit of 100bhp, irrespective of weight, then that is the maximum I can have the motor producing to be eligible for both classes. From a quick internet search it looks like a standardish Fazer puts out about 85bhp at the rear wheel. Someway short of 100bhp so I'll have to focus my efforts on weight reduction, which is in my plans anyway. Using the Thunderbikes formula that would mean a minimum weight of 154kg. The factory quoted dry weight for the standard bike is 189kg. So that's 35kg the bike needs to shed. That might be hard to do, so some mild engine tuning may also be needed. I'll concentrate on a Weight Watchers program first and see where that gets me.
In the back of my mind I realise I may not actually be able to get the look I'm after. So I have a plan B. Back in 1998 I saw a concept bike in one of the motorcycle magazines that really caught my fancy. It was based on the FZS600 with clip ons, a race seat and modified fairing among other things.
Here's a copy of that article.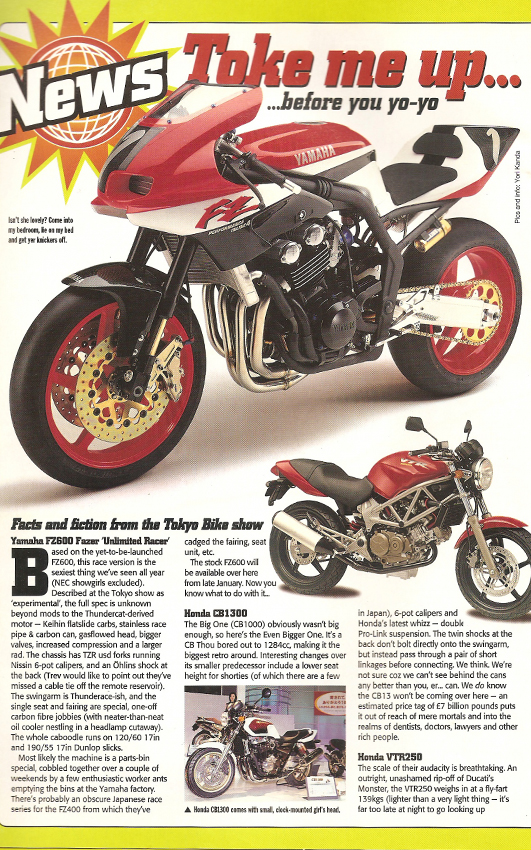 I got thinking a bit more and thought that if plan A does work, then my next project could be plan B with another FZS600. Then I thought some more. The majority of the things I want to do would apply to both bikes, so why not make the two bikes out of one? The only bits I would need to change are the front fairing, the tail unit, petrol tank and the handle bars. So that's the plan: one bike, two looks.
Project Ruby Racer is GO!
If you would like to receive an email update when the next instalment is published then please email me at rubyracing@hotmail.co.uk putting "Project Ruby Racer Updates" in the subject box. Don't worry I'm not going to spam you, you will only receive an email whenever I update this site.
PAGE 1
Build Page: 1 2 3 4 5 6 7 8 9 10 11 12 13 14 15 16 17 18 19 20 21 22 23 24 25 26 27 28 29 30 31 32 33
*