*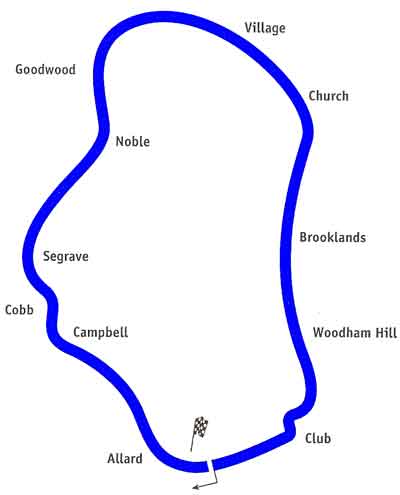 Thruxton - Saturday 17 October 2009
Qualifying - 1030hrs
This was my first ever visit to Thruxton, near Andover. Only about an hour from the ferry terminal which was nice. Due to noise issues with the neighbours we only had a one day event. So that meant one qualifying session and two races. I later learnt that the circuit only has bike racing on six days of the year!
So no Friday practice session for anybody. That meant that most of us would be learning where the track went when we were trying to go as fast as possible in qualifying. How crazy is that? I had managed to walk the circuit the previous day, so that was my sum total of knowledge of where the track went.
With second place in the Clubman Cup still possible for me to steal from Gerrard Fallon (although it would be a long shot), my main focus was to try and out qualify Gerrard.
Looking at the times the boys in British Superbikes do here I thought a 1 minute 30 second lap would be respectable. So that's what I did, a 1 minute 30.209 second best lap in qualifying. I was in 33rd position overall and 12th in the Clubman class. Importantly I beat Gerrard by just over a second. However he was only place behind me so it didn't make any difference. I needed to make sure I got away quickly at the start.
Race 1 - 1345hrs
We were lucky with the weather as it was a sunny dry day, although a little bit chilly. Even though Gerrard was right beside me on the grid, I felt that, as I had done a faster qualifying time I had the advantage. My start was good, but then immediately lost my way a bit as I wasn't sure where I was on the track with all the other riders ahead of me blocking my view. I made up two places off the line and hopefully put Gerrard further behind.
I had made up two places on the first lap and held this for three laps. I was following a couple of riders and catching them ever so slightly going into the 4th gear Noble corner as I didn't have the confidence to make a pass on this unfamiliar track. I had got quite close and because of that lack of confidence I had backed off slightly.
You don't do that when you're racing! I obviously had close company as my hesitancy was exploited as Ben Neeves shot past followed by Mark Trowell and then the one man I needed to keep behind me, Gerrard. Oh dear.
A couple of corners later was the very fast Church corner. If you didn't hold it tight to the curb through here you went over some particularly bumpy bumps. At about 120mph leant right over, this can be a bad thing. It certainly was for Ben Neeves as he went down as a result of hitting those bumps. That was a fast crash. Luckily he mainly slid down the road and as I found out after the race, was OK.
I managed to hold onto Gerrard but I could see that I wouldn't catch him. As I needed to beat him, with a lot of riders between us, I didn't see the point in pushing any harder and risking a crash, so I stayed where I was for the last three laps.
On the last lap Anne showed me a "1" on my pit board, so I knew I had a little breathing space. I finished where I started in 33rd place and 11th Clubman. Gerrard was 1.6 seconds ahead of me and 10th Clubman, so he extended his lead over me by one point. My best lap was 1 minute 27.800 seconds and my overall race time was 10 minutes 31.267 seconds.
Race 2 - 1656hrs
The last race of the year. I would need a miracle to beat Gerrard now, like him not finishing and me finishing third in the Clubman class or better. On the strength of the previous race, that looked to be unlikely. I'm sure Gerrard wouldn't take any chances either, he just had to finish the race to secure second place in the championship.
In a repeat of the previous race I was in 31st place for the first couple of laps and was chasing Andrew Sams. As we accelerated out of Club Chicane at the end of lap three, I was about two or three bike lengths behind Andrew when his rear tyre started to slide. He had given it a bit too much throttle. Next thing he was being highsided off his bike. I immediately rolled off the throttle as I was so close to him.
I was too close to take any avoiding action as he hit the track. By this time I was braking so I didn't hit him. Then a gap appeared as his bike went to the left and he went to the right. I got back on the throttle again and cleared both him and his bike. Phew, that was a close one. I would have been off for sure if I had hit either one of them. I later learned he broke his hand in the fall, but otherwise was thankfully OK. The picture sequence on the right covers just one second of the action.
As I got past the accident Gerrard came flying past me. Brilliant. I hadn't realised he was behind me, I thought he was well ahead. Slowing down had cost me 2 seconds on the third lap, so he got past easily. I gave chase and was running almost identical lap times to Gerrard. I seemed to pull him back in places, but decided not to push to get past him. I needed 15 points more than him and passing him would only give me 1 point. As it was the last race of the year I decided not to try and pass. Possibly throwing myself and the bike down the road at this point in the season was not worth it.
So I followed him round for the remainder of the race and finished 30th overall and 11th in the Clubman Class. Meaning Gerrard took second in the Championship and I was third. I was pretty pleased with my achievement and it was great fun to have raced Gerrard all year. Hopefully we can do the same again next year, only with a better outcome for me!
My fastest lap was 1 minute 28.155 seconds and my race time for the 7 laps was 10 minutes 33.816 seconds.
Roll on 2010.
For full results of each race click HERE and click on the MRO Morello Powerbikes class.
*