*

Snetterton 7/8 July 2007

The plan was to get the fast boat out on Thursday night (work wouldn't allow me the Thursday off), arrive in Weymouth at midnight, then drive through the night to Snetterton ready for Friday practice. High winds put paid to that idea and I had to take the overnight slow boat. We arrived in Portsmouth at about 8:30am which meant we didn't get to Snetterton until about 12:30pm. This gave me three sessions in which to learn a new track!

First session I managed to do a 1min 20sec lap. Second session was wet so I didn't go out. Luckily the last session was dry and I lowered my time to 1min 18sec. In total I did about 14 laps. Not ideal preparation especially as two of my Rookie rivals were running 1 min 12 sec laps!

Race day came with a less vigourous wind and blue cloudy skies and fairly warm temperatures. Morning warm up was another chance to get quicker and after 10 laps I got down to a 1min 16sec. Still way off the pace of Mark Lister and Alan Smith.

Race 1

Starting from twenty-seventh position on row 7, I had a fair few bikes to try and get past. With the revs held at 8,000rpm the lights went out and I dumped the clutch. Usually at this point I get passed by quite a few guys coming from behind me, but today I actually got past some of those in front of me. So, steaming into the first corner I was still in contention. That's a first for me! Then Tony Taylor "had a moment" right in front of me but luckily didn't drop it. Charging on to the second corner I actually managed to pass a couple of riders. Then onto to the longest straight of any track in the UK. I thought my bike's lack of power (compared to the newer bikes I was racing against) would be mean places dropped, but I held my own.

This was new territory for me, as I have usually been dropped off at this point. Things were going well and I was at the back of a pack of about seven riders. Coming into turn two for the second time I went in hotter than those in front of me and thought I could out drag them down the straight. Unfortunately I had watched them too closely and taken my eye off the track and ended up running wide out of the corner. Blast! They got away from me and left me to ride pretty much on my own for the rest of the race, although I was pulling them back each lap. Across the finish line I was twenty-first overall and third Rookie. Mark Lister and Alan Smith were tenth and eleventh respectively, with Mark's best time a 1min 12.198sec. I had lowered mine to 1min 15.937sec. Some way to go!

Race 2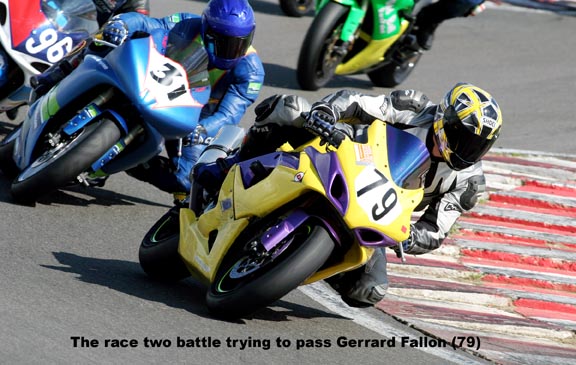 Another good start from twenty-first on the grid, once again kept me in contention with the group ahead. There wasn't much passing for me in this race as I was fairly evenly matched with Gerrard Fallon who was riding a Suzuki GSXR1000 K6. I could take quite a few corners faster than him but I just didn't have the power to pass him. The closest I got was on the penultimate lap out of the chicane onto the start finish straight, where I managed to pull alongside him. That was the first time he would have seen me but he just out dragged me down the straight. I moved over to the right to try and take him up the inside into turn one, but I just wasn't close enough. Over the finish line I was just four tenths of a second behind him.
*
Once again I was third Rookie in twenty-second position overall, with Mark Lister winning the Rookie class again and finishing sixth overall. Impressive performance. I managed to get my best lap time of the weekend of 1min 14.949sec.
Race 3
Sunday's races were run over eight laps compared to Saturdays seven. That extra lap really takes it out of you! I started from twenty-second, my finishing position from the last race. Once again I got a good start and beat Gerrard Fallon into the first corner. From then on it was a pretty lonely race as I didn't pass anyone. About half way through the race Gerrard Fallon managed to pass me into turn one, but I dropped back a little so I could carry better corner speed than him and managed to get straight past him coming out of turn two onto the back straight. I was pretty surprised at this as his bike has 30bhp more than mine. I found out afterwards that he had put it into first gear by mistake and this messed up his drive. Still, I fully expected him to rocket past me on the straight but I got lucky.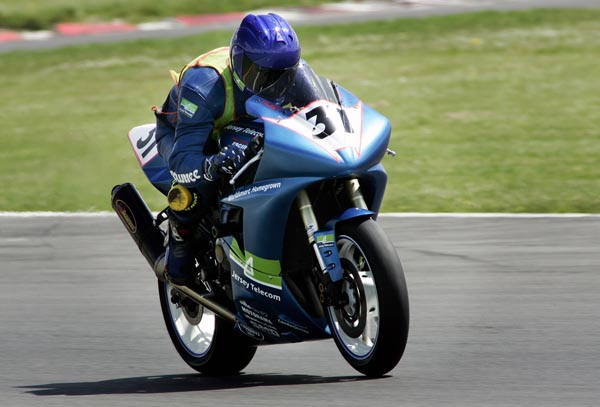 Knowing that Gerrard was probably right behind me, I ran a tight defensive line through the long right hander called Corams and left my braking a bit later for Russells chicane which leads onto the start/finish straight. A bit too late as it happened, so I bottled it and ran over the grass and luckily straight back onto the track without hitting anyone or losing a place. Phew! From then on it was just "hold the pace" and I managed to finish third Rookie again and nineteenth overall, my best result of the weekend. Best lap time 1min 15.389sec.
Race 4
On Saturday night I had considered changing my tyres, but in the end decided not to. Before this meeting I had also thought it a good idea to change the brake pads but then thought they would be fine. Anyway, another good start saw me off with the pack. Starting the second or third lap I was exiting turn one when I had a fairly big sideways moment. Very gradual, but enough to make me lose a bit of confidence in the tyres. Combined with that, my brake lever was just about back to the handlebars when braking at the end of the back straight, so I knocked back the pace ever so slightly.
It was enough for another Rookie, Andy Butters, to take advantage and pass me on the brakes at the end of the back straight three laps from the end. I had a bit more corner speed than him but with the brakes and tyre issues in my head I didn't try and put any moves on him. So it was fourth place for me and twenty-third overall. Best lap time 1min 15.919sec.
Incidently all weekend on the back straight, my bike was hitting the rev limiter in top gear for a second just before hitting the brakes. That was a first.
*