*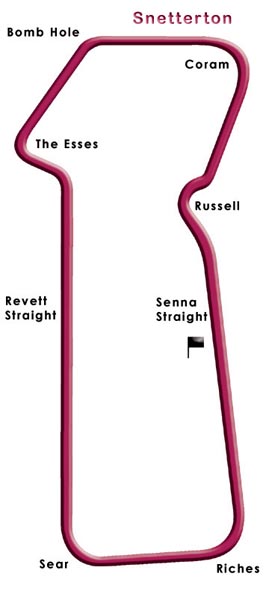 Snetterton - Saturday 6 June 2009
1050hrs - Qualifying - Session 1
A strong headwind blowing down the Revett Straight seemed to be holding me back a bit. I moved my brake points a little further back from testing the day before and did a best of 1 minute 15.733 seconds which put me 21st out of 24 and pretty much last of the Clubmans. I was not happy.
1520hrs - Qualifying - Session 2
I thought about where I could make up time: brake later at the end of both straights and I also decided to drop to second gear for the Esses at the end of the Revett Straight. I had been avoiding this as it means being in second gear for only a very short time. But second gear gives a better drive towards the Bombhole.
It seemed to work as I knocked a second off, down to a 1 minute 14.816 seconds and moved me up the grid the massive distance of one place! I was now in 20th and 6th Clubman. At least I wasn't on the back row, I was on row 5.
1730hrs - Race 1 - 9 Laps
I wasn't feeling confident, but was looking forward to having a battle with Ray Stagg, Gerrard Fallon, Steve Lovegrove, Emmett Burke and Matt Flower if his gearbox hadn't given up on him on the practice day.
My grid position put me on the inside on row 5, which I quite like as it means it's less likely I will have have someone one my inside going into the first corner. Ahead of me on row 4 was Sarah Jordan, Sean Murphy and Jack Sim. I felt that I got a great start as I was up beside Sarah going into the first turn, although I think I backed off a little too early for the first corner.
As we went through Sear and onto the Revett Straight I was closing on two bikes ahead of me. I was drifting to the right and so were they. I didn't have time to pull back to the left again, but as the rider on the right started to overtake Richard Green there was a gap between them just a little wider than a Suzuki GSXR1000. Hmmmm I thought, I can get through there, then I hesitated for a fraction of a second as I contemplated how badly such a move could turn out.
Nope, they were staying the same distance apart as Richard had seen he was being overtaken, so I went for the gap. I was in third gear at this point, doing about 120 mph. As I got between them I had to change to fourth, but I messed up the change. Not a good time to say the least. Kick up hard on the lever for a second time and fourth gear slots home and I drive through to the other side. Phew. Made it.
I was chasing Sarah Jordan now. Onto the back straight for the second time and I managed to out drag her and move up into 18th place. Ahead of me was Simon Meadows also on a GSXR1000. I didn't know at the time but he was also in the Clubman class and was in third place at that point. It wouldn't have mattered anyway, he was in front of me and I set my sights on pulling him back. However I threw this chance away pretty quickly as at the end of lap two I ran a little wide coming out of Russells chicane, went up onto the bumpy rumble strip and had to back off a bit. He went half a second quicker on that lap and proceeded to better my lap times for the rest of the race and pull away, passing Sean Murphy in the process.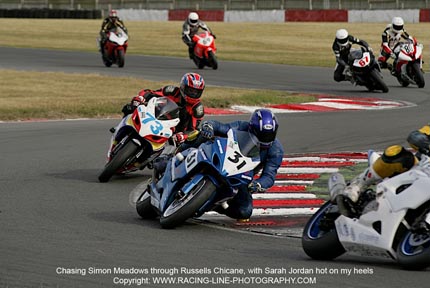 Sean was on a 600 and I managed to catch him. On lap 4 I passed him on the brakes into Riches, only for him to go straight back past me into the next corner, Sears, a corner I had been weak on as I hadn't managed to find a brake marker and was braking a fraction earlier than I could have managed. I immediately re-passed him down the Revett Straight with the power of my 1000 cc bike and led him into the left of the chicane at the end of the straight. Just as I was about to flick right for the second part he appeared underneath me and got the place back. I held station for a couple of laps, but then my lap times dropped a little and he pulled away.
On the last couple of laps I had something else to get my attention in the shape of Stefan Cappella. I can't remember where, but he passed me at some point and then I retook the place. I knew he was right behind me so on the last lap I kept it tight to the right as we went into Russells Chicane. I had also been braking a little too early for this corner as well and he took advantage of that by passing me on the outside. But he left it too late and ran straight on onto the grass.
This messed me up for some reason and I cut across the bumpy green tarmac of the second part of Russells. I stayed on and passed Stefan on the run to the flag to finish 16th overall and 4th Clubman. No medal! Sarah was only 1.3 seconds behind me.
I finally managed to lower my personal best time. I did a 1 minute 14.141 seconds in 2007, my first year. Now I had lowered this to 1 minute 13.561 seconds which I had done on the third lap. I was well happy with this. Race time over 9 laps was 11 minutes 17.784 seconds. Simon Meadows and Neil Bustin were 3 and 1 second ahead of me, so with a bit more effort and more consistent lap times I could maybe beat them.
Sundays races are 14 laps, so I will have a bit more time and hopefully more energy than them. The battle I had envisaged between me, Gerrard and Ray didn't happen as Ray's bike packed up and Gerrards wouldn't rev properly. Hopefully they could get things sorted for Sunday.
Snetterton - Sunday 7 June 2009
1240hrs - Race 1 - 14 Laps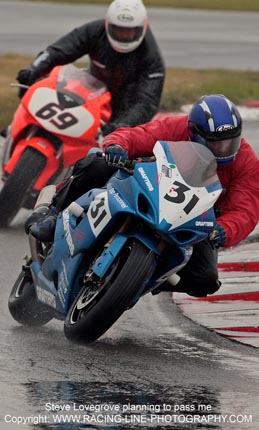 It was proper chucking it down with rain for this race. Will we get a meeting this year without a wet race? So much for global warming. As I formed up on the grid there was a big gap ahead of me. Both Sarah Jordan and Jack Sim were missing. Not too sure why, but it meant I had a clearer run off the grid.
Normally I am a little too cautious with the throttle starting in the wet, just starting like I would if I was on the road, so I decided to give it a few more revs, holding it at 6,000 rpm and then dropping the clutch.
It seemed to work as I didn't get loads of wheel spin and I caught up with the row ahead and out dragged Ray Stagg who was one position ahead on my left. He got back past going into Sear. We were chasing the pack but I was too cautious, waiting for my tyres to get hotter, so they pulled away.
Following Ray into Russells he was slower than me so I managed to pass him down the start/finish straight as we began lap 2. In a repeat of lap 1 he came past me into Sears. I'm pretty sure I passed him again, then he got back past me. I lost some ground on him going into Russells and he managed to pull away from me, so I concentrated on relaxing and keeping smooth. I was feeling good, although not as confident as I had been at Cadwell in the rain a couple of weeks ago.
I sensed someone was behind me on about lap 10. Sure enough Steve Lovegrove came past me braking into the Esses. Then he was gone! This wasn't looking good. To add insult to injury I got lapped by the three of the lead riders. I was pretty sure I was last at this point. I wasn't far off. I crossed the line in 12th out of 20 starters, but 6 of those had crashed. My best lap time was 1 minute 24.818 seconds and my race time for 13 laps was 18 minutes 46.885 seconds. I finished as 6th Clubman. One plus was that I had knocked a second off my best wet lap time around Snetterton, so something positive.
1730hrs - Race 2 - 12 Laps
It's amazing how the weather can change. Our last race of the day was a dry one, such a contrast to the previous race. Once again the two riders on the row ahead were not there, so I had a bit more space to play with. I got off the line well and was aware of someone on my left jumping the lights. Hopefully they would get a penalty for that.
Although I got into the first few corners well, the main group seemed to pull away from me quicker than the previous races. This left me with nobody to chase from pretty early on. However I knew I had passed Simon Gardner, who had started from 13th on the row ahead of me. I was quite surprised at this as he had been riding much faster than me, even though he was on a 600, doing 1 minute 11's in his Super Sport races.
I knew Emmett and Ray were behind me as well, just not how close. With no pit signals I wouldn't know for sure, so I just had to keep riding hard to stay ahead. It wasn't until lap 7 that Simon Gardner came past me. I was pretty pleased to have held him back for that long.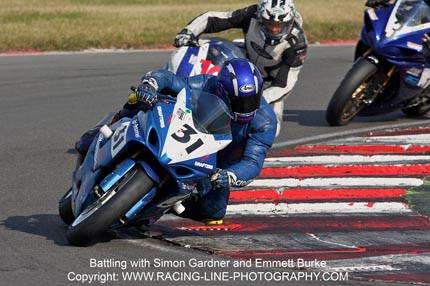 He took advantage of one of my weaker corners: braking into Russells chicane, where I was consistently braking a little early. He came down my outside and cut across to take the corner. The power of the 1000 helped me pull him back, but I just couldn't get past and he started to pull away a little. I kept chasing him as I thought there would be others wanting to pass me.
Sure enough the very next time into Russells chicane, Emmett Burke pulled exactly the same move as Simon. However he messed up his entry to the corner and was slower going through allowing me to get back past him on the start/finish straight. I was ready for him to attack again, but it didn't come. Had I managed to pull away from him? I was hopeful.
For four more laps I was on my own with no challenges from anybody. As I went around Corams for the last time I held a tighter line so that anybody wanting to pass would have to go down my outside. I thought about trying to brake a bit later into Russells and then thought better of it. If I messed it up I could throw away my place.
I did expect a challenge though. Sure enough Emmett did a repeat of his earlier pass, coming down my left side. I remembered what had happened the previous time he pulled that move and counted on him being slower than me through the chicane again. I held back a fraction so that I could carry the corner speed I wanted, so I wouldn't get so close to him that I would have to slow down.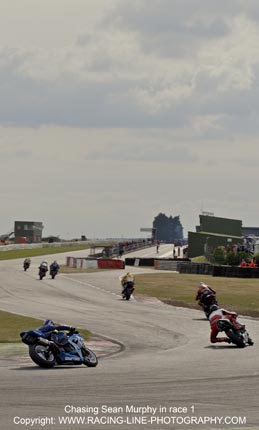 Sure enough he was slower than me through the chicane and I also got on the gas earlier than him. I tucked down behind the screen and concentrated on keeping the throttle wide open and making sure my gear change wasn't messed up. The plan worked. I went past him on his left side on the drag to the line and beat him by two tenths of a second! I was ecstatic. Even though I had been on my own for most of the race I had been charging the whole way trying to keep people behind me. In doing so I had knocked a further two hundredths off my fastest ever lap time recording a 1 minute 13.538 seconds on lap 10. What was even more pleasing was none of my times was slower than a 1 minute 14.5 seconds and five of my laps had been in the 1 minute 13 second bracket. Much more consistent than the nine lapper from Saturday.
I also had my best result of the weekend with a 10th overall out of 16 starters and third in the Clubman Class. Race time over 12 laps was 14 minutes 55.990 seconds. As I suspected someone had jumped the lights at the start. It was Emmett Burke and he got handed a 10 second penalty. He had also done the same thing in Saturday's race! So even if I hadn't beaten him on track, I would have still beaten him once his time penalty was taken into account. I was right about Simon Meadows and Neil Bustin. By running more consistent lap times I had finished ahead of both of them. Unfortunately Ray Stagg had a DNF, dropping out on lap 3. Not sure if that was a crash or a problem with the bike. Hopefully just more bike troubles.
I scored some good points this weekend and it has moved me into second place in the Clubman Cup. All of a sudden things have got very interesting. Shame I have to miss the next race at Oulton Park on 27 June, as work is sending me to the Island Games. That's valuable points I'll not be getting.
For full results of each race click HERE and click on the MRO Morello Powerbikes class.
*