*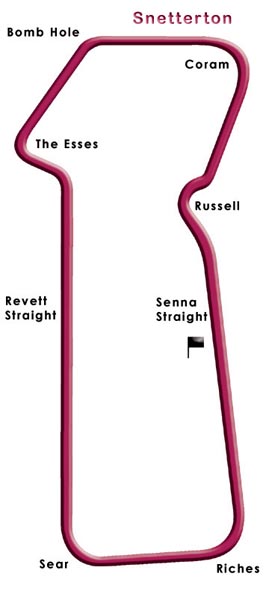 Snetterton - Thursday 3 September 2009
Track Day
There was rain for the first session so it was on with the wets. I went OK I think, although I wasn't timing. The rain stopped and the track dried out pretty quickly. I did a lap in the first session to check the track surface and came straight in so as not to wreck my wets.
I went to put my dry tyres back on and ran into a problem. I couldn't get the front wheel axle bolt off. Bugger! It was cross threaded, even though it went on without any problems. Ever since I have had the bike there has been a bit of a tight spot when removing or putting on the bolt. I had never done anything about it and now I was paying the price for that laziness.
The bolt was sprayed with WD-40 then I attacked it with a longer socket bar and finally she was off. But now completely useless. I had to get a new one pronto. After a couple of calls to racer friends, then a local Suzuki dealer, from whom I ordered a new one. All being well it would arrive at the shop the next day. Fingers crossed.
So I only did one session on my race bike, then one session on a race prepped Triumph Daytona 675. This belonged to a mate in England who had bought my previous race bike (the 2002 R1) off me at the end of 2007. I enjoyed that as it was a sweet handling bike and the power wasn't as intimidating as my Suzuki. Needs a lot of gear changes and revving though!
Snetterton - Friday 4 September 2009
Practice Day
No axle, no practice. I got the call from the Suzuki dealer at 11am to tell me the axle had arrived. As long as it was the correct part I was back in business. Luckily Micky had turned up to race with his son so he kindly lent me his van to pick it up. I couldn't move mine as the wind had been gale force and my gazebo was firmly strapped to my van. It was an hour round trip to Hales, south east of Norwich.
As soon as I got back I tried the part. A huge sigh of relief when I found it fitted perfectly. This meant I had 4 sessions I could ride in, so all was not lost. For the first time since I've had the Suzuki I changed the gearing by dropping the rear sprocket from a 45T to a 44T. It felt a little softer on the throttle, but seemed OK.
At the pace I was going it was a little flat exiting Russells. In the first session I got down to a 1 minute 16.00 seconds. Not very quick, as my best is a 1 minute 13.55 seconds set in June, but it was only the first session.
In the second session I got down to a 1 minute 15.38. Moving forwards, however I needed to be in the 14's to be on it. The third session they let us all out in one big group, usually they stagger us out of pit lane. I didn't think about it and went out at the back of about 20 riders. After a few laps I realised I had a problem: I was being held up and couldn't get a decent lap in. Eventually I backed off in order to try and find myself some space. It was too late though as the session came to an end with my best time a 1 minute 15.73 seconds. Poor effort. Then just before the final session it rained so I packed it in and got the bike scrutineered instead. It saved an early morning visit the next day.
Snetterton - Saturday 5 September 2009
1115hrs - Qualifying - Session 1
It was nice and sunny although still very windy. Nothing like the previous couple of days, but a strong head wind down the start/finish Senna straight and tail wind down the Revett Straight. So much so that loads of people were overshooting at the end of the Revett and taking the escape road.
A sidecar had spat its engine oil all around Coram and into Russells. Brilliant. Luckily it was only really a problem at Russells and slowed most people down at that point. My best time wasn't very good at 1 minute 15.304 seconds. Not much better than yesterday.
1450hrs - Qualifying - Session 2
There were a few more clouds in the sky, otherwise conditions were the same with the cement dust at Russells being a lot less of a problem. I had words with myself: I had to brake at the 200 metre board at the end of the Revett Straight. I managed to brake later, but I still need to leave it later. Having said that I managed to do a 1 minute 13.825 second lap, which was only three tenths of a second slower than my fastest ever race lap. I was pretty pleased with that as this was my best qualifying performance by far. About time too!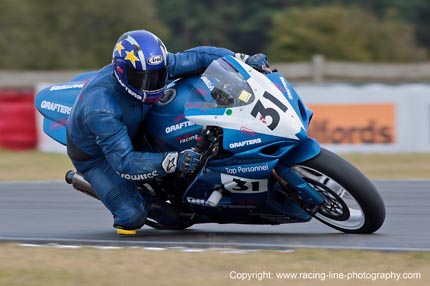 I thought this would move me up the grid a quite a bit, but it was only good enough to improve by one place. I was on row 5 of the grid in 20th position and 6th in the Clubman class. Once again Steve Lovegrove had qualified better than me with a 1 minute 13.782 second lap and was next to me on the grid in 19th place. According to Gerrard Fallon I had pulled him round to a 1 minute 13.575 second lap, which put him in 18th position. Nice and close to me so hopefully I could get a good start and get ahead of him.
Before the first race I checked the front brake pads and decided there was not enough meat on the pads so went to change them. This was a fifteen minute job so I had plenty of time. I had bought 8 pairs of Bendix pads from Demon Tweeks at the beginning of the season to save on postage costs and up to this point I had had no problems. However when I went to put the new pads in they didn't fit! This was a bad time to find out. They looked very similar to the correct pads, but were about 1-2mm too wide to fit in the caliper. They had obviously been incorrectly labelled. Anyway, they didn't fit so it was time to panic. Luckily there are two race support shops at every race and I was fortunate to be able to buy some Performance Friction pads. Crisis over. If they hadn't had any I'm sure one of my rivals would have been able to help out.
1712 - Race 1 - 10 Laps
It was very overcast now and looked like rain was coming, luckily it didn't. My grid position put me on the inside for the first corner, which is just where I like to be. In theory the other riders will be on my outside so I'm less likely to be taken out.
There was quite a long hold on the lights but once again I got a great start passing Steve and Gerrard on my row and a couple on the row ahead. I even passed Richard Green who was on row 2, but only because he messed up his start and had his front wheel pointing at the sky. He came past after no more than two laps.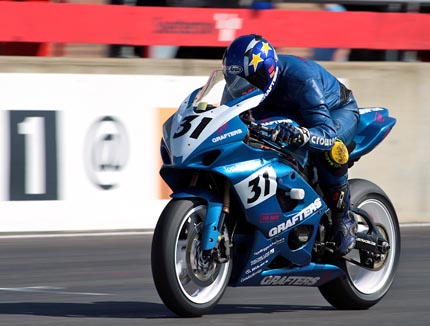 Into the first corner I had made up 5 places and was in 15th position. Once the field had spread out I had two bikes ahead of me which I felt I could reel in, however I made a mistake on lap 2 as I came out of Sears and ran wide onto the bumpy tarmac and was unable (or unwilling) to get back on the power as early as I usually do, so lost time. I felt sure somebody would take advantage of that mistake, but no, I got away with it. Whatever, I had lost any chance of passing them.
After about 4 laps Anne was holding out a "1" on my pit board and then a "2". Blimey! I don't see those very often. I had a comfortable gap on those behind me although I tried not to relax. I didn't, my lap times were consistently in the 1 minute 14.0 seconds or 13.8's.
Then on lap 7 she showed me a zero. What! Were on earth had he come from? It was Richie Cunningham who had qualified ahead of me in 17th position. For the preceding 3 laps he had been going a second to a second and half a lap quicker than me. He got past me by getting the inside line into the right hander of the Esses and then pulled away a little. I felt I pulled him back, but was never going to get him. He did drag me round though, because I did my fastest two laps on lap 8 and 10 chasing him with a 1 minute 13.333 second and a 1 minute 13.238 second lap on the last lap. A new personal best.
This has to be my best ever race at Snetterton as I did 5 laps in the 13's with the slowest being 1 minute 14.181 seconds. My overall race time for the 10 laps was 12 minutes 25.277 seconds, which put me in 15th place overall and 3rd in the Clubman class. This gave me valuable points over Gerrard, more so because he was unfortunate not to finish as his chain came off down the Revett Straight. Steve was right behind him at the time and was very lucky not to be hit by the flying chain as he said it flew straight up in the air.
Snetterton - Sunday 6 September 2009
1345 - Race 1 - 15 Laps
I got another blinding start in this race and was up to 13th place by the first corner. I got past Jason Byard again who was on the row ahead on a Suzuki GSX-R750. I also passed Steve and Gerrard again. Going into Sear for the first time I could see a couple of bikes ahead going into each other and off the track. One of them was Richard Green, the Clubman Cup leader. It occurred to me that I might now be leading the Clubman race. Enough of that, keep focused. Even if I had been it wasn't for long as Richard came back past at some point before the end of the first lap, although I don't remember him going past.
I was keeping with the pack ahead for a couple of laps. Anne was showing me "zero" on my pit board again, so obviously I had company. No matter, I was concentrating on the man ahead who was about 20 metres in front. It was Gareth Keevil (No 97). I seemed to be holding station behind him. Then as he exited the Bombhole on lap 3 his tyres let go and he was off, his bike cart wheeling through the air. That looked like an expensive crash, but hopefully he was OK. His misfortune moved me up to 12th place and left a big gap up to 11th place.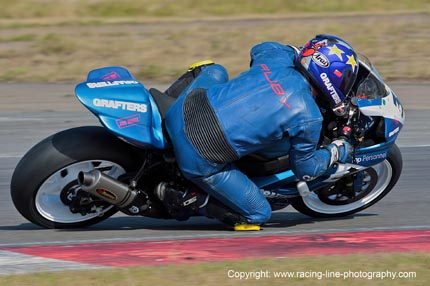 Anne was kind enough to keep showing me a "zero" so I had to stay on the case. Jason Byard came past me on lap 4, no surprise really as he was running lap times in the high 11's. I kept my head down but my lap times were not as good as the previous race, running in the low 14's. Unfortunately Richie Cunningham was chasing me again, doing low 13's and he got past me on lap 9. Blast.
I was in 14th place now, still with close company behind me. It was Jon Paine who had started from 21st place. However I started to have problems from about lap 10. For some reason my right wrist was really starting to hurt me and was making braking very painful, most noticeably into Sears, The Esses and Russells. The end result was I was braking a little earlier, so much so that I was sure he would come past.
In addition to the earlier braking I made a couple of mistakes, one of which was to keep the throttle on for a fraction of a second whilst I was braking at the end of the Revett Straight. Not clever. I was also a bit ham fisted with the throttle in a couple of other places too.
I was praying to see the last lap flag, but it never came. Then, what I think is a first for me in a dry race, I got lapped by the race winner, Joe Burns. Oh the indignity of it. Then I saw the chequered flag. Relief. I had managed to keep Jon Paine behind me, beating him by nine tenths of a second. With the leaders doing times 5 seconds a lap quicker than me it should have been no surprise they lapped me with lap times just over a minute, but I had never considered it.
My lap times were a bit slower with most about 1 minute 14.2 to 14.5 seconds a lap, with a best of 1 minute 13.758 seconds, strangely enough on lap 13 when I thought I was going my slowest due to my wrist. My race time was 17 minutes 27.115 seconds for 14 laps, finishing in 14th overall out of 28 starters and 3rd in the Clubman class out of 12 starters. Gerrard was two places behind me, so more valuable points for me in my pursuit of his second place in the Clubman Cup Championship.
1620 - Race 2 - 15 Laps
I had another good start and like race 1 I was 15th into the first corner. This time Steve and Gerrard got the better of me though. I wasn't expecting that. I started to chase them and got past Steve on lap 1 and then Gerrard on lap 5 as we went down the start/finish straight.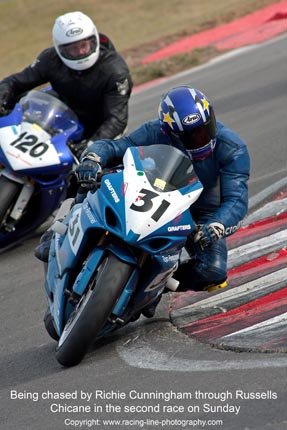 Jon Paine was ahead of me now on a 2009 Fireblade. I had beaten him in the previous two races, but he had been close both times. It wasn't going to be easy to get past him. I was trailing him closely, looking for a way past. I seemed to go through Russells chicane a bit quicker so thought I might get him on the start/finish straight.
I did eventually on lap 6, not on the power as I thought, but on the brakes into Riches. That felt good. I had managed to improve my braking there over the weekend. Initially braking at the 250 metre marker, I had got it down to the 200 metre board. With more confidence I could do it later still.
Now I was hoping that my right wrist wouldn't bother me again. Before the race I had iced it to take down any swelling and had made sure I hadn't done the wrist straps up too tight on my gloves. So far it was no bother. On lap 9 I moved up to 12th place due to somebody falling.
I kept on pushing, but then on lap 10 I came up to lap Dave Diboll as we approached Sears. He was being shown the blue flag to let him know he was about to be lapped. I hesitated a little as I wasn't sure if he was going to stay wide on the entry. This cost me about half a second. I went down his inside but was on a tighter than usual line so my speed was a bit lower than usual. Thus my exit speed onto the Revett Straight was lower enabling Jon to catch me up and pass me on the right hander of The Esses.
I chased him but he managed to pull away a little doing lap times about half a second quicker than me. Joe Burns lapped me again, but this was one of my best ever races, certainly my best at Snetterton as every lap except for two were in the 13's, mainly 13.5's. I also lowered my personal best again, only by two thousandths of a second to 1 minute 13.236 seconds on lap 12. My race time for 14 laps was 17 minutes 19.631 seconds, 8 seconds quicker than the previous race.
I managed to beat Richie Cunningham this time and finished in 13th place overall out of 23 starters and 3rd in the Clubman Cup. Once again I was in front of Gerrard so I had reduced the gap between us in the race for second place in the Clubman Cup Championship. Only two more meetings left to try and snatch second from him.
For full results of each race click HERE and click on the MRO Morello Powerbikes class.
*