*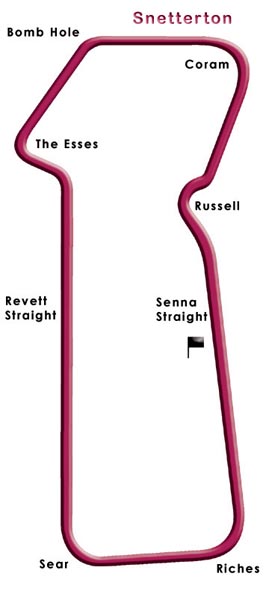 Snetterton - Saturday 5-7-08
The weather forecast for the weekend was pretty grim, so we decided to try and get ourselves a pit garage. The first corner is bad enough in a race, but you haven't seen anything until you see a hundred vans, trucks, camper vans all trying to get to a garage first. Absolute mayhem and even if you were first at the front of the queue, the being British thing goes out the window and it's every man for himself. At least that was one race we managed to win that weekend and meant we didn't have to worry about our gazebos flying away.
The only other Jersey guy racing in Powerbikes was Luke de la Cour.
Qualifying
Well qualifying turned into a shambles for me. The track was dry but rain clouds were looming. I went out on drys but the rain came almost straight away and before I could register a dry lap, the red flags came out as Peter Baker had had a big off into Riches, the fast first corner. By the time the session was re-started it had begun to rain and I was trying to change my wheels as quick as possible. In the end I didn't do it in time and the session was over. So that put me right down on the grid. However some riders complained about the lack of time to change wheels, although quite a few managed it, including Luke. As a result the organisers decided to give us another chance a bit later.
I got a time but it wasn't very fast: 1 minute 16.778 seconds, which put me in 23 place (out of 31) on the grid on row 6.
Race 1
The track looked like it was still wet, so most of us went out on rain tyres. Once we had completed the warm up lap it was pretty obvious this was the wrong choice. Intermediates or drys would have been better, but we were all in the same boat. I had a great start and passed quite a few people, including Dylan Fox who had started in 11th place on row 3! Two riders went down at Sears, the second corner and I almost got caught up in it. I managed to go with the pack for the first couple of laps and was in 14th position! I had made up 9 places. Crikey!
On lap 4 Dylan Fox and Shaun Hennessey came past me, followed by Mark Barton on the next lap. So this dropped me down to 16th place. Then on the final lap Charlie Foster came past me. I finished in 17th place with a best lap time of 1 minute 21.854 seconds. Not very quick, but the wet tyres were getting quite slippery by the end of the race as they were over heating in the dry conditions.


Jersey Rider Results
5th Luke de la Cour RACE TIME 9 minutes 05.894 seconds BEST LAP 1 minute 16.226 seconds
17th Rob Currie RACE TIME 9 minutes 54.049 seconds BEST LAP 1 minute 21.854 seconds
Race 2
My grid position for this race was 17th on row 5.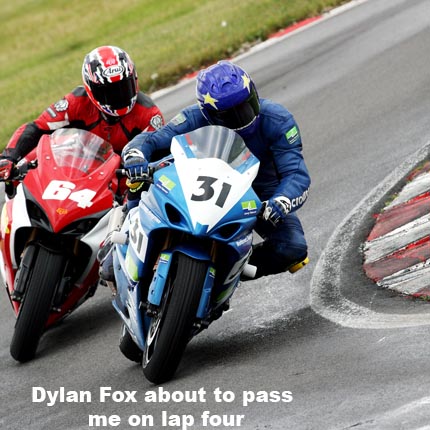 Had a bit of a nightmare on the grid. I put the bike in gear ready for the start, but then as I picked my foot up to put it on the footrest I caught it against the gear lever and knocked the bike into second gear. I quickly put it back into neutral, or I thought I had because when I let the clutch out to check it was still in gear I managed to stall the bike! By this time the red light came on for the start, which meant I had about a second or two before the race would be started. I really should have put up my hand to indicate I had a problem, but it never occured to me. Luckily I managed to get her started and into first gear just as the lights went out. That was a close one. If I had been stationary at the start I could have had a load of bikes behind me crash into me.
All things considered the start was pretty good, but I backed off a little too early for the first corner. I got into my stride but then as we started lap 2 the red flags came out and the race was stopped as someone had crashed somewhere. We had about a 10 minute wait under the bridge at the end of the back straight before we were called to the grid again for the re-start. I got another good start and was on the tail of Gerrard Fallon when the red flags came out again as we approached Riches for the second time. There had been a big crash, involving about 5 bikes at the The Esses. The race was abandoned and it would be re-run at the next meeting at Cadwell Park on 2 August.
Snetterton - Sunday 6-7-08
Race 1
As the last race didn't run I was still on the fifth row in 17th position. It was dry with some clouds in the sky and a bit windier than the previous day. I started well and passed three people off the grid, but then lost a place going into Sears, the second corner. Once again I was with the pack for about two laps and then they dropped me. I could see Gerrard Fallon about 50 metres ahead and set about trying to reel him in. By lap 5 I had got closer, but not close enough to make a move on him.
Whilst I was trying to catch Gerrard I was checking the pit board that Anne was holding for me, which kept saying "0". I had someone hot on my heels so knew I had to keep pushing even though I wasn't catching Gerrard. For the first three laps I had Charlie Foster behind me. Then he got passed by Swampy
who tailed me for three laps. Then on lap 6 Phil Seton came past me on the brakes into The Esses. I thought I had been lapped as Phil is much quicker than me. But no, he had started at the back of the grid as he hadn't run in the previous race. I stayed quite close to him and watched as he slid the back end out of every corner. Impressive stuff.
Approaching my pit board for the last time I expected, well hoped, to see at least a "1" on it. No such luck. Still a big fat "ZERO". I couldn't believe I still had someone on my "six". That someone was Dave Shelvey, who took up the job of harassing me! During the race I didn't know who had been behind me. I assumed it had been the same person all race. As such I was expecting whoever it was to make a hard pass near the end of the last lap. Nothing happened braking at the end of the Revett Straight so I thought they would make a move up my inside round Corams, especially as I turn in a little bit late for that corner. But nobody came down my inside. Instead Dave Shelvey came round my outside braking into the Russell chicane. I wasn't expecting that, nice move Dave. But I wasn't happy. I noticed that he was on a 600, so I hoped that if I stayed with him through the chicane I should be able to out drag him to the finish line. Luckily I did, although I only beat him by six hundredths of a second and finished in 15th place out of 23 starters.


Jersey Rider Results
4th Luke de la Cour RACE TIME 8 minutes 24.168 seconds BEST LAP 1 minute 11.078 seconds
15th Rob Currie RACE TIME 8 minutes 53.941 seconds BEST LAP 1 minute 15.013 seconds
Race 2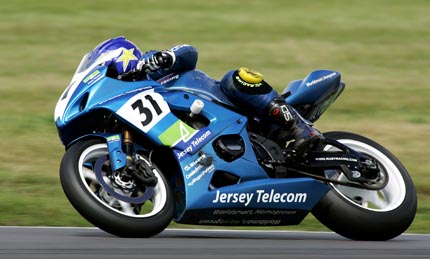 I moved up onto the fourth row for this race, in 15th position. The weather had changed and this was a propper wet race. I was determined to do better than I usually do in the rain and had had a positive word with myself. The start was so-so and I didn't pass anyone after the start. It could have been a lonely race, well it was more or less, but what was different was that I could still see about four other riders ahead of me, when usually they have all but disappeared. So that was a change. There were quite a few fallers, including Luke who high sided at Russell Chicane (he was OK), which is how I made up my positions as I finished in 12th place out of 20 starters. Although I was well down the order I felt I had ridden one of my best wet races, so something positive to take into my next wet race. More wet practice is definitely needed though.


Jersey Rider Results
12th Rob Currie RACE TIME 7 minutes 21.392 seconds BEST LAP 1 minute 25.498 seconds
DNF Luke de la Cour BEST LAP 1 minute 21.326 seconds
For full results of each race click HERE and click on the BMCRC Powerbikes class.
*