*

Snetterton - Saturday 15-9-07

It was another mad dash to get to this round. I got a couple of hours of interupted sleep on the floor of the ferry and arrived in Weymouth on the Friday night at half past midnight. Then I drove straight to the circuit arriving at 4am. I jumped into Steve and Lukes gazebo and slept between their two bikes on some cushions on the floor. Slept fairly well and was up at 7am to get the bike scruitineered and set up the gazebo.

Race 1

The weather was great: sunny and warm. Lining up for first race and before the lights even come on somebody jumps the start. I figure they will abandon the start, but no, the lights come on, then go out and I am totally not ready. So slow reaction followed by a wheelie. I snick it into second and the damn thing jumps out of gear! How much more can go wrong?

I think I manage to make up a place into turn two onto the long back straight. I am amazed as Andy Butters comes past me on the straight. I was sure that my pathetic start would have let him get ahead well before then. I try and chase him but have to come out with my usual moan: his K6 is much faster in a straight line.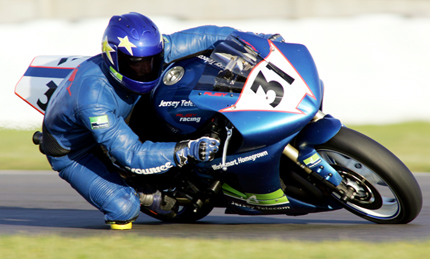 I content myself with a battle with Simon Meadows on a ZX-10R and Jonathan Wadie on a K7 Suzuki. I manage to pass Simon on the start/finish straight as I manage to out drag him from the chicane onto the straight.. But he comes past on the brakes into the right hander that leads onto the Revett Straight. I keep chasing his back wheel but near the end of the race I mess up the chicane that leads onto the start/finish straight (Russells Corner) and run onto the rumble strip coming out and can't get back on the power and so lose some ground.
I manage to claw the ground back and the last time into Russell Bend I drop back a little so I can carry more corner speed than Simon. As we come out onto the straight he misses a gear. Perfect I think, I've got you now. As I am drawing past him I change to second gear and now I miss a gear! Nooooooooo! Across the line he beats me by 7 hundredths of a second, about half a bike length.
I'm really angry with myself when I come in. I should not have allowed myself to get distracted on the start line and should just focus on the lights. Yet another lesson learned. Third placed Rookie and 20th out of 25 starters. Best lap time: 1 min 15.570 secs.
Race 2
I get a better start in this race although the front pops up a bit too much. Manage to keep with the pack into the first two corners but once again have to watch Andy Butters disappear away from me down the Revett Straight. I try to chase him but to no avail. I find myslef behind Simon Meadows again and a 1098 ridden by Dean Bowling. I can carry more corner speed than them but I just don't have the power to pass them on the straights.
Once again I ran onto the kerb on the exit to Russell Corner and lose some ground. Then on lap 6 Andy Butters crashes when he runs into another rider going into Russells corner. The race is red flagged and a result declared from the previous lap. With Andy crashing I get second place Rookie and 20 points, but he scores none. Overall I finish 19th out of 25 and do my fastest ever lap of Snetterton during the race: 1 min 14.141 secs. An improvement from my last visit by 7 tenths of a second.
Snetterton - Sunday 16-9-07
Warm Up
I had the K6 to use today, but as Andy Butters had crashed yesterday I decided to use the R1 for the first race, see how it went, then maybe use the Suzuki for the last race. On lap 3 of the morning warm up I went a little too hot into the chicane at the end of the back straight and on the right hander probably loaded the front end too much and down I went. I slid along on my right side then when I hit the grass I rolled a couple of times. Thoughts this time were of keeping my helmet off the ground. If it got badly scratched I would have to buy another. More expense!
Luckily I didn't hurt myself and the bike wasn't too badly bent: twisted subframe, broken front brake reservoir, snapped brake lever, bent clip on, bent front fairing/clock support and cracked fairings. I could have got her repaired in time but chose to use the K6 for both races as it was a lot easier.
Race 1
So out onto the grid on a bike I have never ridden before, on slicks, to do a race. Seems a little bit crazy to me, but I just need to finish behind Andy Butters in both races and third place in the championship is mine.
The warm up lap is my first chance to ride the bike and it feels very different to my R1. No surprises there then. It doesn't seem to like going in a straight line, probably because of the pointy profiled slicks; it weaves the rear on the brakes, and it feels nervous lent over. So far so good! We form up on the grid and then are told to kill engines as we have to wait for an ambulance to move off the track. They give us another warm up lap which gives a whole extra lap to get acquainted with my new steed. Two laps of familiarisation before a full on race.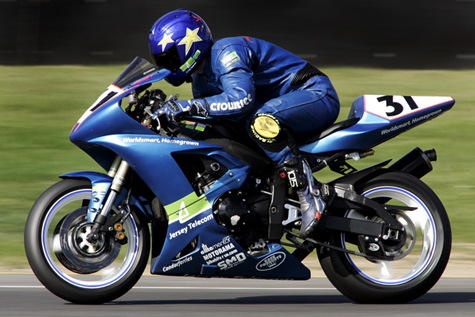 Lights go out and I get a completely pants start. Andy Butters is in sight but I get passed by another Rookie, Ray Stagg, who I beat by 25 seconds in the last race. I wasn't happy about that and used the power of the Suzuki to pass him on the back straight. I didn't see him again.
I started to chase Andy and began to get a feel for the new bike. I wasn't taking any chances in the corners and so my corner speed was down. I was keeping with Andy and actually reeling him in. By mid distance I passed him on the brakes at the end of the Revett Straight, only to have him do the same to me three corners later and get back ahead. If I had been on the R1 at this point I would have had the confidence to get past, but I reminded myself that finishing behind him was good enough. I did try to out drag him to the finish line but he got the better of me by 3 hundredths of a second. Best lap time: 1 min 15.959 secs. 23rd overall out of 27.
Only one more race to go and as long as I finished behind Andy again, I was home and dry.
Race 2
Slightly better start this time, but still need to practice on the new bike. Followed a large group for most of the race, however I didn't have the confidence in the corners as the bike was a bit twitchy. The previous owner is about 3 stone heavier than me so I don't think the suspension was working in the correct range. Andy Butters was ahead of me and had picked up the pace compared to the last race where he was noticeably slower due to his crash the previous day. He started to gap me by a big enough margin for me to realise it wasn't worth chasing him and possibly throwing it all away.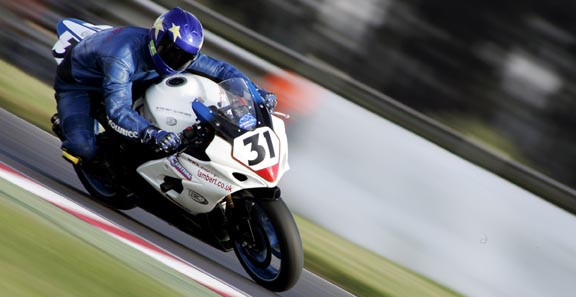 So I rode tactically to make sure I finished in third place. On the last lap I had a look behind me to make sure no other Rookie could demote me to fourth as that would mean I would tie with Andy on points. I could see no one so I cruised the last lap. Third in the race and third in the championship. Result. 19th overall out of 25 and best lap time: 1 min 15.573.
My laps times on the new bike were 1.5 seconds slower than my best on the R1, so that was encouraging. Once I get familiar with the bike I am pretty sure my lap times will come down by a healthy margin. Well they better do, as that's the whole reason I bought the Gixxer. Need to start saving now for winter testing and next year.
*