*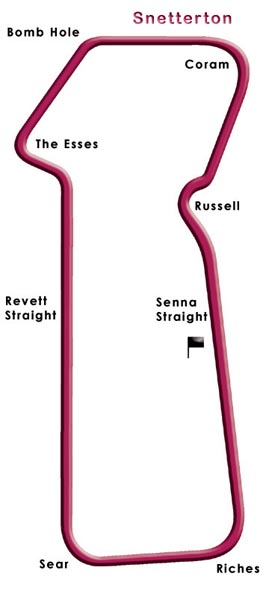 Snetterton - Friday 11-4-08
With too many on holiday at work I could only get the Friday off before our weekend races. In order to do the test day on the Friday I had to get the Condor fast ferry to Weymouth straight after work on the Thursday. This arrived at 11-15pm and then it was straight onto the road to drive up to Snetterton. I arrived at the track at 3-15am. As it wasn't really a good time to unload the van I got about three hours of uncomfortable sleep in the front seat of the van, covered in a nice warm duvet. Perfect preparation for a day of high speed riding. Not!
Testing went pretty well, but I was making quite a few mistakes, especially coming into Russell's chicane. Maybe a bit too tired. My times were quite a bit slower than I had expected, although I did go faster after lunch. At about 3pm the wind picked up to gale force and the rain fell like all the water in the world was dropping on us. The guy across from me nearly lost his awning as it half got blown over the fencing. There were about 10 of us hanging on to it whilst the owner tried to rebuild it and strap it down. Luckily mine was secured to the van, but I was still worried.
The combination of wind and rain meant it was madness to go out on track, although a few brave souls did. The rain eventually stopped, but as there was only two more sessions left I decided against it. I do need wet weather practice but decided not to do it the day before race day. Instead I took my bike and clothing to scrutineering to save myself the job at 7am the next day. I usually try and do this on the Friday as it means if there is a problem with the bike you have a lot more time to try and correct the problem.
The other Jersey guys racing in the Powerbikes were Luke de la Cour, Steve de la Cour, Gary Hotton and Nick Daghorn. Unfortunately Nick didn't even get to start as the gearbox on his R1 broke. Gary started the day battered and bruised following a highside exiting Russell's in Friday testing.
Snetterton - Saturday 12-4-08
Qualifying
I didn't do anything special in qualifying, despite my best efforts. In fact I went a little bit slower than I had the day before. My fastest lap of 1 minute 17.777 seconds put me in 21st place, on row 6 of the grid. Luke was in 17th on row 5, Gary was in 32nd on row 8 and Steve in 33rd on row 9.
Race 1
I had an excellent start and by the time we had gone round the first two corners I had moved up 7 places into 14th position. I was quite amazed at this. I was also pleased to be ahead of Luke after one lap, especially as he had started on the row ahead of me. On lap 2 I passed Gerrard Fallon and Harry Cole, although I can't remember where. This moved me up into 12th place. I was surprised that Luke had not come past me yet, as he is quicker than me. I didn't have to wait too long though as he passed me on the brakes into Riches at the end of the start/finnish straight.
I tried to stay with him but he was about a second a lap quicker than me. On lap 4 exiting Sear's onto the Revett Straight my bike jumped out of gear and by the time I had got it back into gear I had lost too much ground on Luke. As a result of the bike jumping out of gear I got passed by Matt Lobb. I followed him closely and managed to get past him exiting Russells as he slowed down whilst at the same time looking at the rear of his bike. I think he had some sort of problem as in one of the corners when I was behind him, his bike was grounding out in a right hander, showering sparks everywhere.
He got back past me two corners later, stuffing it down the inside going into Sear's. Classic passing move which pushed me wide on the exit as his bike was where I wanted to be. I could still see Luke ahead of me on the straight, about 100 metres ahead. However on the last lap as I was going into Russell's I could see Luke going up pit lane very slowly. His race was over as the wire from the Power Commander had detached from the battery. That was a cruel blow as he was about 300 metres away from the finishing line!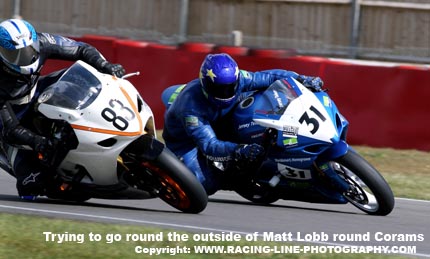 I crossed the line in what I thought was about 15th place as only Luke and Matt had passed me and I knew I had passed a few at the start. However a cruel blow was to be dealt to me now. I was reading the results sheet to find I was in 24th place. I looked at the results for a few minutes not really believing them. Then I glanced at the bottom of the sheet to see I had been given a 20 second penalty for passing under a yellow flag. I was gutted. I never saw the flag. I went to race control to try and get it reversed but was told I might get a worse penalty. As not seeing the flags is not a valid excuse I decided to take it on the chin and put it down to experience.
My best lap was 1 minute 15.452 seconds and finished 24th out of 33 starters. Without the penalty I would have been 12th.
Jersey Rider Results
24th Rob Currie RACE TIME 9 minutes 19.249 seconds BEST LAP 1 minute 15.452 seconds
27th Gary Hotton RACE TIME 9 minutes 31.461 seconds BEST LAP 1 minute 19.627 seconds
30th Steve de la Cour RACE TIME 8 minutes 40.462 seconds (6 laps) BEST LAP 1 minute 24.806 seconds
DNF Luke de la Cour BEST LAP 1 minute 13.488 seconds
Race 2
There were big dark clouds in the sky as we went to the grid, but it hadn't rained yet. As we went off on our warm up lap the heavens opened as we approched the first corner. We all put up our hands and came straight back into the paddock to change to wet weather tyres. You are given 10 minutes for this job, but when you are doing it yourself it isn't long enough. I changed mine in a personal best time of 12 minutes. I got back on the bike to go to the grid, only to hear those who changed wheels quicker than me or who have a second bike with wets already fitted, leaving for their warm up lap.
I wasn't happy as this meant I had to start from pit lane. As it happened I wasn't alone as I was joind by about 8 others, all of whom were ahead of me, including Gary Hotton and Luke de la Cour. Once the race had started and all the other bikes had passed the end of pit lane we were allowed out. Even with wet weather tyres on you need to make sure they have some heat in them before you can push it. My confidence in the wet is low anyway, but as most of the grid was miles ahead I just decided to use the race as practice with wets on as I knew I wouldn't be getting a great result.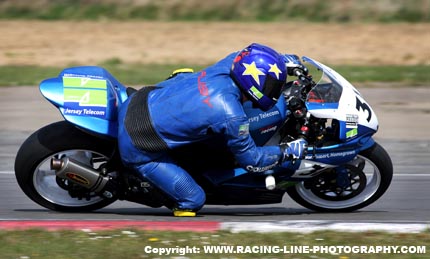 However there were a lot of other riders pushing too hard on cold tyres and 7 riders crashed in 4 laps! There seemed to be a rider off on every corner. Then on lap 4 as I was going down the Revett Straight I saw Steve de la Cour ahead of me and I was gaining on him. I had to pass him otherwise I'd never hear the end of it. As we went round Corams there was a bike lying in the middle of the track. We both rode around it. As we headed for Russell's chicane the red flags came out so it was race stopped due to the danger of the bike on the track. It meant I never got past Steve, so he beat me in that race.
Probably due to all the fallers rather than any skill on my part I finished in 22nd place with a best lap time of 1 minute 31.717 seconds.


Jersey Rider Results
18th Gary Hotton RACE TIME 4 minutes 58.243 seconds BEST LAP 1 minute 30.676 seconds
20th Luke de la Cour RACE TIME 5 minutes 00.183 seconds BEST LAP 1 minute 27.706 seconds
21st Steve de la Cour RACE TIME 5 minutes 02.606 seconds BEST LAP 1 minute 35.961 seconds
22nd Rob Currie RACE TIME 5 minutes 07.283 seconds BEST LAP 1 minute 31.717 seconds
Snetterton - Sunday 13-4-08
Race 1
Another row 6 grid position, this time in 22nd. I had another great start and passed Gary Hotton on the row in front of me. Unfortunately I backed off too early for the first corner (something I did a lot last year, but have managed to avoid so far this year) and Gary came back past me. I followed him through the first two corners and then managed to pass him and a couple of others down the long Revett Straight. At the end of the first lap I had moved up 6 places into 16th position. I got up to 14th place on lap 2 when I went past Darren Clark and another rider fell. I managed to follow a pack of riders for a couple of laps, but they started to pull away.
On lap 4 Darren Clark got back past me as well as Steve Topping on a ZX-10R. That was because I made a mistake by leaving my braking too late for Sear's. As a consquence I ran wide and lost drive onto the Revvett Straight as I was in third gear instead of second and they passed me on acceleration. I nearly managed to out brake Darren Clark on the brakes at the end of the straight, but wasn't quite close enough. However on the next lap he left his braking too late at the end of the Revett Straight and went straight on down the slip road, letting me move up to 15th on lap 6.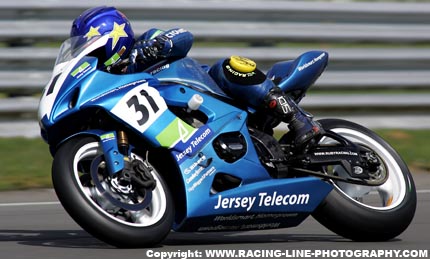 I kept him behind for a lap, but he got back past going on the outside into Russell's chicane. I thought I had made it difficult for him by moving further to the right. I stayed right on his tail. I could see I had an advantage in a straight line but he was better than me on the brakes. Going into the last corner I hung back a little so I could keep up my corner speed and then tried to out drag him to the finish line. I was pulling him back but the finish line appeared too soon and he beat me by four hundredths of a second. So close.
My final position was 15th out of 30 starters, with a best lap time of 1 minute 15.118. Still a second slower than my best time on the R1, but I'm managing to go faster in the first couple of laps, compared to last year and this is where I'm making up most of my places.
Jersey Rider Results
11th Luke de la Cour RACE TIME 10 minutes 05.336 seconds BEST LAP 1 minute 14.060 seconds
15th Rob Currie RACE TIME 10 minutes 15.482 seconds BEST LAP 1 minute 15.118 seconds
24th Gary Hotton RACE TIME 10 minutes 40.697 seconds BEST LAP 1 minute 17.817 seconds
28th Steve de la Cour RACE TIME 10 minutes 00.605 seconds (7 laps) BEST LAP 1 minute 24.033 seconds
Race 2
Big black clouds were looming again for our last race of the weekend. However looking at the wind speed I felt that we might just get away with a dry race. We had had a couple of spots of rain, but nothing to make the track wet. The race was called and I went to the collecting area. When I got there I saw a sign which said "wet race". This meant that if it did rain the race would not be stopped for racers to change their tyres. I hadn't heard this announcement over the speakers, but it wouldn't have made any difference I still thought it would stay dry.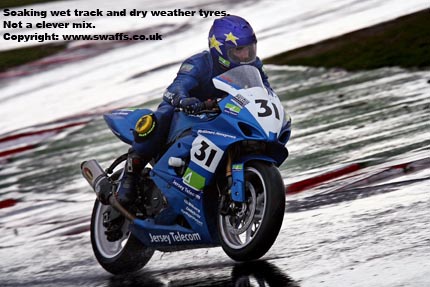 As we sat there waiting to be called to the grid it started to rain. At this point only about half the grid had turned up and many of them went off to change tyres to wets. I knew I didn't have enough time to change mine. Then we were called to the grid. I made a snap decision. As there were only about ten of us going to the grid, instead of about thirty I decided to race on dry weather tyres. I knew that they would be next to useless and make cornering very dodgy, but as only a handful of us were going to race I thought I just have to wobble round and I'll get a reasonable result.
The race started and the heavens opened with very heavy rain. A few riders passed me into the first corner and left me for dead. I rode like a complete novice with the bike pretty much vertical through the corners, but with slick edges to the tyres and plenty of water on the track, leaning the bike would have resulted in a fall. The rain was so bad that even in a straight line the back wheel was spinning under power even at half revs.
After a couple of laps Luke came past me as he had wets on and had obviously managed to change his tyres and start from pit lane well after the grid had left. I got lapped by about three riders, but that was fine by me as it meant one less lap to ride. By this time I was soaking wet and my hands were freezing. The brakes were pretty useless as they weren't getting hot enough. My plan paid off though. I got round and finished in 14th place out of only 15 starters. But as one rider crashed I was in last place. What the heck!
Jersey Rider Results
9th Luke de la Cour RACE TIME 11 minutes 55.562 seconds BEST LAP 1 minute 29.109 seconds
14th Rob Currie RACE TIME 11 minutes 19.553 seconds (6 laps) BEST LAP 1 minute 49.785 seconds
For full results of each race click HERE and click on the BMCRC Powerbikes class.
*