*

Pembrey 26/27 May 2007

At the end of the month we visited the short Pembrey circuit in south Wales. Alan Smith had to miss this round so I was confident of some good results, especially as Mark Lister, the new man to beat, had missed the practice day on the Friday.

It didn't seem to bother him though. Even though he had never visited the track before he was immediately on the pace and won the first two races, whilst I picked up two second places.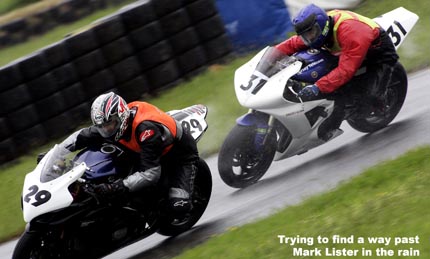 Sunday was a different matter though. It rained continually all day, making tyre choice a no brainer: full wets. I was chasing Mark Lister for most of the third race, but lack of experience in the wet meant it took me until the penultimate lap to pass him. Once I did I gapped him by 4 seconds on the last lap. I thought I was first Rookie, but Andy Butters got the win due to his better start.
The last race saw me get away with Andy Butters and Steve Lovegrove, getting past Steve on lap 4 and then Andy on lap 5. Andy tried to follow me, but ran off the track on one of the corners and was lucky to not come off his bike and rejoin the race. With Mark Lister not getting to grips with the conditions, I finally got a win and some valuable points.
*