*

Mallory Park 26/27 August 2007

The week started well with a track day at Mallory on the Thursday before the race. The only down side was they weren't using the Gerards chicane that we would use on race day. As I have only ridden the track once before this was better than nothing. The whole day went well and I got down to a best lap time of 60.03 seconds, but I just couldn't dip below the one minute barrier.

The next day I went off to pick up some flooring I'd bought on eBay. Charging down the M5, something small and black shot across from the outside lane and hit the van quite hard. Everything seemed OK so I pressed on. About 15 minutes later I could smell burning. Uh oh. I looked at the temperature gauge to find it was in the red. Blast! I knew what the problem was straight away. Luckily I was approaching a junction so limped off and pulled into a McDonalds. Steam was now pouring out of the bonnet.

I opened the bonnet to find a golf ball sized hole in the radiator. What to do? I had breakdown cover but that would take time and I knew the van needed a new radiator, which would take time to fit. Luckily I had some Quiksteel in the bike repair kit, so I jammed that into the hole and waitied for it to set. If you haven't heard of Quiksteel it is two putty like compounds that when you rub together sets off a chemical reaction, setting solid within 5 minutes. After that you can drill it and do all sorts of stuff you can do to metal.

Went into the McDonalds and begged for a load of water and poured it it. The plug seemed to be holding so I drove to the nearest garage and bought some Rad Weld and anti freeze and poured that in. Long story short: It held for the rest of the trip. Huge sigh of relief.

So onto race day: Sunday 26th August.

Morning warm up consisted of about 5 laps and me having to re learn Gerards to take into account the hairpin. However, going down the start finish straight the clutch was slipping when the revs went over 8,000rpm. Blast! I put out a call over the paddock PA for help, but knew the chances were slim as no one else runs a 2002 R1. Managed to get hold of a clutch for an R6 and a 2005 R1 but both were too small. Nothing for it but to run with a slipping clutch.

I could have avoided this if I had had a spare and I should have had one. There was a hint of clutch slip at the previous round at Cadwell, but I thought it was new tyres slipping. Another lesson learned.

Race 1

I had slackened off the clutch lever to try and compensate a bit for the slipping. This had the side effect of improving my starts for some reason. I got great drive off the line and was in with the pack for the first few corners. Then, when we went into the hairpin for the first time, a rider about 20 metres ahead had locked up the back wheel and was going straight, very fast! Next thing he was down and flying towards the (very close) fencing and crash mats. Word is someone broke his front brake lever off and he ended up flying over the fence.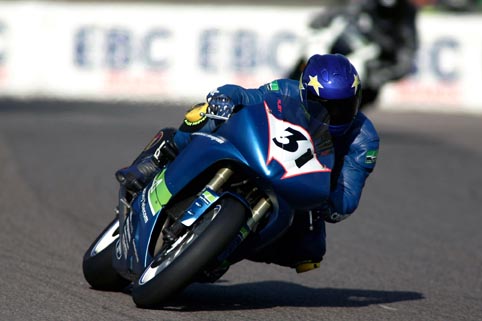 Whatever happened it was a big accident and the race was stopped.
We stopped half way around the circuit to wait for the clear up. I looked behind me to find both Andy Butters and Steve Lovegrove were behind me. I couldn't believe I had got better starts than them. Then I got annoyed because I had lost my advantage. Back to the grid for the second start. Blimey! Another good start and once again beat Andy Butters, but Steve Lovegrove was ahead of me. I went up his inside into the Gerards chicane only to have Tony Taylor drop his bike right in front of me. I took evasive action by going round the outside of his sliding bike, looking down at it thinking "Don't hit me!" By some miracle I just managed to stay on the tarmac and avoid being hit by his bike.
I charged off, hoping Andy and Steve would be held up by the crashing Tony Taylor. They were, but the race got stopped again.
So, third start and the race is reduced to four laps instead of seven. Sadly Steve Lovegrove had run into Tony Taylor and had come off, so he was out. Once again I got a better start than Andy Butters and charged off hanging onto the back end of a small group. I only managed one pass and that was on Simon Meadows on a ZX-10R. I went up his inside and outbraked him into Edwinas chicane. I finished the race half a second in front of Simon in fifteenth out of eighteen and was third Rookie. Best lap time 1 min 05.328 secs. Luckily Mallory only has one real straight and this was the main place my slipping clutch was losing me ground.
Race 2
For the next three races we were grouped with the Powerbikes, so there were two races in one. Steve Lovegrove was back for this race and once again I got a great start and got ahead of Steve and Andy Butters. I had another ZX-10R in front of me, this time it was Craig Llewellyn. I outbraked him on his inside going into Edwinas chicane, then I started to chase down Mark Barton. All was going well until I messed up the Gerards chicane and he gapped me again. I pulled him back and then tried to go round his outside into the hairpin on the last lap. I didn't pull it off, but now he knew I was on his tail. I tried to out drag him from the final corner but the slipping clutch wouldn't let me and he beat me by three tenths of a second.
I got my best result of the weekend of tenth out of nineteen and second Rookie. Best lap time 1 min 04.188 secs. I got second because Alan Smith, the Rookie championship leader, crashed out going into the first corner. Unfortunately he broke his ankle and some toes and is out for the last round. So if Mark Lister keeps on winning, Alan will end up in second place in the championship.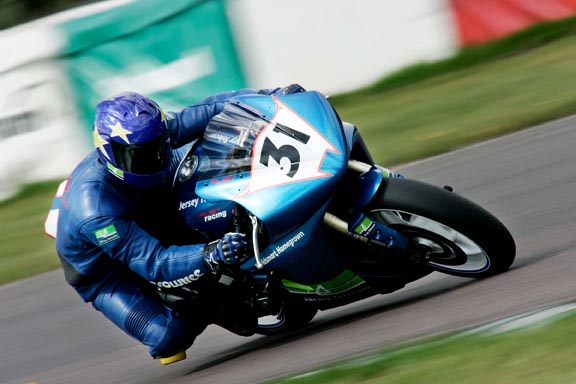 Race 3
Race distances were double today, up from seven laps to thirteen laps. Unbelievably I got another good start and was ahead of Andy Butters and Steve Lovegrove. The clutch had got a bit worse and was losing me drive out of the Gerards chicane now, as well as the start finish straight. I had Craig Llewellyn in front of me again and so set about trying to take him. I chased him for three laps but then came out of Edwinas chicane in a gear too high and lost some ground on him. By half distance I was beginning to feel a little tired and as a result my pace dropped a bit. This, combined with my poor drive on the main straight meant Andy Butters passed me going into Gerards. I stayed with him and was faster through a couple of corners, but couldn't get past. Then on the penultimate lap Simon Meadows showed me a wheel on my outside going into the Gerards chicane. As I knew he was there I rode defensively for the remainder of the race and managed to beat him by tenth of a second. Andy got the better of me by one second. Thirteenth out of eighteen and third placed Rookie. Best lap time 1 min 04.826 secs.
Race 4
The great starts didn't last. I completely messed this one up by pointing the front wheel at the sky. Andy Butters got a brilliant start and disappeared. Once again Craig Llewellyn was in front of me, so he was the target. I was gradually reeling him in but was finding it hard to get close enough. Then coming onto the main straight I saw him have trouble getting the bike into gear. This allowed me to close up and once again pass him going into Edwinas chicane. After that it was a lonely race and I finished fourteenth out of eighteen and third Rookie. Best lap time 1 min 04.754 secs.
Considering the clutch problems, the weekend didn't go too badly. Even with a fit clutch I think I would only have made a couple more places than I did.
I still have third position in the Rookie Championship, with Andy Butters in fourth, one point behind! With one round left at Snetterton on 15/16th September it's all to play for, between me and Andy. Steve Lovegrove could still spoil our party though. It should be interesting.
*