*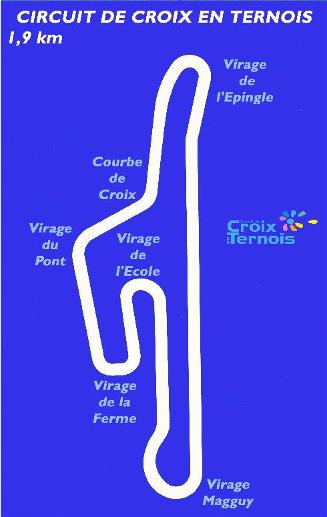 Croix en Ternois - Saturday 14-6-08
They say a week is a long time in politics. If that is the case, then two months without a race is a lifetime! I've been going cold turkey. My last race should have been at the Brands Hatch GP circuit on 10/11 May, but unfortunately this date was taken by British Superbikes. They had to postpone their own event being held on the 6 April as the snow fell and covered the circuit! Obviously there was no way they could race under those conditions. After an emergency meeting with BEMSEE (my race club) they rescheduled to our date and we lost out. C'est la vie.
So it was off to France for the next scheduled round at Croix en Ternois. I'm not too sure why a British club goes to France to race, but it didn't really make any difference as the drive to the circuit was the same as going to Cadwell, about five hours. It's only about half an hour for those coming from England as the circuit is located about half an hour down the road from the ferry port of Callais.
All I knew of this track was the circuit diagram on the right and the fact that it was only 1.18 miles long. I had reservations about racing here as I thought the track would be too small to race a 1000cc bike around. It was probably more suited to a 125cc bike. However appearances can be deceptive and after practicing on the Friday I realised it was actually a good little track. A very physical circuit as it was very stop start with four hairpin corners to negotiate, with most of the track taken in second gear.
The other Jersey guys racing in the Powerbikes were Luke de la Cour, Steve de la Cour and Nick Daghorn.
Qualifying
I couldn't get any lap times during Friday testing so I didn't know how my times compared. I got quite tired halfway through qualifying and slowed up a little before deciding to come in as I knew I wasn't going to go any faster. So I was reasonably pleased to end up in 12th position out of 19, with a 59.941 second best lap time, which put me on row 4. Luke surprised a few people ending up on the front row in 4th with a 57.249 second lap, Nick was 10th with a 58.875 second lap and Steve 17th doing a 1 minute 4.315 second best lap.
Race 1
I was on the inside line for the first right hand corner, a 2nd gear hairpin, so knew I was going to have it tough. I had a goodish start and was gaining on Sarah Jordan ahead of me, but decided not to try and go down her inside as she had started to veer across and the tarmac was disappearing. The first corner was pretty much a stand still. So much so that I had to pull my clutch right in I was going that slowly. Consequently I lost a bit of ground coming out of the corner but did manage to stay with the pack for the first lap or two.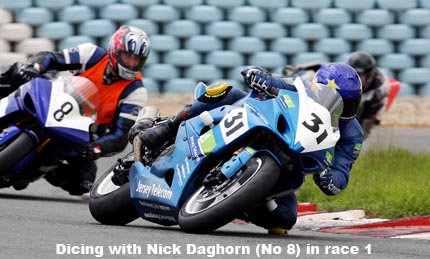 On lap 2 I managed to pass Matt Flower, but I can't remember where. I knew as most of the corners were very slow, second gear affairs, that there was not much benefit to use the wide faster lines I usually prefer as you would just leave yourself open for a pass. As such I kept my lines tight for the first two laps. I thought I had a bit of breathing space after the second lap so I thought lap 3 was the time to try the wider, faster lines. The first corner I tried it at was Virage de L'Ecole. Big mistake. Nick Daghorn was right on my case and he didn't need a second invitation, doing a lovely block pass down my inside. At least I was right about the tighter line being the better line, but I wish I had been wrong!
I stuck on his tail for the rest of the lap and passed him on lap 4 down the start/finish straight and went on the tight line into Virage Magguy. He kept chasing me and the next time into Virage Magguy I saw him on my inside just as I was dropping into the corner. I held my ground and made him brake a bit harder, which should have given me a small advantage. Once or twice again he showed me a wheel, but I wasn't budging. According to the lap chart he did get past me again on lap 6, but I can't remember where. Equally I can't remember where I got back past him, other than it was on lap 7. I think his second pass was because we had caught up with Andy Burke, or "Swampy" as he is known, who was slowing us down in the corners. I was very surprised to be this close to him as he is usually in the top five or six and in fact won his first race at Brands Hatch in March.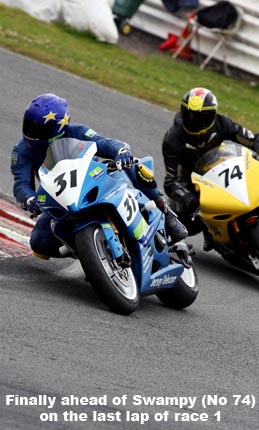 Swampy was better getting on the gas out of the corners so I had to find another way to pass him. I finally managed to out brake him on lap 10 at the end of the start/finish straight into Virage Magguy. He obviously had been holding me up as I did my fastest lap on lap 11, the last lap. I crossed the finish line in 10th place with a best lap time of 58.367 seconds. This was the first time I had been getting small power slides coming out of the corners, so hopefully I will get more used to this when it happens again. This was a brilliant race as the dicing between me and Nick was fantastic. The closest racing I have ever done. We both had big grins and big respect for each other when we met up in the paddock after the race.


Jersey Rider Results
3rd Luke de la Cour RACE TIME 10 minutes 26.551 seconds BEST LAP 56.011 seconds
10th Rob Currie RACE TIME 10 minutes 56.065 seconds BEST LAP 58.367 seconds
12th Nick Daghorn RACE TIME 10 minutes 58.209 seconds BEST LAP 58.814 seconds
17th Steve de la Cour RACE TIME 10 minutes 42.383 seconds (10 laps) BEST LAP 1 minute 02.472 seconds
Race 2
I moved up to row three for this race on grid position 10, which meant I was more on the outside for the first corner. Theoretically this gave me a better chance to get around the first turn a bit more quickly. I had a good start but didn't make up any positions and then got tangled up again in the first corner! Luckily only one bike passed me going up to Virage de L'Ecole. After that I was pretty much on my own for the whole race. I could see Matt Flower ahead of me so I tried to reel him in. I got quite close to him but not close enough to think about a pass. On the last lap I just rode defensive lines so nobody would have an easy job of passing me. Luckily this worked and I finished in 11th with a best lap time of 58.366 seconds. One thousandth of a second quicker than the previous race!
Jersey Rider Results
2nd Luke de la Cour RACE TIME 10 minutes 23.278 seconds BEST LAP 55.927 seconds
11th Rob Currie RACE TIME 10 minutes 52.023 seconds BEST LAP 58.366 seconds
12th Nick Daghorn RACE TIME 10 minutes 56.845 seconds BEST LAP 58.293 seconds
17th Steve de la Cour RACE TIME 10 minutes 43.536 seconds (10 laps) BEST LAP 1 minute 02.536 seconds
Croix en Ternois - Sunday 15-6-08
Race 1
We had a monster downpour of rain before our first race of the day, so that made tyre choice easy: full wets. Actually we probably shouldn't have raced at all as there was so much standing water on the track it pretty dodgy. One turn in particular had about a half inch of water going out three foot from the corner. However race we did!
I'm not very confident in the wet and these conditions weren't really going to help change that. The race was a pretty lonely affair for me, with my main aim just being to stay on board. The track was doing its best to unseat me as the back end stepped out on many corners at the slightest provocation. It wasn't like I was leaning the bike over or anything! I managed to stay on and finished 13th out of 18 starters with a fastest lap of 1 minute 12.701 seconds.


Jersey Rider Results
9th Luke de la Cour RACE TIME 13 minutes 39.178 seconds BEST LAP 1 minute 06.080 seconds
10th Nick Daghorn RACE TIME 13 minutes 43.733 seconds BEST LAP 1 minute 06.661 seconds
13th Rob Currie RACE TIME 13 minutes 33.546 seconds (11 laps) BEST LAP 1 minute 12.701 seconds
Race 2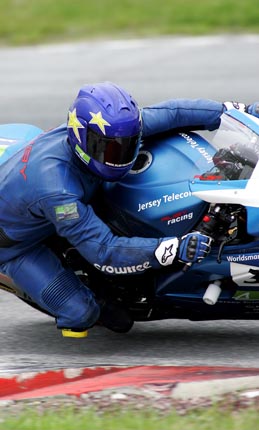 The track was still soaking wet, but fortunately the standing water had gone. I had a talk with myself before this race and told myself to push harder especially from the start. The "talking to" had a benefit as I made up three places on the first lap and moved up to 10th from my 13th on the grid. I got into a nice rhythm and this time could see Nick ahead of me and so tried to gain on him. His previous off road experience shone through and he pulled away. I didn't pass anyone else after the first lap but I achieved my goal of going faster and finished 9th. To be fair this was helped by four of the fast boys throwing it down the road, but as the old saying goes: to be first, first you have to finish. I improved my best lap time on the previous wet race with a 1 minute 07.009 second lap on lap 9.


Jersey Rider Results
2nd Luke de la Cour RACE TIME 12 minutes 48.199 seconds BEST LAP 1 minute 02.610 seconds
8th Nick Daghorn RACE TIME 13 minutes 22.740 seconds BEST LAP 1 minute 05.146 seconds
9th Rob Currie RACE TIME 13 minutes 41.829 seconds BEST LAP 1 minute 07.009 seconds
13th Steve de la Cour RACE TIME 12 minutes 41.262 seconds (10 laps) BEST LAP 1 minute 12.730 seconds
For full results of each race click HERE and click on the BMCRC Powerbikes class.
*