*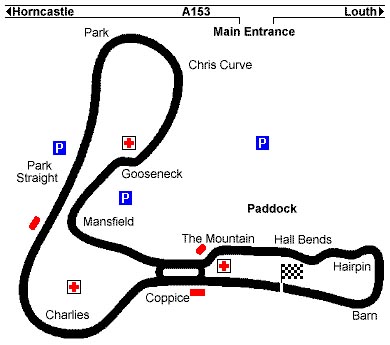 Cadwell Park - Saturday 28-6-08
My previous race at Croix was an agonising two months after the race before it. Now I was back racing again only two weeks after Croix, at my favourite track, Cadwell Park in Lincolnshire. I still haven't bettered my lap times on the GSX-R compared to the less powerful R1 I rode last year, but I was hopeful that riding my favourite track would change that.
Friday practice had gone pretty well, with my best lap time of 1 minute 44.28 seconds being two seconds slower than my best ever lap time from a race (done in 2007) of 1 minute 42.101 seconds. I always try to beat my best lap times in practice, but you're never quite as agressive as you are in a race. Well I'm not anyway!
The only other Jersey guy racing in Powerbikes was Luke de la Cour.
Qualifying
I was pretty happy with my qualifying time of 1 minute 43.547 seconds as it was an improvement on the practice day. This put me in 17th position out of 26 and on row 5 for the first race. Luke was 7th, with a 1 minute 38.124 second lap, which put him on the second row.
Race 1
The grid at Cadwell is quite tight compared to other tracks, so you are closer to those either side of you. This makes it even more difficult to get past other riders off the start, so I was very happy with my grid position of 17th, as it put me on the outside of row 5. Coppice, the first corner is a left hander, so being on the right hand side of the grid means you have a bit more space to play with.
I had a good start and managed to overtake Peter Denton who was on row 4. Then I was coming up behind Andrew Burke (Swampy) who was right in front of me on the row ahead. Luckily I was approaching the exit of pit lane so I moved over to that to try and get past him. I think I did, but he probably got back past into the first corner or sometime later in the first lap. It's always a bit of a blur at the start, juggling being agressive without hitting anyone and trying to avoid anyone who might crash in front of you.
I stayed with a group of riders for the first couple of laps, but didn't pass anyone else. Then the group started to pull away. Steve Topping passed me on lap 2 by out braking me at the end of Park Straight, going into Park Corner.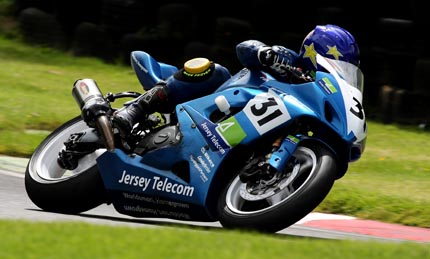 Then on lap 3 Peter Denton got back past me in the same place as Steve Topping! I knew I was braking too early for this corner and unfortunately they were confirming it. I tried to hang onto Peter Denton as he was on a 600, but he gapped me by about a second.
With Peter a bit out of reach I had no one to chase for a couple of laps. This is the hardest time to keep your pace up because you think to yourself that there is no point pushing really hard and maybe falling off. But you don't know if anyone is right behind you, so maybe you do need to keep on the pace. Also with nobody to chase you take more notice of how you are feeling and with me I notice that I'm getting a little tired. I've been here before twice last year. Feeling tired so I back off a fraction and then someone comes past you. I really get annoyed with myself when that happens.
Well, I got annoyed with myself again! On lap 5 I had eased up a fraction and Garry Lawrence, on a Kawasaki ZX-10R, came past me as we exited Charlies Out. Spurred back into action I managed to get straight back past on the fast Park Straight and into Park Corner. Now fully awake again I picked up my pace and rode defensively for the last couple of laps, putting in my second fastest lap of the race on the last lap. I kept him behind me and beat him by half a second, about a bike length.
I finished the race in 18th place out of 25 starters, with a best lap time of 1 minute 42.515 seconds. This was the closest I had got this year to the best time I did on the R1 in 2007, being four tenths slower. I was pretty pleased with this. Luke did well and finished in 7th.


Jersey Rider Results
7th Luke de la Cour RACE TIME 11 minutes 28.115 seconds BEST LAP 1 minute 37.069 seconds
18th Rob Currie RACE TIME 12 minutes 08.571 seconds BEST LAP 1 minute 42.515 seconds
Race 2
I started on row 5 again, but this time one place lower in 18th.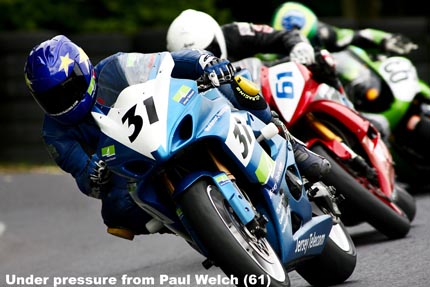 Still towards the outside of the grid, so reasonably happy. I got a good start and got ahead of Peter Denton. I chased the pack for the first lap and if I was a bit braver I could possibly have got past a couple of people.
This was the first time I had Anne (my wife) doing some pit signals for me. We had improvised some pit boards by using two black plastic box lids, made some numbers out of white Fablon and stuck a "0", "1" and "2" on them. If someone was less than a second behind she would show me the zero, less than 2 seconds behind a "1" and less than 3 seconds behind a "2". This was a huge help to me and would hopefully stop me backing off when I had nobody to chase and then letting somebody pass me as a result. As happened in the first race.
I passed Xavier Gill on lap 2 and then I think Paul Welch came past me, but if he hadn't then he was on my tail as I could hear a bike and my pit board was saying "zero". I had nobody to chase, so for the last lap I rode defensively. All was going to plan until the very last corner: Barn. I missed the apex by a mile. Paul Welch didn't need a second invitation and came past on my inside as we came out of the corner. We were side by side racing to the chequered flag, but fortunately the finish line is about 200 metres from the corner and my 170bhp beat his 130bhp. That was a close one! Lucky me.
I improved on my grid position this time and finished 15th out of 25 starters. My fastest lap was a 1 minute 42.228 seconds and only a tenth away from equaling my best ever race lap time from last year.


Jersey Rider Results
6th Luke de la Cour RACE TIME 11 minutes 24.819 seconds BEST LAP 1 minute 36.586 seconds
15th Rob Currie RACE TIME 12 minutes 09.147 seconds BEST LAP 1 minute 42.228 seconds


Cadwell Park - Sunday 29-6-08
Race 1
This time I had moved up the grid and started in 15th place on row 4, which put me more on the inside for the first corner. It would be more difficult to have a clear run, but less people on my inside to knock me off. My start was not as good as usual, but Paul Welch to my left got a fantastic start and shot off. As seems to be becoming familiar, I hung with the pack for the first lap and then starting the second lap my pit board said "1". Excellent, I had made a gap already.
I was chasing Mark Barton and Paul Welch, but they had managed to pull a gap on me. They were still catchable, but it was going to be difficult. Braking for Park Corner I got passed (I really need to work on my braking into this corner) by Philip Crowe. Despite being about twice as heavy as me he is fast and can do 1 minute 34's. He had crashed in the previous race and so had started behind me. I knew I couldn't match his pace, so didn't lose any sleep over him passing me.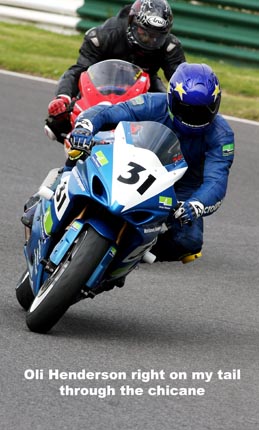 After lap 2 my pit board said "0". Blast! Someone was on my tail. No matter, I was concentrating on Mark and Paul ahead of me, but I could have done without the attention. It was Oli Henderson, someone who is usually ahead of me. Braking into Park Corner I left my braking later than usual. Too late I thought and was thinking I might be visiting the scenery. But in the end, no drama. What was all the fuss about? Huge sigh of relief and made a mental note to try and remember that, I CAN brake later there. The great thing about braking later there was that in one corner I had got myself back on the tail of Mark and Paul and with it a chance of getting past.
I knew I could pass Paul and on lap 5 managed to out brake him into Park Corner with my new found confidence. I set about trying to catch Mark now, but with two and a half laps left, time was running out. I also still had Oli and Paul right on my tail as Anne's pit signals still said zero. I just focused on Mark and started to reel him in bit by bit. I was a bit better going into the corners but he had the advantage on the exit. On lap 6 I was right behind him exiting the chicane when he missed a gear causing me to brake. That was a chance I threw away as I should have gone past him. But, it got me even closer.
Coppice is the first corner at the end of the start/finish straight. A fourth gear uphill left hander. On the last lap I pulled him back down the straight and thought about going up his inside into Coppice, but I wasn't quite close enough, or brave enough. I manged to out brake him into Park Corner though, but I had messed up my gear changes when braking and came out of the corner in 4th instead of 3rd. This meant I didn't exit the corner as quickly as I should have with the result that Mark came straight back past me and opened up a small gap. Aaaaaarrgggghhh!
On the last third of the track it is really hard to pass anyone as the circuit is narrow, so I knew passing Mark would be very difficult now. I remembered that Oli was on my tail so I rode defensively as did Mark as he knew I was behind him. I didn't make the same mistake at Barn and hit the apex on the last corner and nobody came past. I had made up two places on my grid position and finished 13th out of 26 starters. Best of all I had finally gone faster on the GSX-R compared to the best time I did on the 2002 R1 I raced last year. I took 1.4 seconds off by doing a 1 minute 40.708 second lap on lap 2. Although this is only the first time I have bettered my times on the more powerful GSX-R, what I have been doing this year is putting together more consistent and faster lap times. In this race 5 out of 7 laps were all within half a second of each other and all under my previous best race lap time. So although I am taking my time to lower my absolute best lap times, I am going faster over the race distance with much more consistency in lap time.


Jersey Rider Results
5th Luke de la Cour RACE TIME 11 minutes 18.341 seconds BEST LAP 1 minute 35.788 seconds
13th Rob Currie RACE TIME 11 minutes 55.917 seconds BEST LAP 1 minute 40.708 seconds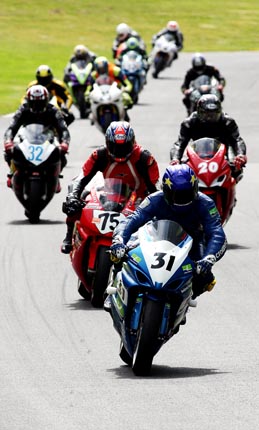 Race 2
Still on row 4 for this race, but on the outside of the grid in 13th, just where I like to be.
We had some rain over lunch. Not too heavy, but enough to get everyone guessing about what tyres to put on. It was pretty warm and the sun came out and pretty much dried the track. There were some damp patches at the Hairpin, Barn and Charlies In so I put on the dry weather tyres. I'm pretty sure everyone else did too.
My start was OK and once again Paul Welch to my left got a blinding start. I was in 14th place for the first few laps, but I was taking it easy where the damp patches were. Much too easy as it happens. I started getting dropped by Paul and then Peter Woodall and Steve Topping came past me into Park corner on lap 4. Then on the next lap Oli Henderson and Gerrard Fallon came past as close as you like down Park Straight flat out in fifth gear. This wasn't going well. I was riding like a numpty, four seconds off the pace of my previous race. What had happened? Maybe the damp patches had messed with my head, but they were clear after about 2 or 3 laps. Maybe I was tired? Maybe as I had finally bettered my lap time from last year in the previous race I wasn't trying? A combination of all three probably.
At the end of an appaling race by me I was 19th out of 25 starters, with a "fastest" lap of 1 minute 44.147 seconds. Luke had a fantastic race and finished in 3rd place. Another podium and as the races were being filmed for Motors TV he was interviewed on the podium.


Jersey Rider Results
3rd Luke de la Cour RACE TIME 11 minutes 18.169 seconds BEST LAP 1 minute 35.171 seconds
19th Rob Currie RACE TIME 12 minutes 19.548 seconds BEST LAP 1 minute 44.147 seconds
For full results of each race click HERE and click on the BMCRC Powerbikes class.
*