*

Cadwell Park 28/29 April 2007

I had to miss the second round at Lydden due to work commitments, and as a result lost valuable points to Alan Smith, Andy Butters and Steve Lovegrove. However I was hopeful for good results in this third round as I was visiting the only circuit in the series I had ever ridden before. Plus it was my favourite track: Cadwell Park in Lincolnshire.

My hopes proved well founded as I achieved my first Rookie win, with a fourteenth place overall. I was ecstatic, it had been a long time since I had won a race. This was also the first time I had raced a new challenger for the Rookie championship, Mark Lister, who finished in third place, 10 seconds behind me.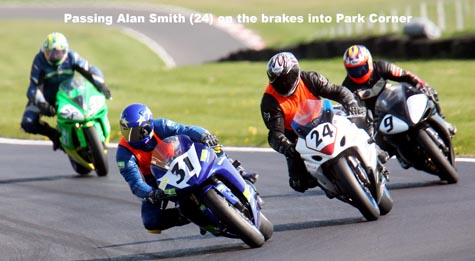 Because I had experience of this track I could compare my best race lap to my best previous lap, done during a non competitive track day the previous year. I was amazed to discover that my race time of 1 minute 42.257 seconds was over 6 seconds faster!
Going into race two my hopes were high. I passed four other riders during the race, but had been re-passed by one of them on the penultimate lap. Lying in eleventh position overall and easily able to take my second Rookie win, I tried too hard to regain the place I had lost.
I thought if I got a good drive down Park Straight, I could retake Gerard Fallon "on the brakes" at the end of the straight. Unfortunately I was too aggressive with the throttle and "high sided" myself off the bike doing
approximately 80mph.
It all happened so quickly that the first I knew of things was when I had already parted company with the bike. As luck would have it I didn't break any bones, but the bike could not be repaired for the next day and I had thrown away much needed points. I learned a valuable lesson, the hard way.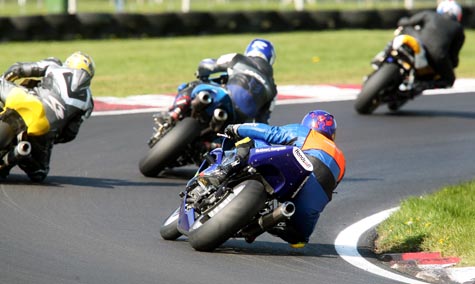 With only two weeks before the next round at Brands Hatch I had to work every spare minute to get the bike ready. It took me a week just to get the engine running again!
As this was my first big crash, I asked on the "racers web forum" if anyone had seen the accident as I wasn't totally sure at that point what had happened. Here are the comments I received and my recollection of events.
"You sir, came onto the back straight , nailed it and performed an almighty highside that sent your bike high & cart wheeling down the track end over end by the look of it and eventually off the circuit whilst throwing you tumbling down the middle of the track, where you came to a halt, all credit to someone on a green bike who looked like they were going to go straight over you but somehow adjusted enough to miss you, and then you got up and walked rather slowly and with an air of dignity off into the grassy field to contemplate, all looked very harsh so full credit to you, hope you are making a steady recovery to yourself and the bike and all being well see you at Brands."
Jon Forza 88
"It was just as Jon described very impressive, a highside of the highest order. The green bike was Tony Taylor and I was next on the red and black Honda. I swear I thought I was going to ride straight over your head, it really was a luck thing that I didn't. I may have even shut my eyes, consequently I lost a place or two but hey, them's the breaks. Glad to hear you will be back out at Brands."
Pete #75
"Ditto to both previous posts - from my vantage point in the new (!) commentary box above Park Straight I had rather TOO good a view of both flights. Two falls, no submissions, and not quite a knockout!
Rob, I like the description of you 'walking rather slowly off the track' - it actually resembled a chap out for an afternoon stroll, pipe in mouth, butterfly-net at the ready, at peace with the world - personally, I was screaming at you to get your butt into a place of safety, pronto..."
The Robin
"Hmm. I think I saw you sliding down the track. It was kinda scary to watch, everytime your arm/leg/head moved a bike took the place it was in. I can't beleive no one hit you."
Spinfire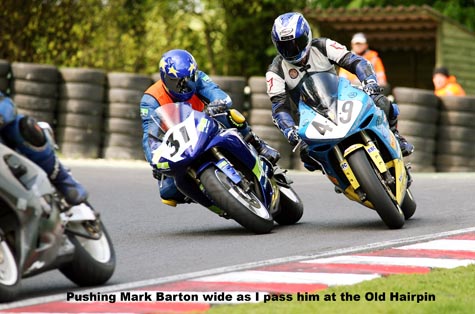 Thanks for the responses guys. Certainly makes, er "interesting" reading. I thought I was pretty lucky not to have broken any bones, but after reading all that I think I am incredibly lucky. First track "off" in the last five years, so I guess I was due one. It was a day of firsts: first rookie win and then first race crash. Ah well, knew it would happen at some point, just not so soon.
Sorry to have made you lose some places Skiffle, trust me, I appreciate your efforts to avoid hitting me.
Here's how it went for me. I was chasing about four others and I was sure if I got close enough I could get one or two on the brakes into Park Corner. So I thought good drive out of Charlie Out would be helpful. Obviously I was a little too enthusiastic with the throttle, ahem. The first I knew about my error I was already going into orbit thinking, rather calmly for some reason, "oh no, I'm crashing." Next thought that screamed into my head was hearing a voice shout "RELAX", and seeing the word written in the same way the old Frankie Goes to Hollywood T-Shirts were printed, big black capital letters on a white background. Bizarre, I know. I don't really remember the tumbling.
Next I was stopped. I realised the need to get out of the way of anyone else and was about to leg it when I remembered my Green Cross Code. I looked back towards Charlie Out and saw a bike exitiing on the outside of the track, so I thought it best to move to the infield. As has been obsrved, I sauntered off like I was on an afternoon stroll. Why? I really don't know. Maybe because I only saw one bike well away from me and thought he posed no immediate danger, not sure. Or maybe I wanted it to look like I meant to crash all along! No, it wasn't that.
After walking a bit I looked over my shoulder, saw my poor bike, then thought "I better move infield a bit more". Then I stopped, realised my wife was at the Gooseneck and could see me, so gave her a wave to say I was OK. She missed the crash as she chose that moment to move to a different position, then wondered why they were saying my name over the PA.
From that point, until I got back to the pits I remember nothing. Isn't that weird? Maybe that was the shock kicking in. Aparently when the race ended I walked over to the outside of the track with my bike, picked up some bits, then got in the recovery van with my bike. Actually I sort of remember the ride in the van being a bit bumpy!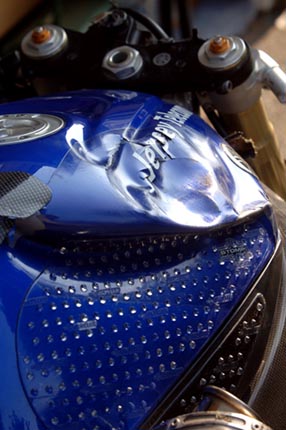 So here is the damage:
Right handle bar
Right brake lever
Master cylinder
Ignition key housing
Steering damper
Right switchgear
Radiator mounts need welding back on
Front mudguard cracked
Fuel tank creased but appears fuel tight
Left footpeg
Exhaust can
Paddock stand bobbin
3 crash bungs bent
Fairing
Screen
Fairing support
Battery needs reconecting
Electrical cut out switch under seat damaged
Subframe broken at end (not a problem)
Subframe bent out by about an inch
Rear seat unit
Some wiring broken
Need new helmet
I have spent the last few days doing that little lot and trying to get the bike to fire up. After some help from a good mate I finally managed it Sunday night at 7.30pm.
The dash was saying the sidestand cutout was stopping it firing up, but we traced that to the damaged ignition barrel.
Then it still wouldn't start and the fuel low light kept flashing in cycles of 8 flashes. No mention in the owners manual or workshop manual as to what that meant. I had another fuel pump so I thought I would try that. Aha! There's the problem. The fuel pump had come apart when the bike was going through its gymnastics routine. Fixed that, still won't start. Getting pretty depressed by this point. Thought I'd check the plugs. I took the airbox off, hmmm, what's this? Injector assembly seems loose. So it is, because it isn't connected to the engine. That'll be why she wont fire. Finally got those back on after much cursing and skinned knuckles. Man those screws are hard to get at. All back together and she fires up. Much rejoicing. Only ran her for a second, so I will check again today and let her run for a bit to see if anything else wants to ruin my week.
Still on course to be at Brands, so fingers crossed. But not my right hand as that is still flippin' sore! Not to mention my shoulders, bum, elbow, knee and calf!
Has it put me off? No way!