*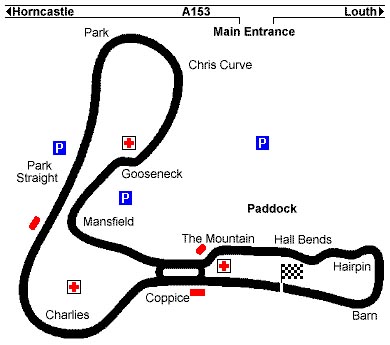 Cadwell - Saturday 2-8-08
This was another round where I had to get the evening ferry to Poole on the Thursday night. I arrived at midnight and then drove through the night, arriving at the circuit at about 5am. I had managed to get a couple of hours sleep on the ferry and then a further couple of hours sat up in the passenger seat of the van after I had arrived. Not ideal preparation, but needs must.
Luke and Steve de la Cour were also racing in Powerbikes and had been kind enough to save me a place to pitch up.
Qualifying
A light rain shower before the session meant guessing what tyres to use. The track looked pretty dry so I went with a dry rear and wet front. I got it wrong! It was dry. A wet weather tyre gets a bit squirmy in the dry and I didn't feel like pushing too hard. But I didn't push hard enough. My best time was 1 minute 46.711, which put me on row 8 in 31st place! Basically I was at the back.
I haven't been this far back for a while now, so I wasn't happy. What made things worse was that the organisers had changed the way the grid was chosen for each race. From this meeting on, where you qualify is where you start for all four races over the weekend. Previously it set your grid position for the first race, then your next grid position was determined by where you finished the previous race. So if you finished 20th in the first race, you started from 20th in the second race and so on.
Qualifying has now taken on a greater importance and I am going to have to work on this. Normally it takes a bit of time for me to get up to speed and it usually happens in the races. I manage to slowly creep up the finishing order and in doing so get a higher grid position for the next race. I have to get up to race speed in qualifying otherwise I will not give myself the best chance to improve my finishing positions.
Race 1
It started to rain about 30 minutes before our race, causing us all to try and second guess the weather. I left the dry rear/wet front combination on and gave myself another 5 minutes to change my mind. Within those 5 minutes it started pouring down. That made the choice easy, I just had to put on a wet rear, which is much quicker to do than change the front.
The lights went out and off we charged to the first corner. As usual in these conditions there was a huge amount of spray coming off the 30 bikes ahead of me. So much so that going into the first corner I could only see about 5 of those 30 bikes in front of me! You don't know what's going on in there. As a result I held back a fraction.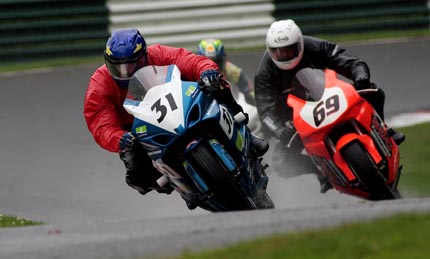 I managed to pass Xavier Gil on the brakes into Park Corner. Then hung onto a line of bikes ahead of me. I was quite surprised to see Luke and Gerrard Fallon ahead of me and even thought there might be a chance to pass when my tyres got warmer. No chance! After two laps they both pulled away. I was on my own then, but I knew I had three others behind me: Xavier, Steve Lovegrove (69) and Steve de la Cour (64). For about five laps this was how it stayed, until Steve Lovegrove came underneath me through Chris Curve. I was kind of expecting it as he has beaten me in the rain before. Actually, most people have!
Then the next lap Xavier came past me on the brakes into Park Corner. The same way I had passed him earlier. I just had Steve de la Cour behind me now. I was praying it would stay that way or else I would never hear the end of it. I got lapped by two of the faster riders, so I only did 7 out of 8 laps. I wasn't complaining. When I got back to the gazebo Steve was already there. He had pulled out after 4 laps as it was so wet. That meant I was last. My devastating wet weather prowess continues. However I was in 26th place as 4 riders had crashed and Steve had pulled out.


Jersey Rider Results
20th Luke de la Cour 8 laps RACE TIME 15 minutes 54.984 seconds BEST LAP 1 minute 55.249 seconds
25th Rob Currie 7 laps RACE TIME 14 minutes 31.447 seconds BEST LAP 2 minute 00.556 seconds
Steve de la Cour DNF
Race 2
The weather had turned around and it was now hot, the track dry, but there was a possibilty it could rain again. On the row ahead of me there was a gap to the right where there should have been a rider. I decided that I would be going through that gap. The plan worked well and I got ahead of the two riders to my right: Terje Joensen and Xavier Gil. Then managed to pass a couple of others on my way to the first corner.
Charging down Park Straight for the first time I went to the right and took a place or two on the brakes into Park Corner. At this point I noticed Luke had gone grass tracking, but amazingly had kept upright and managed to steer his way back towards the circuit. Unfortunately it looked like he would rejoin the track at the same place I was about to be! This wasn't looking good for either of us. But then, after all his hard work, he crashed just before re-joining the circuit. Now his body was rolling towards the track and possibly into my path. Luckily I just passed him before I could hit him. Thank goodness for that. I certainly didn't want to be hurting anyone, especially a friend.
I then found myself behind Swampy and Gerrard Fallon and managing to go with them. I think Gerrard pulled away a little bit, but Swampy was in my sights. I was quicker through Hall Bends and managed to do a block pass on him into the Old Chicane. A bit tight for space there, but I pulled it off without taking us both out.
I tried to catch up with Gerrard, but the gap was too big. With nobody to chase I started to think about how tired I was getting. Same old story. My lap times dropped by about a second a lap and as a result Swampy came back past me on the brakes into Park Corner on lap 6. He had been right on my tail since I passed him and if I had kept up my pace, maybe I would have kept him behind. I should have known better, this scenario has happened to me at least twice before.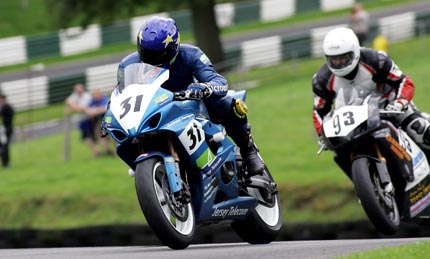 I tried to go with him, but he was better braking into the fast corners. I pulled him back through Hall Bends, but not by enough. Then on the last lap Mike Moulai (93), on a Ducati 999 (the quietest on the planet, as I never heard him), came down my inside on the downhill entry to Mansfield. I thought he had left his braking too late and sure enough he ran wide, so I managed to cut back underneath him as we exited the corner. I also ran out wide so he would have to back off the power or go onto the grass. I kept it very close to the right for the chicane so he couldn't get back past there. After that I rode defensively to the finish and beat him by 8/10ths of a second. Swampy had beaten me by 2.6 seconds. I made most of my places on the first lap and finished 24th out of 32 starters.


Jersey Rider Results
24th Rob Currie 8 laps RACE TIME 13 minutes 51.383 seconds BEST LAP 1 minute 41.684 seconds
30th Steve de la Cour 7 laps RACE TIME 13 minutes 17.901 seconds BEST LAP 1 minute 50.548 seconds
Luke de la Cour DNF
Race 3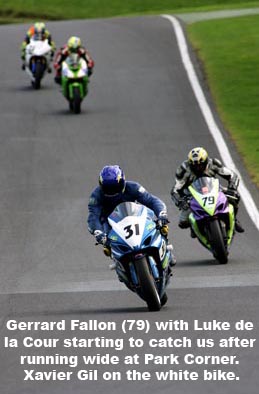 This was a race that should have happened at Snetterton at the last meeting, but was carried over because the race programme over ran. Unfortunately only 14 riders from the Snetterton round were there to take part. I started from row 3 in 11th position and Luke on row 2. I got a great start and passed Gerrard Fallon who was ahead of me on the grid. Going into Park Corner for the first time I saw Luke run wide onto the rumble strip riding his dad's Kawasaki ZX-6R, as his GSXR1000 was still being repaired. Luckily he didn't repeat his crash of the previous race, but he had to get off the power. I wasted no time in getting past him.
Ahead of me was Swampy and Oli Henderson. I tried to go with them but wasn't quick enough. Normally with nobody to chase I find myself easing up, but even though I had no pit signals as Anne wasn't here, I knew Gerrard Fallon would not be far behind me as he seemed to have the advantage on me for this round. Also as Luke is 5 seconds a lap quicker than me round Cadwell I was pretty confident he would be catching me back up. So I pushed as hard as I could.
On about lap 4 going down Park Straight (flat out in 5th gear) Luke briefly appeared in my peripheral vision to my right. I knew I had problems now. I expected him to out brake me into Park Corner, but to my surprise he didn't. Maybe his two moments on that corner had made him a bit more careful. Whatever the reason I knew I would have my work cut out to keep him behind me. Cadwell is quite a difficult track to pass on and so I tried to make it even harder for Luke by altering my lines, so he wouldn't know from one lap to the next where I would be. This would make it difficult for him to plan a pass.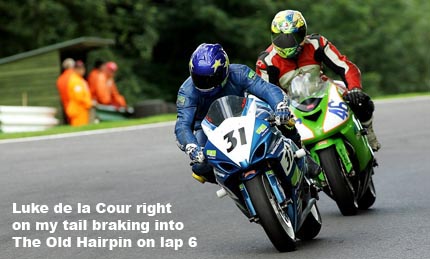 I was holding a tighter line than normal into the corners and on Chris Curve, the fast long right hander that leads to the Gooseneck, I kept over to the right so he would have to the long way round if he was to pass me there. By doing this I slowed myslef down a little bit, hoping that my extra power would make up for it on the straight.
I saw his front wheel a couple of times into corners, but I didn't move out the way. My varied lines were holding him back, but they caused me to make a small error exiting the Gooseneck on lap 6 which saw me run onto the kerbing. I had to ease off the power and expected him to pass. To my surprise he didn't. Then on the penultimate lap I left my braking a fraction too late going into the downhill left hander, Mansfield. As a result I ran wide.
Luke came straight past me and to make matters worse, so did Gerrard Fallon. Aaaaaggghhh! Two places gifted away. What a numpty. I tried to stay with them, but they pulled away. I had obviously been holding them up. Luke finished in 9th and I was 11th. I was extremely happy as I rode well (except for my mistake) and every lap was faster than my best race lap from last year, with the fastest only a tenth slower than my new personal best set at the Cadwell round in June.


Jersey Rider Results
9th Luke de la Cour 8 laps RACE TIME 13 minutes 33.750 seconds BEST LAP 1 minute 38.917 seconds
11th Rob Currie 8 laps RACE TIME 13 minutes 39.295 seconds BEST LAP 1 minute 40.863 seconds
Cadwell - Sunday 3-8-08
Race 1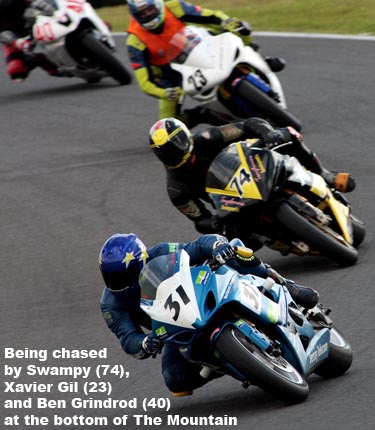 All the way at the back of the grid again! To make matters worse the gap ahead of me was no longer there, as the rider who should have been there before was now there. I got a good start and ended up right on the edge of the track. In fact I was that close I nearly found myself veering onto the grass flat out in third gear approaching Coppice. Luckily I stayed on the tarmac, otherwise things would have got messy. As we went through Charlies In and Charlies Out I realised I was behind Luke.
I managed to pass someone down Park Straight. As we came out of Park Corner for the first time, Swampy had a moment in front of us as his back end stepped out. Luke took advantage and got past him, whilst I got a lot closer to Swampy. I got past someone else coming out of the Chicane, which put me behind Swampy. Going into The Old Hairpin for the first time I got past Swampy. Exactly the same pass I did on him yesterday!
Now I found myself chasing two others. One was on a GSXR, not sure about the other one but I think they were both 600's. I got closer and closer before finally passing them both on the start/finish straight on lap 3. I now had nobody to chase as there was a big gap between me and the next rider. Remembering the race from yesterday I expected Swampy to be close and would try to get back past, so I kept pushing. I was getting tired again and my right forearm was starting to get tight from the constant braking.
However I managed to keep up the pace and was glad to see the last lap flag. I started to ride tighter lines just in case Swampy was behind me. Luckily no challenge came and I finished 20th out of 32, but Swampy was just one second behind me. Once again I made up all my places early on and most satisfyingly all my lap times were under my previous best race lap from 2007. In addition I had ridden a new fastest lap of 1 minute 40.601 seconds, an improvement of 1/10th of a second. I was very happy with that as I had done it without chasing anyone. If I could get behind a slightly faster rider I'm sure a sub 1 minute 40 second time is on the cards.


Jersey Rider Results
11th Luke de la Cour 9 laps RACE TIME 14 minutes 54.431 seconds BEST LAP 1 minute 36.757 seconds
20th Rob Currie 9 laps RACE TIME 15 minutes 25.765 seconds BEST LAP 1 minute 40.601 seconds
27th Steve de la Cour 8 laps RACE TIME 14 minutes 50.908 seconds BEST LAP 1 minute 49.145 seconds
Race 2
As the lights went out a gap appeared to the left of the guys ahead of me, so I went for it. Then the gap disappeared and I went right. I got a bit baulked as a result. Always a bit of a lottery at the start. I'm pretty sure I passed a couple of people and definitely passed someone on the brakes into Park Corner. Then I was aware that Xavier Gil was ahead. I had beaten him most of the times we had raced this year, but in Friday practice he was faster than me. Right up until the point he crashed. This had obviously knocked his confidence as I was right on his tail.
On lap 3 I thought about a pass down the inside into Mansfield, but I wasn't close enough. Then I thought about it into the Chicane and into the left hander before the Mountain, but still not enough room to pull it off safely. I finally passed him by doing a block pass into The Old Hairpin, which meant he had to sit up a bit but there was plenty of room. Sorry Xavier.
After that I think I was on my own again, although towards the end of the race I could hear a bike behind me. Whoever it was showed me a wheel down the inside into Mansfield, but I ignored it and he backed off. On lap 7 he managed it though. I think it was Adam Oliver on a CBR600. I thought I heard another bike behind me so for the last lap I rode defensive lines, especially into the slower corners after Mansfield as it's pretty tricky to pass after that point, until you get back onto the start/finish straight.
I crossed the line in 19th out of 26 and had managed to once again lower my personal best lap time by another half second, to 1 minute 40.294 seconds. Once again I had managed to do this with nobody to chase, so I was really happy. I need to do this kind of pace in qualifying, otherwise I am going to be left with bad grid position.


Jersey Rider Results
11th Luke de la Cour 9 laps RACE TIME 14 minutes 45.498 seconds BEST LAP 1 minute 36.215 seconds
19th Rob Currie 9 laps RACE TIME 15 minutes 20.294 seconds BEST LAP 1 minute 40.294 seconds
25th Steve de la Cour 8 laps RACE TIME 14 minutes 56.014 seconds BEST LAP 1 minute 49.433 seconds
For full results of each race click HERE and click on the BMCRC Powerbikes class.
*