*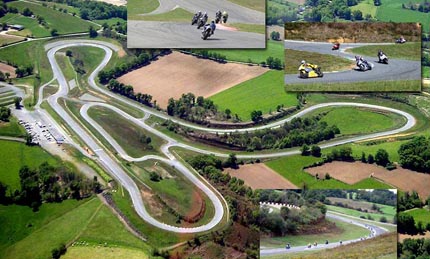 Pau, South of France, Track Day - Wednesday 6 May 2009
It had been two months since my last race, as I had missed the second round due to work commitments. It was also a long time since I had been away with my friends on a track day and I had missed the social side of these events. As I didn't get away in the early part of the year to test I had saved some money so went to the South of France to ride at Pau and Nogaro on track days organised by Bean Touring/No Limits.
The first day was due to be the Thursday at Pau, but myself, Spin, Aidan, Zoe and Peter had got down a day early as there was a trackday organised by the circuit on the Wednesday. I hadn't planned to ride and made myself useful by helping the others in the pits with minor repairs and helping with tyre warmers.
The sun was blazing and the temperature was high and after a morning of watching I gave in to temptation and got out on the circuit in the afternoon. It's been a while since I have ridden in high temperatures and after my first session I as panting somewhat. The physical nature of the circuit didn't help. Luckily I felt better in the next sessions.
Pau, South of France, Track Day - Thursday 7 May 2009
The weather was quite a bit cooler, which was a welcome relief. I spent the day just working on my riding without worrying about times. In one session I had a go on Stuart Andrews Honda CBR600RR. I don't usually ride other peoples bikes for fear of dropping them, but for some reason I accepted his offer. I really enjoyed it and it felt like a well sorted bike, or at least set up very similarly to mine as I felt comfortable on it after only a couple of laps. Mindful it was someone else's bike I didn't push too hard in the corners, but managed to get up to a good pace. The things that struck me most was how much more gear changing was required compared to my 1000cc bike and also how nice it was not to have to worry as much about spitting yourself off as there was a lot less power than a thousand. It was still a relief to hand it back to Stuart in one piece.
Nogaro, South of France, Track Day - Friday 8 May 2009
We moved on to the Nogaro circuit, about an hours drive from Pau and were greeted with rain in the morning. It had stopped by the time we got to the circuit, but the first session was on a damp track. Not the best of conditions as you are never quite sure how much grip there is. Give me either wet or dry, you know where you are then. It took until lunch time to dry out completely and once again I was just concentrating on my own riding.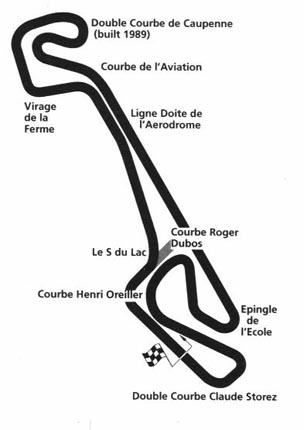 That was until Gary Hotton showed me a wheel going into one of the corners. Having raced with Gary in 2008 I was pretty sure he was up for a bit of fun, so picked up the pace a bit. All was going well until I was heading for the hairpin that leads onto the old start/finish straight. Another rider was ahead of me and I thought I had time to pass him on the inside before the corner. Wrong! He turned in and I still hadn't passed him. I was hard on the brakes but could see how this would end up. I had time to utter a four letter expletive just before I crashed into the back of him and down I went.
It is one of the slower corners and by some stroke of luck the rider I hit, Ken as I later found out, managed to stay on his bike. For that I was truly thankful. Back in the pits I went to seek out Ken and offer my apologies and check he and his bike were OK. Fortunately for me they were and the only damage to his bike was a slightly bent exhaust can. I offered to pay for the damage, but he was not having any of it, putting the whole incident down to one of those things. In some ways this made me feel worse because he couldn't have been nicer about the whole incident. If the tables had been turned, I don't think I would have acted the same. In 12 years of doing track days that is the first time I have taken somebody out. Lesson learned, I intend it to be the last.
Time to assess the damage to my bike and more importantly get it fixed pronto as I was riding it again on Monday in England and I wasn't returning home first. I got lucky again as the damage was minimal. I had bent a crash bung on the left side, broken the gearshift and footpeg, broken the screen and the handlebar had spun on the fork leg. There was also some cosmetic damage, but once again the crash bung had taken the brunt of the impact and that was the hardest bit to get out. I had all the bits I needed in my spares box and only missed one session repairing the bike. I got out for the last session to check all was well and the bike felt OK. So I got back up to the pace I had been at before and got on with riding. Oh, and I trashed an Arai helmet. Luckily I had a spare with me, but they are expensive items to replace so I'll try and keep my head off the floor next time.
After a day and a bit driving up through France I had my first journey on the Channel Tunnel. What a great way to cross the Channel. Drive the van on the train, then 35 minutes later you're in England. If only getting from Jersey to the UK was as quick and easy.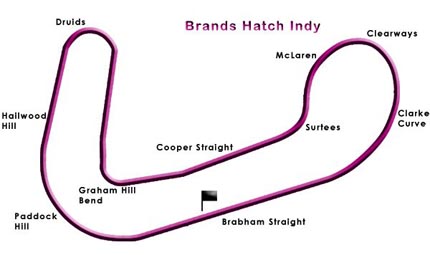 Brands Hatch Indy, California Superbike School - Monday 11 May 2009
During the time I have been track day riding I have never felt the need to get any track tuition as I was quite happy with the pace I was riding at and didn't feel the need to be faster. However, since starting racing the competitive desire from my track and field days has returned and now I felt the need to get some training. All the reports I have read said the California Superbike School is the best, so here I was at Brands Hatch for a Level 1 day. I was a little sceptical, especially as it was pretty expensive, but I was very impressed with the day which was very well organised and with what I learnt. I found the classroom sessions the most informative and I have now got five things to work on: throttle control through the corners, body position, relaxation, lighter grip on the bars and turning in harder and later. Hopefully I am going to go faster!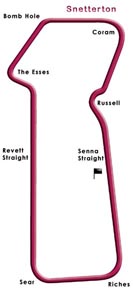 Snetterton, Track Day - Tuesday 12 May 2009
As I was in England anyway I thought it a good idea to get some more track time in, plus I wanted to put into practice what I had learned the previous day. I concentrated on the new things I had learned and felt I was making progress. It will take more time to really make them feel natural, but it was a productive day.
Cadwell Park - Thursday 14 May 2009
It was on to Cadwell Park now, venue for the weekends racing. I arrived there on Wednesday afternoon and set up in the paddock. There was a track day on the Thursday which I wasn't booked on, so I thought I'd see if I could get on. As it turned out it was a full day so I didn't get out. I wasn't too bothered though. With all the traveling and track days I was a little tired, so spent the day checking over my bike and having a nice sleep in the afternoon. Very relaxing. As it turned out it rained from lunchtime onwards anyway, so I didn't miss much.
Cadwell Park - Friday 15 May 2009
Practice
The rain from the previous day was still with us, so that made the tyre choice easy: full wets. I used to be worried about the rain, but somehow I have managed to change my mindset about the whole thing. Instead I just get on with it. I still don't like it, but I'm definitely more comfortable with it. So much so that for about the first time I felt very relaxed riding in the rain. This is how it should be all the time I ride, but in the past I have been too tense on the bike in the wet.
In the second session I managed a best lap of 2 minutes 2.44 seconds, then in the third session got down to 1 minute 56.23 seconds. I was feeling really good and felt I could go faster. As it was this time was close to my fastest wet race lap from my first year of racing in 2007, of 1 minute 53.979 seconds. Encouraging.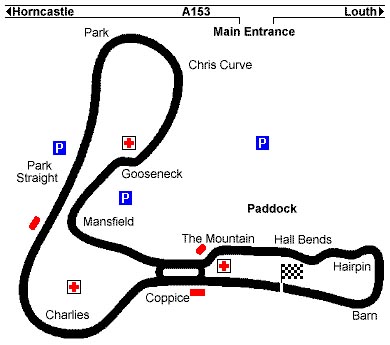 It was still wet in the fourth session, however the sun was appearing from behind the clouds so I put my dark visor on as I didn't want to get blinded by the sunlight reflecting off the wet track. As I was going around I was slightly aware that there was a lot of rainbows on the track surface, which normally indicates oil. It didn't fully register and nobody else seemed to be going any slower. Then as I approached Park Corner for the third time I saw two riders sliding off at the same time. It dawned on me then that there was probably oil on the track and they had found it, the hard way. I backed off immediately and so did everybody else. We all came in and on the way round you could see oil everywhere. All the bikes were checked over as they came in and luckily it wasn't mine.
We later found out it was one of the Seton prepared bikes. The bike had been in a crash the previous weekend and had a very tiny hole in the engine case which wasn't apparent just by looking at it. Obviously the stress of running around flat out for a few sessions had opened up the hole enough for the oil to leave the engine. With the oil all around the circuit and the fact that it was wet as well I decided to miss my last session. I didn't fancy crashing again.
Cadwell Park - Saturday 16 May 2009
1015hrs - Qualifying - Session 1
It had been raining before our first qualifying session, but had stopped some time before. Looking at the track it was wet in places but a dry line was appearing. I thought it would be a bit wet through the Old Hairpin and Barn and pretty dry on the rest of the circuit. A difficult choice as to which tyres to go for. I felt it wasn't wet enough for full wets, or dry enough for dry tyres. That'll be intermediates required then. As it turned out it was a good choice, however drys would have been better. At least I wouldn't destroy a set of wets. With no practice time in the dry my best lap time was only 1 minute 46.678 seconds, some six seconds slower than my best ever lap time. I needed to go a lot quicker if I was to avoid being on the back of the grid.
Cadwell Park - Saturday 16 May 2009
1410hrs - Qualifying - Session 2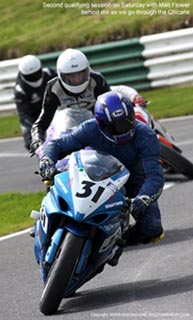 Finally the track was fully dry, but there was cement dust everywhere as someone had dropped oil. At least you could see where the oil was, but it compromised the line through a couple of corners. I got into a good rhythm and realised where I needed to improve: brake later into Coppice; keep speed up through Charlies Out; brake later into Park Corner. I felt OK elsewhere.
I got stuck behind an R1 for a lap before managing to get past and did my fastest lap on the last lap of the session, a 1 minute 43.183 seconds. Three seconds slower than my best ever lap time. Pretty poor really and this put me at 15th on the grid on row 5. With 18 qualifiers this meant there was only one row behind me. At the back again! However, even if I had equalled my best ever lap I would have only been two places higher and still on row 5. Next to me in 14th was Gerrard Fallon, someone I have diced with often in the past and Emmett Burke on one of the new cross plane crank R1's. They were both over a second quicker than me in qualifying. I was surprised to see Motor Cycle News journalist Michael Neeves on the row ahead, having done a 1 minute 39.450. He's usually a lot faster than that.
They have changed the layout of the grid at Cadwell. Instead of there being four riders on each row, they have reduced it to three. I think this is a great idea from a safety point of view as Cadwell is very narrow and with four riders side by side you are very close to the riders next to you. Much closer than at any other circuit we race on.
1635hrs - Race 1 - 7 Laps
The weather had been good all day, so we had a dry race. I had a great start and beat Gerrard off the line and someone on the row ahead I think. I was charging well until Oli Henderson on row 3 botched his start and I had to try and avoid hitting him by backing off slightly. I ran into the first corner with the pack and stayed on the tail of it for about 3 laps. Then they started to gap me a little and I was on my own. As often happens my pace slackened a little with nobody left to chase.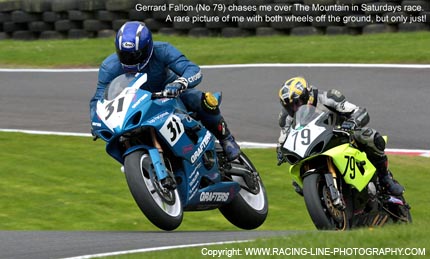 I did my fastest lap on lap 2, a 1 minute 40.371 seconds, which was only a tenth slower than my fastest ever lap. That was very encouraging. Most of my other laps were in the 1 minute 41's. I thought I had close company, although wasn't a 100% sure. As it happens I did in the shape of Gerrard Fallon (No 79) and Emmett Burke (No 3) on one of the 2009 Yamaha R1's with the cross plane crank.
On lap 6 Gerrard came on my outside near the end of the start/finish straight. I managed to brake a bit later than him and held my position. Now I knew for definite that someone was behind me so I held slightly tighter lines after Mansfield as it is very hard to pass from there to the finish line. My tactic worked and when I crossed the line Emmett was only three tenths behind me. But I had got second place in the Clubman Cup. WooHoo! Richard Green was first Clubman and 4 seconds ahead of me.
On the warm down lap I saw Gerrard at the side of the track at Park Corner. Unfortunately he hadn't finished as his engine blew up on the last lap. I'd like to think I would have beaten him anyway and it turns out that both he and Emmett had been on my tail for the whole race. I finished in 11th place overall out of 18 starters and my best lap time was 1 minute 40.371, total race time 11 minutes 54.490 seconds.
Cadwell Park - Sunday 17 May 2009
1410hrs - Race 1 - 10 Laps
All change on the weather front. It was now raining. My favourite! At least the tyre choice was easy. I had a cautious start as I don't fancy spinning the tyre off the line, but I need to be more aggressive in the wet as I lose a lot of ground leaving the grid. I was too cautious through the first few corners as well and the group pulled away from me. No problem as I had decided to go at my own pace and concentrate on being smooth and relaxed and trying to improve my riding in the wet as I know I'm not going to be troubling anyone else at the level I'm at at the moment.
Once again I felt somebody was behind me, although I wasn't sure. A few of the fast riders had started to crash out with about three going down at the Old Hairpin and one on Park Corner. As such I thought I might get a good placing at their expense!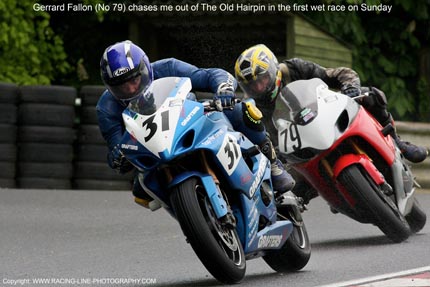 Going into the Old Hairpin on lap 6 the yellow flags were waving as another rider had gone down. So I backed off a little just in case there was a bike lying in the road. I passed the fallen bike and then as I was exiting Barn Corner, Gerrard appeared on my inside, on Ray Stagg's bike. I held him off down the start/finish straight and into Coppice, but he got past me as we came out of Charlies Out onto Park Straight. After that he just pulled away, so I just got on with improving my wet weather performance.
As I finished the race I was amazed that I had not been lapped by any of the front runners, that's a first! Due to the number of fallers I finished in 9th overall, out of 18 starters with a best lap time of 1 minute 50.432 seconds, an improvement of 4 seconds on my previous best wet lap time. I was very happy with that. My overall race time was 18 minutes 47.539 seconds. I was surprised to find out that I was second Clubman again, as I thought that it would have been Gerrard. Turns out he had crashed at the Old Hairpin as he thought I was right on his tail and had kept pushing. In reality he had got well ahead after passing me, as he is much better then me in the wet.
Cadwell Park - Sunday 17 May 2009
1745hrs - Race 2 - 6 Laps
This should have been a 10 lap race, but due to the all day rain races were taking longer to complete and people were crashing, so there was a lot of clearing up to do between races. As such the race was reduced to 8 laps. Then a big accident in the race before ours meant it had to be reduced again, this time to 6 laps. We were lucky to start at all and in fact the last two races were postponed until the next round as time ran out. About an hour before our race the track had dried out, so I was optimistic of a dry race. No such luck, the rain fell again in time for our race. Nice.
I got another poor start as once again I didn't give it enough gas. Gerrard pulled away and to add insult to injury Matt Flower on the row behind got past, along with Paul Welch (Squelchy) on his R6 who had joined us for this race. This wasn't looking good.
I quickly saw that Matt was slower in the corners than me and I managed to pass him on lap 1 round the outside as we tipped into the Gooseneck. Sorry Matt! Then I had Gerrard ahead of me. After the first race I felt sure he would drop me. But no! I was hanging with him. So much so that I was able to pass him on lap 2 down the start/finish straight. Result.
I could now see Squelchy ahead of me on his R6. We had a great battle here last year, so I was looking forward to trying to pass him. He was a fair distance ahead, but I thought I might be able to catch him, although 6 laps might not be long enough.
As I tipped in to the Gooseneck for the third time I was aware of bright sparks lighting up the gloom on the exit of the Gooseneck. Squelchy had gone down. I could see he was rolling on the grass, but his bike was on the right of the tarmac pretty much where I wanted to be. I eased off a little and managed to take a slightly tighter line to avoid hitting his bike, disappointed that I no longer had him as a target.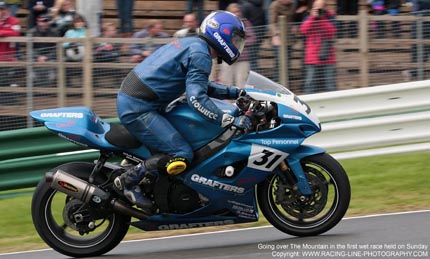 I carried on trying to stay smooth and relaxed as I was sure Gerrard would be snapping at my heels, much the same as he must have thought in the previous race, so I made a mental note not to push too hard.
Coming into Park Corner for the 4th time yellow flags were waving vigorously. I looked to the exit and could see a bike and rider on the kerbing so I backed off a little as I would have to avoid them. As I went round I could see two marshals with the rider, Oli Henderson, only about 5 metres from the edge of the track waving me to stay away.
As I tipped in to the next corner the red flags were being waved: race stopped. Obviously they couldn't move the rider and we couldn't carry on with them being so close to the track. So the race ultimately became a three lapper! I finished in 12th place out of 18 starters and was 3rd in the Clubman class. My best lap time was 1 minute 51.763 seconds, which was a bit slower than the previous wet race, but my confidence has improved a great deal in wet conditions. Just need to work on getting off the line faster and getting up to pace quicker. Overall race time was 5 minutes 47.154 seconds.
For full results of each race click HERE and click on the MRO Morello Powerbikes class.
*