*

Cadwell Park 11/12 August 2007

My preparation, or rather my journey to Cadwell was not the best. Friday before the race is usually the practice day, so ideally I would sail on the Wednesday overnight boat then drive to the circuit on the Thursday, arriving in the afternoon for a leisurely setting up of the awning in the paddock. Not this time.

I had to work on the Thursday photographing the Battle of Flowers. After a full day's work I left the office at 7.15pm and raced home for a quick bite to eat then down to the harbour for 8.30pm, sailing at 9.30pm. I managed to get about an hour's sleep before the ferry arrived in Weymouth at 1.30am on Friday. Time for my first ever all night drive. The roads were incredibly clear so I managed a pretty constant 80mph the whole way, arriving at Cadwell at 6.00am. I manged to get another hour's kip in the van before setting up in the paddock.

This was my first visit to Cadwell since my big crash there in April, but it hadn't been playing on my mind as I knew what I had done wrong. However the first three sessions did see me being a little cautious through the corner where I crashed. That said I did manage to get down to my previous race pace in the afternoon, so I was pretty pleased with that. I was feeling a little jaded for most of the day and had been making a few more errors than usual. So it was off to bed at 10pm for some well earned sleep.

Morning practice consisted of about five laps which I used to scrub in some new tyres. Unknown to me it was actually a qualifying session as we were competing with the Powerbikes due to the low amount of entries. So I didn't push as hard as I might. Mind you, even if I had I would only have made up about three positions on the grid.

What I didn't know until that evening was that I was being followed for the whole session by Steve Lovegrove, another Rookie. He had a big crash the last time at Cadwell and has always finished behind me in previous races. He trusts my riding (his words) so decided to follow in order to help him speed up. I wish I had spotted him, I would have slowed down and let him pass.

Race day was very hot and sunny and the prospect of two seven and two nine lap races was a bit daunting.

Race 1

This was just a race for the Forza Xtreme class and the entries were a lot fewer than previous rounds. I started near the back of the grid in the middle of the row. Not the best place, because you get a bit hemmed in at Cadwell as the track is not very wide. Got caught napping for this start! The guy at the front with the red flag indicated the race was about to start and to watch the start lights and pretty much at the same time the lights came on. So it was into gear, look down at the rev counter to set the revs at about 8,000rpm, look up and straight away the lights go off and we're off. Well, all except me for a fraction of a second. You can't give away even that much. Not happy! However it was lucky for me, as into the second turn three bikes went down and I had enough space to slow down and avoid bikes on the track. We hurtled off and predictably we were red flagged. I had a second chance.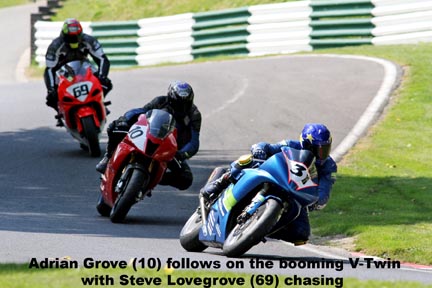 Sitting on the grid for the restart, I could see a gap right in front of me for two rows where the riders who crashed should have been. I decided I would be going through this big hole and make up some places on the start. The plan was going well until the guy to my right veered over to my side after getting slightly better drive off the line. Not a great problem until he backed off far too early for the first bend meaning I had to do the same. I Managed to follow the pack for about two laps, then they started getting away. I still had someone to play with in the shape of Adrian Grove on an Aprilia Mille (No 10). I got past him on the first lap by outbraking into the downhill left hander after the Gooseneck.
Then I was chasing the Kawasaki ZX-10R of Simon Meadows (No 13) for a couple of laps before finally passing him on the brakes into the new chicane before the Mountain. I just put myself on his inside so he had to let me through. After that it was a charge to keep behind me as there was no one ahead I could chase. For the last two laps I knew Adrian Grove had got past Simon Meadows as I could hear the rumbling of his V twin. On the last lap the rumbling was louder so I knew he was closer. I sacrificed the faster lines to riide defensively into the corners so he would have to work hard to get past. Luckily he didn't and I crossed the line two tenths of a second ahead of him. Fourth placed Rookie and thirteenth overall out of 20 starters. As usual Mark Lister was first Rookie, followed by Alan Smith and then Andy Butters 5 seconds ahead of me.
Race 2
For this race and the remaing two on Sunday, we were grouped in with the much faster Powerbike riders as there were only about ten of them. I got a pretty good start and as I was on the outside of the grid, was able to run into the first bend pretty much unhindered. It didn't do me a lot of good though as I didn't make up any places but managed to stay with the pack for a lap. Then coming into Coppice (an up hill 90mph+ left hander) for the second lap Andy Butters outbraked me and got in first. I was surprised to see him as he usually starts better than me. I now knew I was probably fourth placed Rookie again. So I set off to try and catch him. He pulled a gap down the straight, but I started reeling him back through the corners. Then as I came round the Old Hairpin (actually a very tight second gear right hander) I saw Andy and his bike sliding off the track. He had carried too much brake into the corner and lost the front.
I had mixed feelings at this point. At first I was concerned for his welfare and then I relalised he had probably just gifted me third place in the Rookie race. Woohoo! So I had to keep on it. It was a very lonely race as I never actually passed anyone. It really is hard to keep on the pace when you have no one to chase. On the penultimate lap Tony Taylor came flying past me into Park Corner. But he had left it too late and almost ran off the track. So I nipped back past him. Then on the last lap I eased up too much (I actually went a second slower on the last lap!) and Andrew Burke passed on my inside going into Park Corner as I backed off too early. Really annoyed with myself as I have made this mistake before. I tried to get him on the power out of the last corner but it was to no avaiil and he beat me by four tenths of a second. Tony Taylor obviously recovered as he finished just six hundredths of a second behind me. So I got third place in the Rookies and once again thirteenth overall out of twenty starters.
Race 3
I had a really poor start in this race and went back five places in the first lap! One of those to come past was Steve Lovegrove, who has consistently been fifth placed Rookie up 'till now. He was right in front of me with a confidence knocked Andy Butters ahead of him. I had a go on the brakes into the downhill left hander after the Gooseneck but wasn't close enough to make it work. We rode around as a trio until lap five, at which point Steve did a beauty of a pass on Andy, going underneath him into the fast (90mph+) right hander of Charlies In, making Andy pick the bike up a little. I knew Andy had the quicker bike so I thought he would get past down Park Straight. He had to do it on the brakes, but as he was on the outside of Steve going into Park Corner he couldn't make it and had to go straight on, only just staying on the track. So whilst he was fighting to stay on I nipped up his iinside of and got into fourth place. I chased Steve as best I could but he was slowly pulling away. I think his time behind me in practice came in handy. I was wilting again towards the end of the race as these were nine lap races, the longest I have done. Luckily Andy Butters didn't come back past and I beat him by five seconds. Fourth Rookie and seventeenth out of twenty.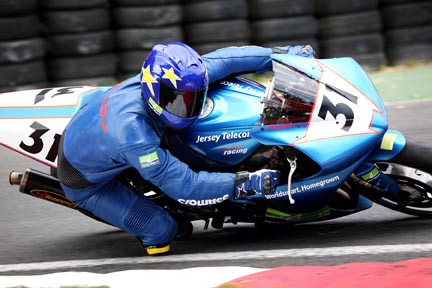 Race 4
The previous race had been a bit cooler than races one and two, but this one was a complete contrast. About 30 minutes before our last race it rained like it was monsoon season. So on went the wets. Then it stopped about fifteen minutes before my race. Blast. Was it going to dry out, as the track was steaming in places? Nope, another monsoon meant the track was most definitely wet.
My start was OK, but I took a while to get the feel for the wets. I was chasing a couple of riders, including Steve Lovegrove who once again got the better of me. But I managed to get past Rookie championship leader Alan Smith on lap 4 by out braking him into the left hander before the Mountain. Then I spent the next few laps chasing the ZX-10R of Simon Meadows. I could see he was having problems, as he was sliding quite a bit out of the corners. I finally managed to pass him in the same place I got Alan Smith. I did have to suffer the igmony of being lapped by a couple of the Powerbikes on the last lap, but I got another fourth in the Rookies and fourteenth out of eighteen overall.
I was a bit disappointed with the weekend as the lack of entries meant I was finishing at the back instead of my usual mid field position. Although I did my fastest ever lap time around Cadwell (a 1min 42.10sec) and put in more consistently fast laps, I haven't moved my game on like the other Rookies. The 30bhp power advantage of their bikes over mine is also showing much more now, so really looking forward to getting a Suzuki GSXR1000 K6 for next year. It's not all about the bike, but it will help.
However the crash by Andy Butters means that I have moved up to third place in the Rookie championship, but only by two points. From here on in it will be a battle for third place in the championship, between me, Andy Butters and Steve Lovegrove. Alan Smith only has to finish behind Mark Lister for the next eight races in order to win and none of us can get near Mark Lister in second place. He actually got third place overall in the last race and is now regularly troubling the main Forza Xtreme racers.
*