*

Brands Hatch Indy - Saturday 8-3-08

Once again the first race of the season is on the Indy circuit at Brands Hatch. What is different for 2008 is that we now have a qualifying session to determine our grid position for the first race. The grid positions for the following races of the weekend are taken from where you finished in the preceeding race. So if you finish 10th in the first race, then that is your grid position for race two.

With no Superstock 1000's, Supersport 600's or Triumph Tripple Challenge classes racing at this meeting it meant we had a lot of the racers from those classes joining us in the Powerbikes class. The maximum amount of riders allowed to line up on the grid is 38, so with over 50 riders entered we were split into three groups: A, B and C. A and B would race, then B and C and finally A and C so that everyone would race everyone else. Usually we just have two races per day. I was in group A with fellow Jersey rider Luke De La Cour on a K7 Suzuki, with two Jersey Rookies, Gary Hotton on a ZX-10R and Nick Daghorn on an R1 in group C. This meant that all four of us would only race each other in two races.

The weather was due to be a mixture of dry and rain, which is exactly what we got. The mornings were dry, but the afternoons were wet. Tyre choice was still difficult as the track surface was constantly changing.

Qualifying

The session was dry so I went out on Metzeler Racetecs. As usual they were new tyres for the weekend, so the first two laps were spent taking it easy to scrub them in. Then I started to pick up the pace in order to get a good grid position. The day before in testing I had got down to a best time of 53.98 seconds. About one and a half seconds slower than my best race lap from 2007, so I was hoping to improve on that as I was getting more used to my new bike for 2008, a 2006 Suzuki GSX-R1000. I managed two quicker laps before the session was red flagged. Someones engine had blown up and oil may have been on the track. Unfortunately that was the end of our qualifying and I only managed to get a best time of 56.283 seconds. Useless, but most of us were in the same boat.

Race 1

There was some light drizzle, but the track was dry. Even so I opted to put the intermediate tyres on as it was very cool and there was a risk of rain.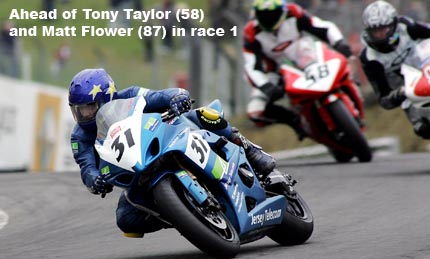 Starting from 29th on the grid (row 8) I managed to get a good a good start and drove off the line without lifting the front wheel. That was a huge relief as I had only done two practice starts prior to this one. For the first lap I was with the group, but the faster boys began to pull away and I was left to chase Gerrard Fallon riding a K7 Suzuki 1000. Going into Clark Curve on lap 4 I managed to carry more corner speed than Gerrard and as such passed him as we went onto the start/finish straight. I manged to keep him behind me and now set my sights on Terry Gaskin also riding a Suzuki 1000 (K4 I think). I was gradually reeling him in and as we exited Graham Hill Bend I manged to accelerate past him on the Cooper Straight. He looked behind as he came out of Graham Hill, so I think he may have been in the wrong gear.
I crossed the line in 27th place out of 36 starters and did a best lap time of 54.853 seconds. Luke did much better starting from 18th on the grid and finished 12 seconds ahead of me in 18th with a best lap time of 52.734 seconds.
Race 2
The second race was at about 5pm and the rain was pouring down, so tyre choice was easy: full wets. This was the first race where all four of us Jersey boys were racing together. Our grid positions were: Luke 17th, Gary 21st, me 24th and Nick 28th.
I have only raced in the wet about 4 times, so my experience is severely lacking. I start off pretty slow and only get marginally faster. This race was no exception and I don't think I managed to pass anyone! I got to the end of the race in 23rd place out of 33, with a best lap time of 1 minute 3.293 seconds. Gary got the better of Luke by 1.5 seconds finishing in 17th to Lukes 18th. I was 18 seconds behind Luke with Nick trailing me by 5 seconds in 26th position.
Brands Hatch Indy - Sunday 9-3-08
Warm Up
I didn't bother going out for warm up. We only get three laps and as the track was greasy I didn't see the point.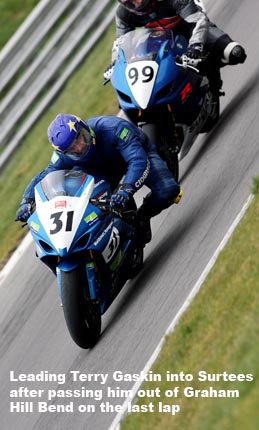 Race 1
The track was dry, but the sky was overcast and the temperature cool. I started from 23rd on the grid. Once again I got a good start, but as we all headed into the first corner, Paddock Hill, I noticed a couple of riders at the front of the pack had crashed about 50 metres ahead of me. As such I backed off a bit so I would have a chance of avoiding the carnage.
I stayed with the pack for about a lap, then found myself chasing Gerrard Fallon again the same as in race 1 on Saturday. I managed to pass him on lap 3 this time, in exactly the same place as before: carrying more corner speed into Clark Curve and then passing him onto the start/finish straight. I had Chris Hadfield in front of me now but was unable to pass him. I finished in 22nd place, 2 seconds behind Chris, with Gerrard right on my tail 7 tenths of a second behind me. Luke had his best result, finishing 14th out of 34 starters. I did my fastest lap time of the weeekend with a 53.787 seconds.
Race 2 A heavy downpour an hour before the race suggested full wet weather tyres would be in order. However I have made this error before and kept an eye on the track condition. In addition the sun had come out in full force so there was a chance the track would be dry by the time we came to race. As it happened the track remained wet, but it wasn't soaking. We all decided on full wets. As the sun was low in the sky I put on my dark visor. A good move as it turned out.
We formed up on the grid and were set off one row at a time for our warm up lap. As the second row left Dean Nicholls spat himself off his R1. A bit of an embarassing crash but at least he was OK. I think it happened due to a combination of the start being on a slight camber, a wet track and a bit too much throttle. So we had a bit of a wait whilst the medics attended to Dean. During this time Rhalf Lo Turco decided to have a pee aginst the pit wall! He got a telling off from one of the marshalls and a lot of mickey taking from the rest of us, including cries of "just like a willy, only smaller".
After about fifteen minutes our race was started. I didn't give it as much throttle as usual as I didn't want to emulate Dean. I started from 23rd on the grid, with Gary and Nick on the row in front of me. They got away from me but I kept them in sight. The track was still wet and my lack of confidence in the wet meant I rode pretty poorly. We had the added dificulty of a very bright low sun reflecting its light off the wet track. The worst part was heading along Cooper Straight towards Surtees, where the reflection off the track was so intense that you could barely see the silhouette of the riders ahead of you. You certainly couldn't see the marker boards preceeding the corner, so braking for Surtees was a bit hit or miss!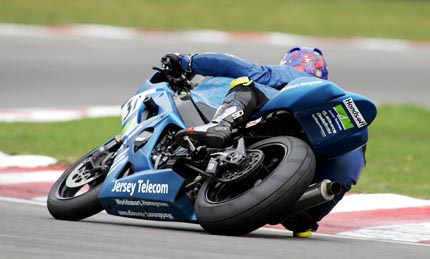 I had someone to chase in the shape of Matt Flower on his R1. After following him for a couple of laps I finally got past him on lap 4 by outbraking him into Paddock Hill bend. Although I made it hard for myself by going round the outside of him. I was then on my own for a couple of laps until I could hear a bike behind me. So on the last lap I decided to take a slightly tighter line into Druids. All was going well until I got to the apex and found I was about to go over the kerbing on the inside of the track. As the kerb has a bit of step I knew if hit it I would crash, so I picked the bike up slightly. Unfortunately as I did so I chopped the throttle shut which then put too much weight on the front tyre. So much so that it lost grip on the wet track and down I went. Luckily I was only doing about 30mph so just bruised my hip. The bike came off very well as it just slid on its right hand side. The footpeg lost about half and inch of its length, the crash bung got bent and worn down as did the swing arm bobbin and there were a few scuffs on the bodywork. So I rode back to the pits once the race had finished. I felt a bit of a numpty as I was only racing for 19th place, but it would have been my best placing of the weekend.
At the time I crashed Ricky Bull was going around the outside of me, so it was very lucky that I didn't take him out with my crash as well. I managed a fastest lap of 59.601 seconds.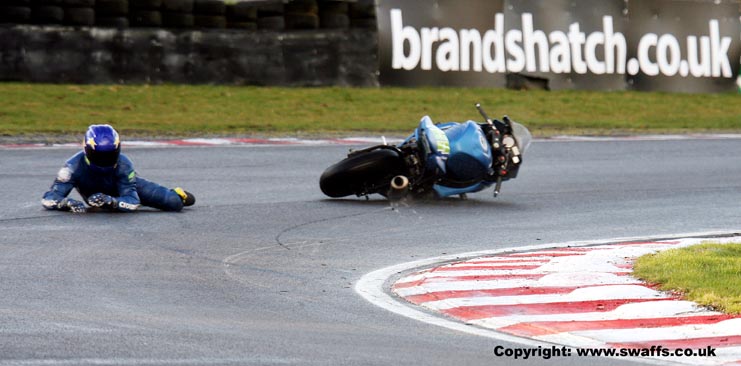 *