*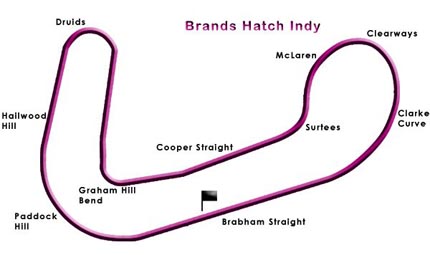 Brands Hatch Indy - Thursday 5 March 2009
After five months of waiting (and saving money!) the race season was finally back. I had hoped to go somewhere warm to practice in January or February, but for various reasons it didn't happen. So not having ridden my race bike for 5 months I did a track day on the Thursday before this race, to help me get back up to speed. Lap timing isn't allowed on track days so I wasn't tempted to time myself and just got on with riding, concentrating on being relaxed and working on my technique. If I had timed it, I would probably have been pretty slow, so at least I wouldn't get demoralised.
It was sunny, although cold, about 8 or 9 degrees. With no wind it was actually quite pleasant. There were only about 25 riders in my group, so there was plenty of space to ride. The day went well with no mishaps and I was surprised at how "un-rusty" I felt.
Brands Hatch Indy - Friday 6 March 2009
Practice
Once again the weather was really nice, although it had frozen overnight. Today was the BEMSEE practice day, so timing was allowed and passing riders on track isn't as "courteous" as on a track day.
Things were going pretty well in my first session, although my lap timer wasn't working. In the second session the handling of the bike became very weird. The front end felt very heavy and it was difficult to actually turn the bike into the corners. I quickly realised that I probably had a puncture in the front tyre, so I pulled back into the pits.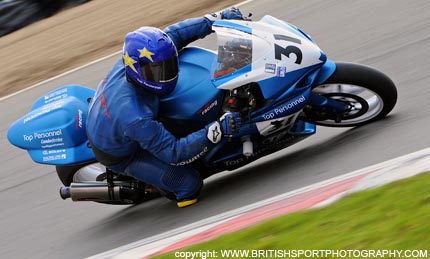 Although the tyre was indeed flat, there was no obvious sign of anything sticking in the tyre, so I tried pumping it up to see if I could hear any air escaping. It wouldn't hold any air, so my suspicions moved to the valve. On closer inspection I could see a small hole in the base of the rubber of the valve. A quick dab of spit on the hole confirmed this as the source of the leak! Straight away, I took the wheel out and took it to the tyre fitter to get a new valve fitted. At the same time, I got my new tyres fitted ready for race day the next day.
Because of this I missed two sessions, so I was lucky I had ridden the day before. After lunch I was out again and all was back to normal. I managed to get my times into the mid to low 54 seconds. OK, but nothing special.
I had a small incident at the beginning of this session. As I was braking on the downhill approach to Graham Hill bend, one of the "fast boys" came down my inside. This wasn't a problem until he then swung right across in front of me, almost hitting my front wheel with his rear. I had to move over and this put me right on the edge of the track. Not in itself a problem, until I realised I had missed the turn in point for the corner. I had no option but to go straight on, which meant going onto the grass. I had managed to lose some speed before going onto the grass and briefly thought about using the front brake to slow down. This would have been a very bad idea, as the front would almost certainly lock up and I would fall off.
The grass went uphill and this, combined with using some back brake, meant I managed to slow down and turn so I was parallel to the track. I kept it straight and headed for the tarmac slip road behind the pits, where I waited for a gap in the traffic so I could get back out again and back into my stride.
The last session went better, with my times dropping into the low to mid 53 seconds, with a best of 53.29 seconds, which was encouraging as my best ever race lap is 52.245 seconds. However, to get a good grid position for all the races I needed to do a lot better than that.
Brands Hatch Indy - Saturday 7 March 2009
1100hrs - Qualifying - Session 1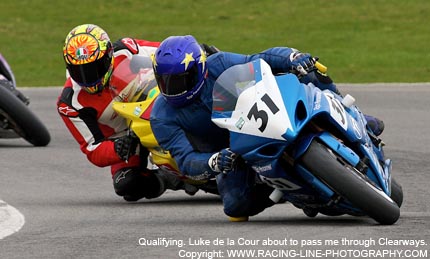 Once again the weather was pretty good: dry, overcast and cold. I got into a good rhythm early on and had quite a bit of clear space. I was running round with Dean Nicholls for a couple of laps and he was kind enough to almost highside right in front of me through Clark Curve.
I managed to stay out of the way of most of the fast boys and as such, was able to concentrate on my riding. I felt faster than the practice day, but not by as much as I thought. My best lap time was 52.973 seconds which put me 29th out of 35 and 5th out of 8 Clubmen. I need to brake later into Paddock Hill, get on the power more through Clark Curve and go faster through Surtees.
1500hrs - Qualifying - Session 2
I had had a few words with myself and was determined to get through Surtees faster by not braking as much. I went a bit quicker, but not enough. I also tried a slightly wider line through Clark Curve and this felt better for getting on the power. I didn't go faster though as my best time was 53.253 seconds. At least it was close to the 52.973 I had done in the previous qualifying session, so consistent if nothing else.
I took some consolation in the fact that only about five riders actually bettered their times in this second session. This was probably due to the oil dropped on the circuit, all the way around Paddock Hill bend and all the way up to Druids corner. Unfortunately among those that improved their times were two riders previously slower than me, so I got dropped down to the eighth row and was 31st out of 35 and 6th in the Clubmans class. At the back again!
Brands Hatch Indy - Sunday 8 March 2009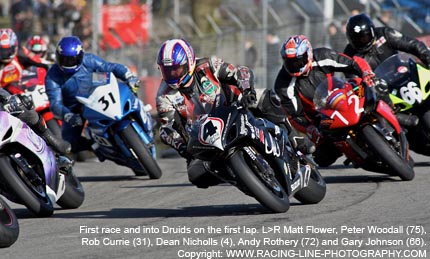 1100hrs - Race 1 - 8 Laps
We should have raced the day before, but due to stoppages there wasn't enough time. It was annoying at the time, however the weather was much better, racing on the Sunday morning as it was sunny, dry but cold.
I had a great start, passing a few of the riders on the row ahead of me. Going into the first corner I was right behind Dean Nicholls. We were both taking the tight line, but he slowed down a lot more than I wanted to, possibly because of all the cement dust covering the dropped oil. I foolishly followed his lead, rather than trying to go around him and in the process undid all my good work of passing people off the grid, as they came back past again.
On the entry to Druids, (the next corner) I got a bit baulked and this cost me a little time. After that, things settled down and I was behind a group of about 5 riders. As we came around on the second lap I managed to out brake Gary Johnson (66) and was able to go through on his inside into Graham Hill bend. Two laps later I was closing in on Matt Flower (41) and went around his outside into Druids Corner.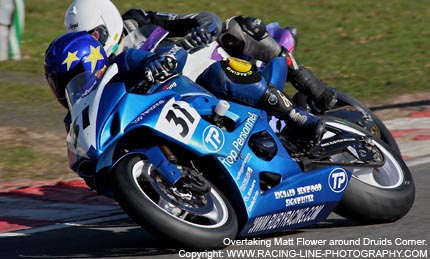 Dean Nicholls was now ahead of me and I started to pull him back quite quickly. As we exited Clark Curve onto the start/finish straight I got better drive and passed him just before braking for Paddock Hill. I also had the inside line so this made it more difficult for him to come back at me. On lap six I passed Andy Rothery (72), but I can't remember where! I kept on pushing as I didn't know how close the riders behind me were.
I could see Mark Barton ahead and felt I was pulling him back slightly. With only two laps left I knew I wouldn't catch him though. I crossed the line in 23rd place out of 32 starters and was 5th in the Clubmans Class. My best lap was 52.174 seconds and is a new personal best around the Brands Hatch Indy circuit. It may only be a seven hundredths improvement, but it is the third meeting in a row where I have managed to go faster than I did on my previous bike, a 2002 Yamaha R1. It's also encouraging to do it after not racing for 5 months.


Jersey Rider Results
9th Luke de la Cour 8 laps RACE TIME 6 minutes 48.475 seconds BEST LAP 50.242 seconds
23rd Rob Currie 8 laps RACE TIME 7 minutes 11.065 seconds BEST LAP 52.174 seconds
1515hrs - Race 2 - 12 Laps
Up until the last 10 minutes before being called to the collecting area, it looked like intermediate tyres would be the tyres to use, as it had started raining lightly about 20 minutes beforehand. Then the heavens opened and made the choice an easy one: full wet weather tyres. It was raining so hard that they actually waited 5 minutes for it to ease off, before they called us to the collecting area.
I started gingerly as the start/finish straight slopes from the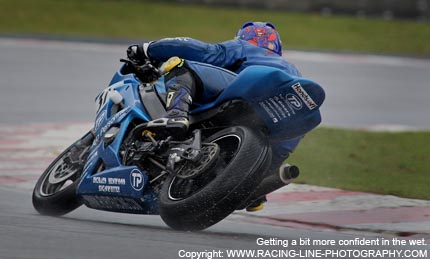 outside to the inside and I didn't want to loose the back end, giving it too much throttle. One of the guys behind me came past and I gave chase. There was a small group of about four of us, including Peter Woodall (75) and Dean Nicholls (4), who I followed for a few laps in order to build up some heat in my tyres and more importantly, my confidence!
On lap 3 I went round the outside of Ben Clark (85) around Paddock Hill. Then on lap 4 I managed to carry better speed through Graham Hill bend and out-dragged Peter Woodall along the Cooper Straight. After that I was on my own. I'm not a big fan of the wet but I managed to get relaxed and just concentrate on being as smooth as possible and use the rest of the race as practice. Amazingly I was actually starting to enjoy it.
It was on about lap 10 that I saw the blue flag being waved at me along Cooper Straight. I knew the leaders were coming so I stayed wide for as long as possible before Surtees and Peter Baker (8) and Ross Walter (76) came past like I was standing still! After that I got lapped by about four more riders.
I finished 23rd again out of 27 starters and was also 5th in the Clubmans Class. My best lap time was 1 minute 00.386 seconds. Not as quick as my best wet time from last year of 59.601 seconds, but it felt a lot more relaxed.


Jersey Rider Results
10th Luke de la Cour 12 laps RACE TIME 11 minutes 31.411 seconds BEST LAP 55.566 seconds
23rd Rob Currie 11 laps RACE TIME 11 minutes 25.504 seconds BEST LAP 60.386 seconds
1715hrs - Race 3 - 12 Laps
The weather was a complete contrast to the previous race,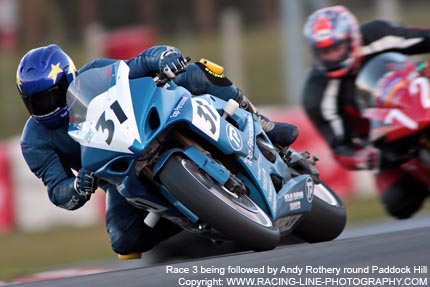 with not a cloud in the sky. The track was predominantly dry, with damp patches off line. So dry tyres were the choice of most, with a couple on inters. However the temperature had dropped and the sun disappeared as we started the race, although for the first lap or two we were riding into blinding sun down the Cooper Straight.
Part of my grid position was damp, so I was once again a bit concerned about loosing the back end if I used too much power off the line. Consequently my start wasn't brilliant. Things were going pretty well as I followed a small group for the first lap. Then as I came down Paddock Hill for the second time, I ran a little wide at the bottom and ended up crossing over the kerbing. Luckily there was a bit of green tarmac on the other side and I managed to stay on board although I had had to get off the throttle. Hence allowing Peter Woodall to come past me.
I lost touch with the group ahead and had a very lonely race from there on. So I just concentrated on keeping my pace up in case anyone was behind, but I thought I was last. Due to the damp patches and the cold track, my lap times were down to the 55's, which was a bit poor. I even had the ignominy of being lapped by the lead rider. I'm used to it in the wet, not in the dry. Even so, I had my best result of the weekend with a 17th out of 24 and once again 5th in the Clubmans Class. My best lap time was 54.371 seconds.
Overall I was pleased with my weekend as I had gone my fastest round the Brands Hatch Indy circuit. Not by much admittedly, but as it was the first meeting of the year and I hadn't ridden for 5 months, things look promising.


Jersey Rider Results
9th Luke de la Cour 12 laps RACE TIME 10 minutes 28.982 seconds BEST LAP 51.245 seconds
17th Rob Currie 11 laps RACE TIME 10 minutes 13.710 seconds BEST LAP 54.371 seconds
For full results of each race click HERE and click on the MRO Morello Powerbikes class.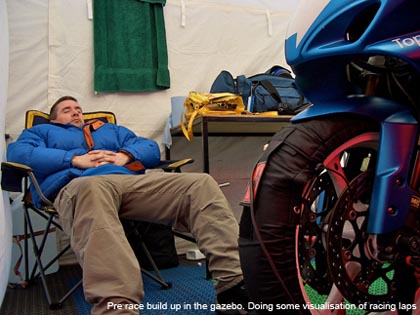 *