*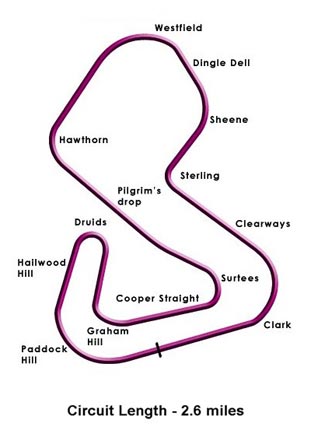 Brands Hatch GP - Saturday 27-9-08
The complete opposite to the rush to get to the last meeting, as I caught the ferry to England on the previous Sunday. The usual practice day on the Friday was on the shorter Indy circuit, however we were racing on the full GP circuit so I wasn't going to learn much by doing that. Luckily there was a track day on the full GP circuit on the Thursday so I signed up for that instead. As I was on holiday for the whole week I decided to take in another track day at Oulton Park in Cheshire on the Tuesday for some much needed practice. I had great weather on both track days, so was able to concentrate on my technique, which I have been trying to alter in recent months. Luckily I didn't crash so I was pretty much up to speed for the race weeekend.
Luke de la Cour, Gary Hotton and Nick Daghorn were also racing in Powerbikes.
Qualifying
There was a misty start to the day, but the sky was blue and the the track dry. Perfect. I told myself I needed to qualify well otherwise I would be starting from too far down the grid for all four races. I took the first two laps easy as I was scrubbing in some new tyres. On the first lap Sam Bishop crashed out at Sterlings. Then over the next three laps two more riders went off in the same place. The slippery surface flag was then being shown for that corner. I couldn't see anything obvious so maybe it was still a little damp from the overnight dew. There was obviously something there though as three people had crashed in the same place.
Once I felt my tyres were scrubbed in I started to pick up the pace, although I didn't feel as fast as I was on the Thursday track day. My lap timer wasn't working so I couldn't be sure. Two times going through Sterlings my rear tyre slid as I was coming out of the corner. Knowing that people had already crashed there I took it a bit easier after those two warnings. In addition I had had a small slide exiting Druids on one lap. I later found out that most of the other riders were having grip problems.
My best lap was a 1 minute 42.573 seconds, which was 2.4 seconds slower than my best race lap from 2007. I was diappointed with this as I was sure I had gone quicker on the Thursday. So despite telling myself to qualify well, I hadn't. I was down on row 8 in 30th position. My starting place for four races. Not happy. Despite never having ridden the circuit before Thursday, Luke managed a 1 minute 37.314 and was on row 3 in 9th. Gary was behind me on row 9 and NIck on row 10.


Jersey Rider Results
9th Luke de la Cour 1 minute 37.314 seconds
30th Rob Currie 1 minute 42.573 seconds
35th Gary Hotton 1 minute 44.527 seconds
38th Nick Daghorn 1 minute 44.745 seconds
Race 1 - 6 Laps
On the grid waiting for the start I was glad to see that three of the four riders on the row ahead were not there for some reason. This would give me more free space to try and get a good start. The start was reasonable and I found myself behind a 600 going into Paddock Hill bend for the first time. He was going a lot slower than me into the corner so I had to brake. This lost me some momentum and as a result Gary Hotton came past me down Paddock Hill.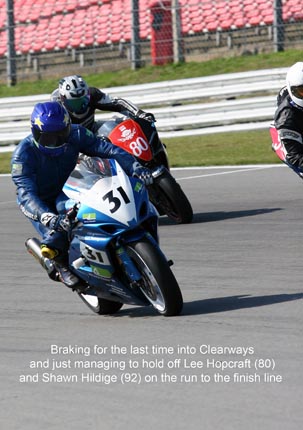 All the riders were still pretty bunched up going into the next two corners, Druids and Graham Hill. Graham Hill was particularly busy because there was only really one line that everyone wanted to take due to a large amount of cement dust on the track covering an oil spillage. We managed about a lap and a half and then the red flags came out: race stopped. We had to wait about 15 minutes on the grid for the accident to be cleared and the re-start of the race, which was now only over 4 laps.
I got a much better start this time and overtook a few riders going into Paddock Hill bend and then passed someone else at the bottom of the hill. I managed to out-brake someone else into Sterlings. On lap 3 Gary Hotton got past me by going up the inside into Druids. I set about trying to pass him back but didn't manage it. Later in the lap Dean Bowling came past me on his 999. I managed to stay with him until we got to Sterlings where I messed up my gear changes and came out of the corner in a gear too high and so lost drive and any chance of getting back past. To add insult to injury Angus MacLaine took advantage of my mistake and passed me on the drive to the next corner.
All through the race Anne had been showing me a "zero" on my pit board so I knew I always had someone right behind me. The last lap was no different as Mark Crook was on my tail and managed to "steal" my place on the run to the chequered flag. Blast! 25th place but at least I had gone a second and a half quicker than qualifying with a 1 minute 41.053 done on the last lap. Still room for improvement.


Jersey Rider Results
6th Luke de la Cour 4 laps RACE TIME 6 minutes 28.289 seconds BEST LAP 1 minute 35.037 seconds
21st Gary Hotton 4 laps RACE TIME 6 minutes 48.803 seconds BEST LAP 1 minute 38.695 seconds
25th Rob Currie 4 laps RACE TIME 6 minutes 53.026 seconds BEST LAP 1 minute 41.053 seconds
38th Nick Daghorn 4 laps RACE TIME 7 minutes 19.925 seconds BEST LAP 1 minute 46.943 seconds (rear tyre puncture)
Race 2 - 6 Laps
I had a good start again and went with a new plan which was to go wider into the first corner and try to make up some places around the outside. A longer route with the risk of being taken out by someone on my inside, but in theory could be less busy. The plan worked quite well but I was a bit slow down the hill and the run up to Druids. I got a little baulked around Druids, but was able to pass someone charging down to Graham Hill bend.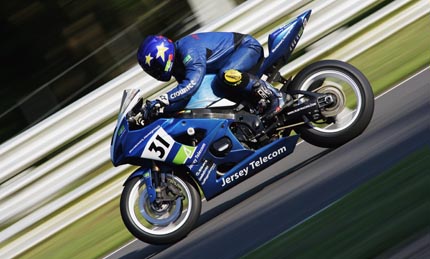 On the run along Cooper Straight I caught up with two riders as we tipped into Surtees. The rider in front ran a bit wide half way around and had to sit up the bike or go off the track and as I was right behind I had to ease off the throttle a little. Gary Hotton seized the moment and got past me. I chased him down Pilgrims Drop and got on his inside for the next corner, Hawthorns. I had the best line so he had to let me go through or we would crash. Once past I got my head down to try and break away from him. I got past Mark Crook on the second lap and was into 27th place.
On lap 3 I passed Shawn Hildige and Matt Flower, although I can't remember where. I now had a chance to check Anne's pit signal to me and rather depressingly it said "zero". Once again I knew I had company and needed to keep my pace up. I could hear them each time we went around Druids and they felt close. I had nobody close enough to chase so I just had to concentrate and not make any mistakes. For the last three laps my pit board kept saying "zero". I began to think that maybe Anne had only taken one pit signal! There were four bikes right behind me, just waiting to pounce.
On the last lap I was expecting someone to make a lunge towards the end of the lap and they may well have done, but as we approached the final corner the yellow flags were waving as Swampy had crashed on the fast right hander onto the start/finish straight, so they weren't allowed to pass under a yellow flag. That probably helped, but I kept on it to the line and finished 24th out of 40 starters, with a new personal best lap of 1 minute 39.545 seconds. I was really happy with this. The second meeting in a row that I have gone faster than last year. Perhaps I'm begining to get more used to the GSX-R now. To add to my joy the last four laps were all under my previous personal best and as at Cadwell I had managed to do it with nobody to chase.


Jersey Rider Results
10th Luke de la Cour 6 laps RACE TIME 9 minutes 41.776 seconds BEST LAP 1 minute 35.437 seconds
24th Rob Currie 6 laps RACE TIME 10 minutes 09.839 seconds BEST LAP 1 minute 39.545 seconds
28th Gary Hotton 6 laps RACE TIME 10 minutes 11.301 seconds BEST LAP 1 minute 38.638 seconds
37th Nick Daghorn 5 laps RACE TIME 8 minutes 48.613 seconds BEST LAP 1 minute 43.428 seconds
Brands Hatch GP - Sunday 28-9-08
Race 1 - 6 Laps I decided to use the same start plan for this race as the last one: head for the outside for turn one and hopefully get around some other riders. My start was pretty good, but someone three rows ahead had a very bad one, as they had stalled. This is the last thing you want to happen when you have a number of other bikes charging towards you.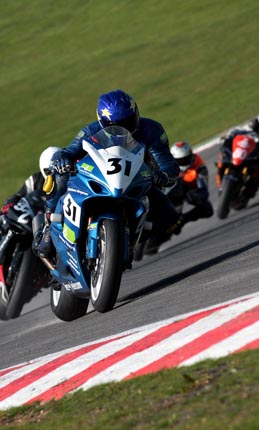 My plan worked and I got a good run down Paddock Hill. As we approached Druids the red flags were out as the guy who had stalled (I think it was Dean Bowling) had been hit by two other bikes. It was near to lunch time so we stopped for lunch whilst the accident was sorted out.
My start plan didn't work as well for the restart. I found myself right behind someone slower into the first corner without anywhere to go. I realised I was getting too close for comfort but it was too late. This wasn't looking good for me, or him. My front wheel touched the side of his rear wheel. I prepared for the worst. I thought we were going down. By pure luck neither of us did. Huge relief. In two years of racing that is the first time I have touched another rider. Lets hope it's a long time before it happens again.
The plan had fallen apart and I had lost some speed. I went round the outside of the group into Druids but ran a little too wide and Gary Hotton got past me. I chased him and managed to out brake him in the same place as the last race: Hawthorn. As we tipped in to Hawthorn another rider came across me from the outside causing me to back off a fraction in case I hit him. That gave Gary the chance to stuff it up my inside into the next bend, Westfield.
I chased him and kept him in my grasp and over the next three laps slowly gained on him. All was going well until I braked a bit too late into Druids on lap four and ran a little wide coming out of the corner and in the process lost some ground. I kept chasing, but unless he made a mistake there weren't enough laps to catch him again. I finished in 23rd place 1.4 seconds behind Gary. I was happy again though, as I had completed every lap faster than my fastest lap in the previous race and my fastest lap of 1 minute 38.166 seconds was an improvement of 1.4 seconds on the best time from the previous race. Things are definitely moving forward.


Jersey Rider Results
10th Luke de la Cour 6 laps RACE TIME 9 minutes 38.072 seconds BEST LAP 1 minute 35.258 seconds
22nd Gary Hotton 6 laps RACE TIME 9 minutes 59.902 seconds BEST LAP 1 minute 38.205 seconds
23rd Rob Currie 6 laps RACE TIME 10 minutes 01.352 seconds BEST LAP 1 minute 38.166 seconds
DNF Nick Daghorn
Race 2 - 6 Laps
I had a great start and went the long way round Paddock Hill again which worked well, but not so good around Druids as I missed an opportunity to pass there. Very early into the race I realised I was behind Gerrard Fallon, the first time I had seen him in a race all weekend. Usually we are fairly evenly matched, but this weekend he was faster than me. I thought I maust have made up quite a bit of ground at the start, as he was three rows ahead of me on the grid. Either that or he had had a bad start.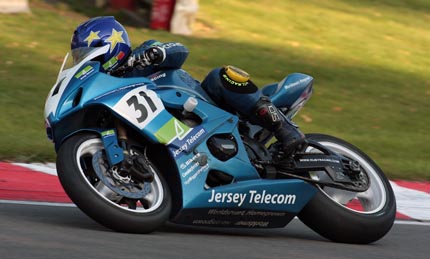 There were two riders in front of him and as we went round Surtees for the first time Gerrard had to back off a bit as the rider in front slowed down. I managed to benefit from this and passed both of them down Hawthorn Hill. Once past I could see a group of four bikes ahead of me, so I set about trying to catch them. I was just about holding station on the group. I noticed Anne's pit signals were once again saying "zero". Give me a break! That's the only number I've seen from her all weekend.
I was pretty sure that it was Gerrard behind me, but I managed to keep him behind me for the first two laps. Then on lap 3 as I braked into Druids he appeared underneath me. I thought, "I'm not backing off", but I did give him some space as I didn't want us both to crash. We went around the corner side by side with him on the inside line. But I would have the inside line for the next corner, Graham Hill. I just needed to get good drive out of Druids and go down his inside. He obviously thought I would try that and left me no room to try that move.
His lap times had been a second to two seconds a lap faster than me all weekend so I thought I would have my work cut out trying to get back past. Sure enough he eased ahead and by the end of the penultimate lap I knew I couldn't get him. On the last lap Anne finally showed me a different number. Hurrah! This time it was a "1". For the first time all weekend I had a small amount of space on the rider behind me. I crossed the line in 19th place and apart from Gerrard, nobody else passed me. I was once again happy with my times as they had all been 1 minute 38/39 seconds laps and every lap had been under my last years best lap time.
Unfortunately that was the last race for 2008. I now have a 5 month wait until my next race in 2009. Not sure how I will cope with the withdrawal symptoms, but at least it gives me time to save some money!


Jersey Rider Results
8th Luke de la Cour 6 laps RACE TIME 9 minutes 37.120 seconds BEST LAP 1 minute 34.917 seconds
19th Rob Currie 6 laps RACE TIME 10 minutes 01.520 seconds BEST LAP 1 minute 38.689 seconds
28th Nick Daghorn 6 laps RACE TIME 10 minutes 30.907 seconds BEST LAP 1 minute 43.295 seconds
For full results of each race click HERE and click on the BMCRC Powerbikes class.
*