*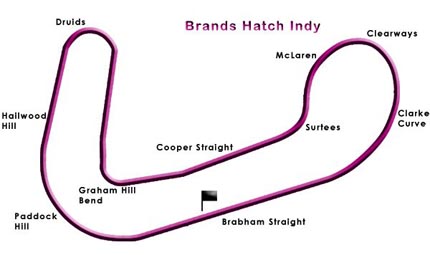 Brands Hatch Indy - Friday 25 September 2009
Practice Day
I always do the practice day on the Friday before the race weekend, as it's the only time I get to practice and it gets me up to speed. I don't usually mention them, but this time I got taken out by one of the faster guys. I was going round the first part of Clearways, fully lent over when a faster rider passed me on the outside and then cut right across my front wheel and took me out. I was swearing before I hit the tarmac, then it was the usual earth, sky, earth, sky as I tumbled into the gravel trap.
I was fuming as I got up. Totally unnecessary move the guy pulled on me and unfortunately it all happened so fast I don't know who hit me. Well, that's racing. The bike wasn't too badly damaged: the crash bung needed replacing, together with the right foot peg and the screen. The bodywork had taken a battering and as it has had a few previous encounters with the tarmac I decided to fit the spare new bodywork I had with me.
I had hit my helmet on both sides so that was a write off. My right hand was a bit sore, as was my right chest and shoulder from hitting the ground.
Brands Hatch Indy - Saturday 26 September 2009
Qualifying 1
I fitted a new rear tyre, so the first few laps of qualifying were spent scrubbing it in. I also had to make sure the front tyre got cleaned of the dust it picked up from the gravel trap from yesterday's crash.
I felt relaxed and riding within my capabilities, mindful of the fast boys cutting me up, so one or two laps I did back off a bit when passed by another rider. The 44 tooth rear sprocket I had left on from Snetterton didn't feel a problem anywhere. I didn't feel I had gone too quickly, so I was pleasantly surprised to have done a 52.871 second lap, only 6 tenths slower than my fastest ever race lap.
I knew I could go faster and would certainly have to. I was 32nd overall and 12th in the Clubman Class. Gerrard Fallon was 27th overall and 7th in the Clubmans with a 52.457 second lap. I needed to be faster than him, or at least very close to him.
Qualifying 2
Having thought about my lap I worked out where I thought I could make up some time. As usual, braking into Paddock Hill bend was my main area for improvement. I ended up going out behind Ray Stagg and pretty much held station behind him.
It felt as though I had gone quicker and I had. Not by much though as I only did a 52.411 second lap. Now I was 34th overall and 13th Clubman and Gerrard had improved to 24th overall and 3rd Clubman with a 51.548 second lap. To make matters worse he was 3 rows ahead of me. This is his local track, so beating him will be very hard. Hopefully I can maintain my good starts in order to make up some ground on him. I certainly need to finish close to him as the more people that separate us the bigger the points difference.
Race 1 - 1545
With Gerrard 3 rows ahead of me I had to get a good start. I have been getting great starts of late, so was confident of a good getaway. However, probably because I knew I had to get a good start, I didn't! To make matters worse I don't think I was aggressive enough over the first couple of laps.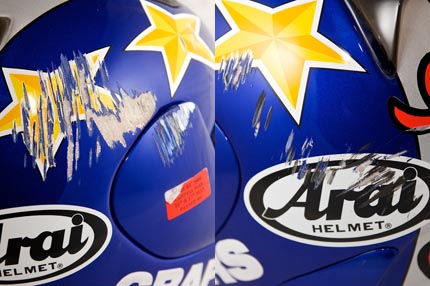 Off the line I passed Ray who was on the row ahead, then he got back past me into Druids going down my inside. I got back past him on the inside into Surtees. Ben Neeves who started one place ahead of me was in sight. He was a Rookie and riding a GSX-R750, so I had to pass him. It took me a lap or so to reel him in and with my faster speed round Clearways/Clark Curve and the power of my 1000 I managed to get an advantage and out brake him going into Paddock Hill bend.
Next up was Leighton Read on an R6. He had started one place behind me, but on the same grid row. It took a couple of laps until I managed to get past him as we exited Graham Hill bend. Steve Lovegrove was ahead of me now and I closed him down over two laps. I could see my chance as we came out of Druids and went down his inside into Graham Hill bend.
There was a big gap ahead of me now and no sign of Gerrard. The last time I saw him was going into the first corner and I thought I had gained on him. Perhaps not.
On lap 5 David Gowen or Greg Allsop had a big off coming down Paddock Hill. Whoever it was I think I saw them on their feet, but his bike was in the gravel trap about 5 metres from the edge of the race track. The next time around and until the end of the race, the yellow flags were out so nobody could overtake at that point.
I'm not sure if that made any difference, but I didn't get any challenges from behind and took the chequered flag in 28th overall and 9th in the Clubmans. To my surprise Gerrard was 25th and 7th in the Clubmans, which was well down from his 3rd place in qualifying. That meant he only got 2 more points than me, increasing his advantage over me to just 4 points in our battle for second place in the Championship. Still everything to play for.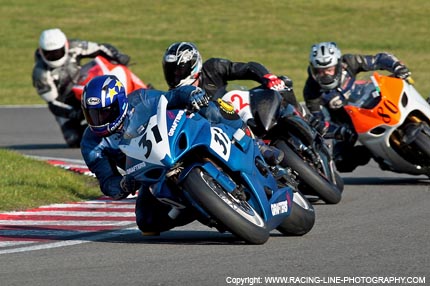 I was surprised he hadn't done better and even more surprised to find his best race lap was slower than his qualifying lap by 4 tenths of a second. He crossed the line 5 seconds ahead of me, so if I could get a great start I might have a chance to challenge him. Then again, maybe I should just think about doing a good race.
My fastest lap was 52.188 seconds, a new personal best by 1 tenth of a second! Gerrard's best was only 2 tenths quicker than mine. My race time was 7 minutes 10.548 seconds over 8 laps.
I had taken some pain killers before the race for my sore ribs and they seemed to have done the job as I hadn't noticed any pain during the race. I had to be careful off the bike when lifting things though. That evening things changed. I was sitting in my van having a quiet read when I needed to sneeze. I thought nothing of it and let it out. Bad move.
Aaaaaarrrrrrggggghhhhh! Man, that was painful. I felt as if someone had stabbed me in my right shoulder and I was bent over double holding my side with eyes closed for about a minute. The pain in my shoulder/ribs was all of a sudden a lot worse, so much so that sleeping was really uncomfortable. I think whatever injury I had got in Friday's crash, had just been made worse.
Brands Hatch Indy - Sunday 27 September 2009
Race 1
I made sure I got more pain killers down my neck today. I got a better start although the front wheel did pick up which it doesn't normally do. I headed for the inside of the first turn and could see Gerrard not far ahead. I had pulled him back a little.
Going around Druids I got a little baulked, but after that got into a good rhythm. Not as good as Gerrard as he was pulling away. I was on my own for quite a while, then on lap 5 Ben Neeves came past, going underneath me into Graham Hill Bend. I tried to get him back into Surtees, but I wasn't close enough. He then pulled out a big gap as he was a second a lap quicker than me.
We got to about lap 10 when things went pear shaped for me. All of a sudden my right shoulder/ribs started hurting like mad. It was affecting my braking and as a result think I backed off a fraction. This allowed Ray to pass me on lap 11. I thought more would be following him.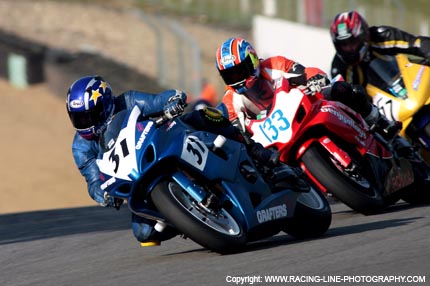 As I expected, the leading bike lapped me on about lap 11. The bonus from that was that I would have one less lap to do. Every cloud..
Amazingly nobody else passed me before I took the flag, although Steve Lovegrove was right beside me on the run to the line, finishing 1 tenth behind. That's about a wheel length behind. So what was the damage? Gerrard was 21st overall and 5th Clubman and I was 25th and 9th Clubman. This took his points lead over me to 8. I'm still in contention. My fastest lap was 52.346 seconds and my race time for 13 laps was 11 minutes 33.526 seconds. Gerrard's best lap was a second quicker than me.
As I expected, beating him was not going to be easy. After the race I popped some more Solpadene and Anne gave my sore shoulder a massage.
Race 2 - 1720
I wasn't optimistic for this one as I was sure my injury was going to impair my riding again. Let's just get on with it. The lights went out and I got a blinding start. Once again I could see Gerrard ahead of me, only this time I was a lot closer.
Ray Stagg got past me going into Druids. I'm not having that! I got back past him on lap 2 by going down his inside at Graham Hill Bend. I had lost sight of Gerrard so just concentrated on my riding. I could feel the shoulder, but so far it wasn't affecting my riding. I was pulling back the rider ahead and then realised it was Gerrard. Game on!
On lap 2 I was right behind him as we came out of Clark Curve onto the start/finish straight. As we crossed the line I was just ahead of him and more importantly I had the inside line for Paddock Hill bend, so he had to let me through. As we ran up to Druids I thought about a defensive line, then though "NO". It would slow me down. So I stayed wide which left the door open. Luckily he wasn't close enough to make a pass.
I couldn't see Anne's lap signals as she was at the back of the pits on the Cooper Straight and the sun was very low in the sky shining right into our eyes. I didn't need to see it, I knew I had close company. The next time round Paddock Hill I couldn't see any shadows so I thought I had pulled a little gap on Gerrard.
Right on schedule the leaders came past on lap 11. First Peter Baker and then Andy Weymouth. Andy was awesome to watch on his R1. Going into the corners he was sideways, through the corners the sparks were flying from his footrests grounding out, then he was power sliding out of the corners. Amazing.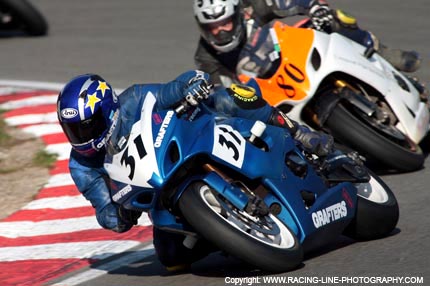 Enough of the side show, I had business to attend to. Going into Paddock Hill on lap 12 I changed down 2 gears as usual, but as I went to drive out of the corner and up to Druids I realised I was in 4th and not 3rd. Bugger! I didn't get the drive I needed. So I cut into Druids a bit closer than usual. Good choice as rolling around Druids I could see a bike trying to go around my outside. It was Ray Stagg.
I was a bit slower exiting Druids and Ray tried to go up my inside into Graham Hill Bend. He was close and I could have slammed the door shut, but I only needed to be ahead of Gerrard, so I left him a gap. He didn't take it. Then joy of joys the last lap flag was out. Do I ride defensively or not? I decided not to: keep the pace up.
Although I didn't sweep as wide into Paddock Hill and then through Clearways I slowed a bit in case anyone was right behind me, just to mess them up. I crossed the line as 5th Clubman with Gerrard 7th, so he now leads my by 6 points. The two races at Thruxton in October will decide who is second in the championship as my third place is assured.
I was 16th overall out of 26 and did a new fastest lap of 51.856 seconds, with my race time for 13 laps, 11 minutes 29.277 seconds. Ray finished 2 tenths behind me and Gerrard 7 tenths.
For full results of each race click HERE and click on the MRO Morello Powerbikes class.
*