*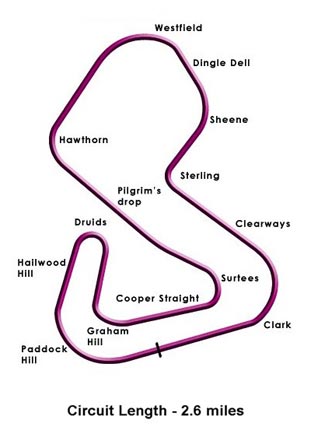 Brands Hatch Indy - Thursday 23 July 2009
Track Day
The track day was on the Indy circuit, not the full GP circuit that we would be racing on. It was track time though and I only really get chance to ride when I come away to race, so it's better than nothing.
It was organised by Focused Events and it was a nice hot day. I didn't do any timing and just concentrated on my riding. Andy, the guy who bought my previous R1 was there briefly and he timed me in one session doing some 53 second laps. My best race lap is 52.1, so I was quite pleased with that in the track day traffic.
Brands Hatch Indy - Friday 24 July 2009
Practice Day
Because of the noise limits the circuit can only run a certain amount of days on the full GP circuit, so rather frustratingly the practice day was on the Indy circuit. My lap timer was playing up so I couldn't get an idea of how fast I was going. Not that it mattered as the first session was wet, so I had to change wheels. I went pretty well and by the end of the session a dry line was developing.
The second session was dry so I had to change wheels again. There didn't seem to be too many people out so I got a good rhythm going. Once that session had finished the heavens opened. So I had to change wheels for a third time. This was a proper wet session and once again I felt pretty good, although I was hanging on a bit too tight. The lap timer was still playing up, so I didn't know for sure how I was doing.
After we finished that session the sun came out and dried the track completely. Here we go again, change wheels for a fourth time! I did that session and then afterwards the rain came down again half an hour before my fifth session, which was going to be my last. There was a bit of thunder thrown in for good measure. As much as I need practice in the rain (and I need a lot), I really couldn't be bothered to change my wheels for a fifth time, so called it a day.
Brands Hatch GP - Saturday 25 July 2009
0952hrs - Qualifying - Session 1
There was a full field in Powerbikes for the weekend, so I knew I had to do well in qualifying to get a good grid position for the weekend. Obviously I always need to, but more so for this meeting. I reckoned I'd end up in the bottom quarter of the field.
I had new tyres to scrub in over the first couple of laps, which was quite handy as it meant that I could learn the track again, not having ridden the GP circuit since last September.
Surprisingly I felt pretty comfortable quite quickly and got up to a good pace. My lap timer was still not working, so I had no idea how I was going. My best race lap from 2008 was a 1 minute 38.166 seconds and I knew that I would need to be near that time to get a good grid slot. Obviously faster would be better! I had a clear run all session and ended up with a 1 minute 40.118 second best lap, which I was quite happy with, not having ridden the circuit for so long.
My time put me in 29th out of 41 riders, just outside the bottom quarter. What didn't please me was that I only 10th in the Clubman class. I knew I would go quicker in second qualifying, but then everyone else probably would as well.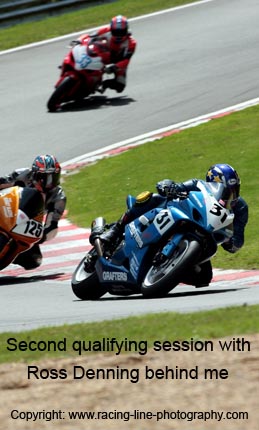 1235hrs - Qualifying - Session 2
It was still nice and hot, so I have to go quicker. Duh! It's racing, that's the whole objective. The lap timer was still not working which wasn't helping. I knew I had to brake latter into Paddock Hill and Hawthorn. As it turned out I was more successful with Hawthorn.
This time I never seemed to get a clear lap and with only 15 minutes of qualifying that means only 7 laps to get the job done. After a few laps I backed off at Pilgrims Drop to give myself some space. It worked, but as I got to the finish line the chequered flag came out: end of session. Brilliant! Game over.
At least I had gone quicker with a best 1 minute 39.461 second lap. Now I was 30th overall and 9th Clubman. To my surprise Steve Lovegrove and Ray Stagg had gone faster than me, which I think is the first time that has happened. This put me on row 8 in the middle of the track. Best get away sharpish then.
1630hrs - Race 1 - 6 Laps
Ahead of me on row 7 was Dean Bowling and Ray Stagg, to my left in 29th was Steve Lovegrove. My start was brilliant compared to theirs and as I went into the first corner I was in 24th position having passed 5 people ahead of me. My plan was to stay out wide for Paddock Hill which I did, but I was still on the outside going into Druids, which wasn't ideal but you don't have a lot of choice in these things. This put me out on the dirty part of the track round Druids.
On the run down to Graham Hill bend I had hoped to make a pass on the brakes, but I didn't manage it. As we crossed the line for the first time I was in 25th as big Dean Nicholls had passed me at some point as he started right behind me on the grid. On lap 2 I got past Ross Dunning, although I can't remember where. Dean Bowling had retired on this lap so I was up into 23rd at the end of lap 2.
Although I was running less than half a second slower than Dean, I felt I was faster than him. It took me about a lap to get past and I think I out dragged him as we came out of Sterling Bend on lap 3, which put me up into 22nd place. After that I dropped him with lap times over 2 seconds quicker than his.
I was fortunate to have Anne giving me pit board signals for this meeting and the first couple of laps she was showing me a "zero". No great surprise there then. Amongst others I had Ray Stagg climbing all over me. It's a bit of a blur, but we must have passed each other at least two or three times. I remember him trying to go down my outside towards Westfield, but that was never going to work.
Another time he was on my outside as we ran towards Paddock Hill bend, but once again I had the inside line so he had to back off. However he passed me on lap 4 as we went into Druids, the next corner. He then pulled out a little gap.
By lap 5 I pulled him back at Surtees as he was a little slower than me through there and I got a better drive out of the corner. Anne was signaling me on Pilgrims Drop and on this lap she was showing me a "1", which was good news. I was closing on Ray as we approached Hawthorn and was confident a pass on the brakes would work. I was just getting close to his back wheel when I noticed the yellow flag being waved so I had to back off a fraction because if I had passed under a yellow flag I would have got a 10 second penalty.
I lost my chance and he pulled away a little. As we went into the last lap I had managed to claw him back. Then as we came out of Druids corner I could see Gerrard Fallon in the middle of a pack of three riders, exiting Graham Hill bend. This surprised me as he had started 3 rows ahead of me and I never expected to see him. As it turned out they were all in the Clubman class and were battling for 2nd place, which Andy Burke (Swampy) eventually got.
Ray was out of my reach and as we passed Anne for the last time I was amazed to see a "2". This meant I had some breathing space and so didn't need to push too hard, just bring it home. I ended up in 21st place out of 40 starters and 6th in the Clubman class. My best race lap was a 1 minute 38.352 seconds and the race time 10 minutes 01.307 seconds.
Luke De La Cour 7th 1 minute 33.484 seconds/9 minutes 29.381 seconds
Brands Hatch GP - Sunday 26 July 2009
1030hrs - Warm Up
We got the usual miserly couple of laps for warm up. It was dry and I managed a 1 minute 40 second lap without pushing, which was nice.
1245hrs - Race 1 - 8 Laps
It was more overcast, but warm and dry. I got another good start, making up four places going into the first bend. My start wasn't as good as Dean Nicholls and Andrew Sams, who I'm sure came past me even before the lights went out! They had and got 10 second penalties for their efforts.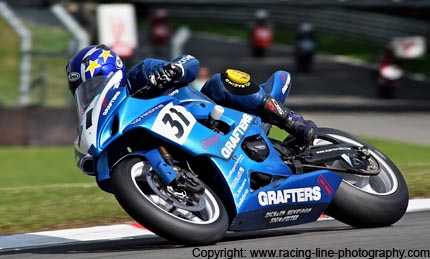 Once again it was all a bit of a blur, but even though they had jump started I managed to get back past Dean and Andrew by the end of the first lap, putting me in 24th place. As we came down Paddock Hill on lap 2 Emmett Burke had a big crash and ended up almost as far up as the bridge before Druids. He was pretty beaten up and may have broken a bone, but other than that was thankfully OK. Somewhere on lap 2 I managed to get past Swampy although I have no idea where!
For the next couple of laps I was all over the back of Ross Denning running lap times a couple of tenths quicker than him, but finding it hard to get past. I really need to get braver with my passing. I did have him lined up for a pass on about lap 4 going into Paddock Hill, but once again my planning was thwarted by a yellow flag being waved so I had to do a late abort.
Every lap Anne had been showing me a "zero" (I think in future I won't give her a "zero" board as I'm fed up of seeing them!) meaning I had very close company behind me. As if I didn't have enough to think about trying to get past Ross. It was Peter Woodall, who had started in 31st place, next to me on the grid. He got past me going into Surtees, by holding it tight underneath me. He was on the slower line through the corner so I was a bit faster as we exited. I think Peter got too close to Ross and maybe backed off a fraction as I managed to out drag them down Pilgrims Drop and got into Hawthorn in front of them on lap 5.
As we approached Westfield there were yellow flags being waved so I knew they couldn't come past me. I took a breather, but shouldn't have as they probably made ground up on me. On the last lap I tried to ride a bit defensively, however this may have cost me time.
It wasn't until Westfield that Peter dropped underneath me as we came out of the corner. I thought if I stayed with him I could get back past on the brakes into Clearways. I didn't!
I finished 18th out of 36 starters and 3rd in the Clubman class out of 13. My best lap was 1 minute 38.494 seconds on lap 6 with a total race time of 13 minutes 19.794 seconds. Luke De La Cour was 7th overall with a best lap of 1 minute 32.728 seconds, knocking a massive 2.2 seconds off his best time from last year. His race time was 12 minutes 29.399 seconds.
As I pulled off the circuit I was beckoned to a waiting Land Rover to take a lap of honor for finishing in the top 3 of the Clubmans. That was quite fun waving to the crowds! Thankfully they only went around the Indy circuit as I was gasping for a drink.
These first two races had been great battles all the way. This is what racing is all about. Hopefully the next one will be the same. No sign of Gerard Fallon though as he finished 12 seconds ahead of me with times in the high 36's.
1645hrs - Race 2 - 6 Laps
About 30 minutes before the race we got some light rain. The track looked dry, but if it kept raining it would be damp. Intermediates I thought. As always I left my decision until the last possible moment. I put an inter on the front as the front takes the longest to change and you can run an inter in the dry without too much of a problem. It stopped raining about 5 minutes before we were called so I put the dry rear back in.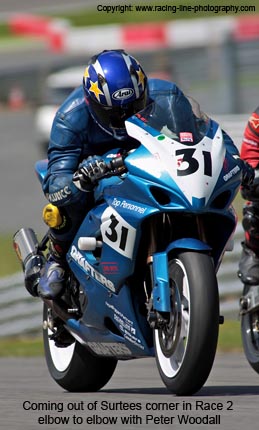 I got another great start and going into the first corner I was in 21st place. Not bad considering I started from 30th. I could also actually see Gerard ahead of me. I started chasing but he pulled away. For the first few laps he was 1.5 seconds a lap quicker than me, so no surprise really. I got past Ross Dunning before the end of lap 1 and then after 2 laps I seemed to be on my own with nobody to chase. Well, not completely. True to form Anne was showing me a "zero" again. It was Peter Woodall, again!
He tried a pass which I managed to hold off. Not for long though as he got past me on lap 2, running lap times at least a second quicker than me he pulled away. At least the next time I approached Anne she showed me a "1". That made a nice change and meant I had a little breathing space.
With nobody ahead I could catch I didn't push too hard and I had a lonely ride to the finish. It was too much to have expected three epic races, but I was well happy with the battles I'd had. I finished 20th out of 31 starters, 4th in the Clubmans out of 13 with a fastest lap of 1 minute 39.019 seconds and a race time of 10 minutes 02.706 seconds. Luke was 8th with a best lap of 1 minute 32.666 seconds and an overall race time of 9 minutes 26.178 seconds.
In the Clubman championship Gerrard, in second place, has extended his lead over me to 25 points, whilst my 173 points puts me 60 points clear of 4th placed Matt Flower. With 8 races left I still have a chance of catching Gerrard, but it won't be easy.
For full results of each race click HERE and click on the MRO Morello Powerbikes class.
*