*

Brands Hatch 21/22 July 2007

It was back to Brands Hatch for a third time. For this round however we were running on the full Grand Prix circuit. The first race was a fairly lonely race. I was off the back of a small group of riders but couldn't keep pace with them. Then a small error exiting a corner meant they got away from me and I was left to race by myself. I finished as fourth Rookie and twenty-fourth out of forty starters.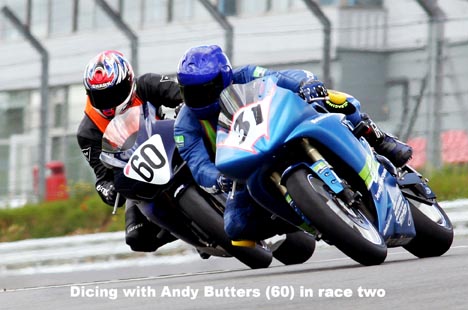 The second and third races were probably the best two of the year. In the second race I was chasing Andy Butters for most of the race, our lap times were almost identical. Then on the last lap I forced my bike underneath him going into the left hander called Graham Hill bend. I managed to keep him behind me and crossed the line only four hundredths of a second in front of him! I was third place Rookie and twenty-second overall.
The first race on the Sunday was a repeat of the previous one. I got a better start than Andy Butters, but he was on my tail and passed me on the brakes going into Druids. I sat behind him and two laps later I got back past him. Then only a lap later he out braked me going into Paddock Hill bend. I stuck with him and realised I was quicker through a number of corners. However, as his bike was more powerful than mine I decided to leave it until the last couple of bends before making a pass. The theory being he would not have the chance to use his extra power to get past me before the end of the race.
The corner before the last I dropped back a little, so I could carry more corner speed. This got me a little bit closer so that when we went into Clearways, the final corner, I would be going a bit faster. I tried to use this speed to go around the outside of Andy so I would have an advantage as we accelerated onto the straight. The plan was going well and we were shoulder to shoulder going down the finish straight, but with his extra power he pulled a slight gap and crossed the line three hundredths of a second ahead of me.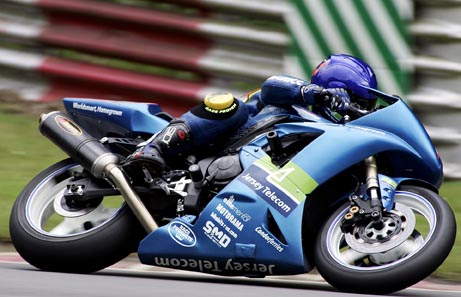 We were so close as we crossed the line, my front wheel was next to his left foot. I had lost the place and had to settle for fourth placed Rookie, but we had had two epic battles. This is what racing is all about.
In the last race I got a poor start and dropped four places. It was pretty lonely as I had nobody ahead of me to chase and I never saw Andy Butters, but I held my position for the whole race and finished in twenty-fourth place out of forty-one and was fourth Rookie.
*