Brands Hatch Indy 10/11 March 2007
In March 2007 I attended my first motorcycle race at Brands Hatch. I was competing in the British Motorcycle Racing Club's Forza Xtreme class, for motorcycles from 250cc to 1300cc. As there were a number of riders competing who had not raced before a Rookie competition was run in conjunction with the main championship races.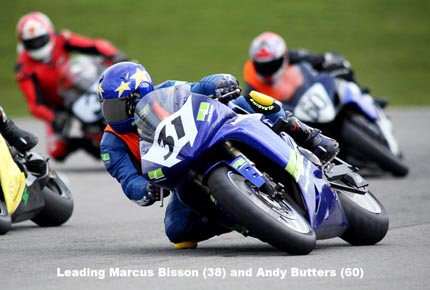 To say I was nervous would be a major understatement. Hurtling towards the first corner with a sea of bikes around you certainly gets the pulse racing. Despite this I quickly got my head together and started to ride as I knew I could. In fact, within a couple of laps I became braver and started to overtake a few people.
Then it struck me! The last time I had been in a race was in 1995 in the 100 metres at the Island Games in Gibralltar. Since then I had really missed the buzz of competition, but until that moment, charging down the hill from Druids Corner, I hadn't realised just how much I missed it. I was on two wheels now, but I was back and it felt good.
The race went quickly and I finished as second Rookie and eighteenth overall out of 36 starters. I was amazed, I wasn't last and I had also managed to beat Marcus Bisson (who was twenty-second) widely regarded as Jersey's top motorcycle racer.
The next three races went similarly with overall midfield finishes and a third, second and third Rookie place in the other races. I also had some close races with those riders who were to become my main opponents for the Rookie championship, namely Alan Smith, Andy Butters and Steve Lovegrove. My fastest lap came in the third race and was 52.245 seconds.
The exhileration I felt from this first race meeting was incredible and for the first time in my life I had become addicted to something. I couldn't wait for the next race meeting.